#TOAFtakeover: Victoria Topping
Welcome to #TOAFtakeover, an Instagram series that gives you an insight into the work and life of our artists.

'Happy Tuesday! This is Victoria Topping this weeks #TOAFtakeover. I am a digital artist working with musical themes and today im going to take you around my studio, show you some processes and give you a sneak peek of some pieces I will be showing The Other Art Fair! Stay tuned.'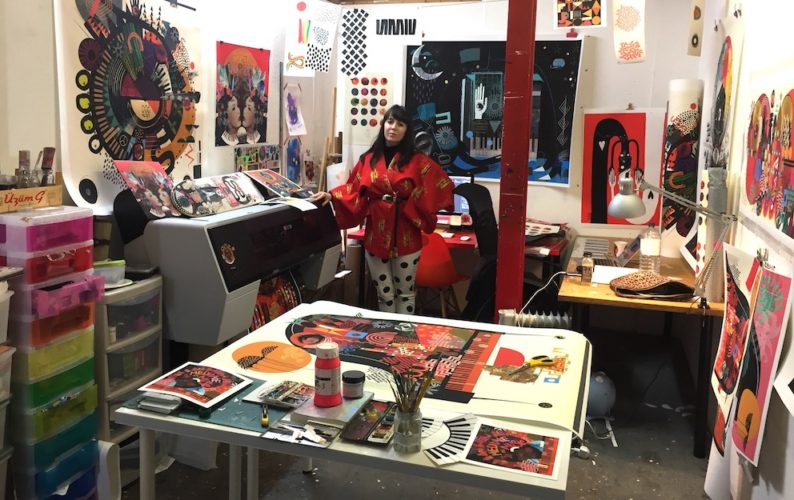 'So here is my studio. It would be fair to say its visually chaotic. I print all my pieces on this huge epson printer. I made the investment to get one after being unsatisfied with using commercial printers and haven't looked back. It makes the process much more involved and soulful being that i get to be part of each piece from start to finish. It also enables me to make sure my prints are the best they can be which means lots of trial and error to get to the final piece. All my prints are done one at a time and never in batches so each one gets my full attention. After printing i get to working back in to them with gold leaf and all sorts of things…tbc'
'My inspiration. Music! I've been a record collector since my grandad passed his Jazz collection over to me. I find the sleeve artwork endlessly inspiring just as much as the music inside. Spiritual Jazz and Soul and is my main love at the moment. Artists like Sun-Ra Alice Coltrane and Pharoah Sanders! I get commissioned to do a lot of LP sleeves which i will share with you in a later post. As far as visual artist go Chris Ofili, Dali, Kandinsky, Malevich and Hundertwasser….as you can tell i like colour and lots going on'
'A detail of one of my pieces with gold leaf shining bright. I have a huge texture library that i have built up over the years collecting textiles from African wax cloth to Japanese kimonos as well as taking photos of textures I find in day to day life. For example one of the textures in this piece is a photo i took of rain hitting a puddle at a train station on a grey day. When creating a piece of work I combine drawing and these textures bringing them in to the computer or i-pad and layer them over each other cutting them out and arranging them in to a sort of collage.'
'Process! With this piece I created the background pattern and basic layout on the computer then brought it in to my I pad pro to draw in the details using a i pencil as you will see there is a lot of trial and error, bringing things in and taking them out till I'm happy.'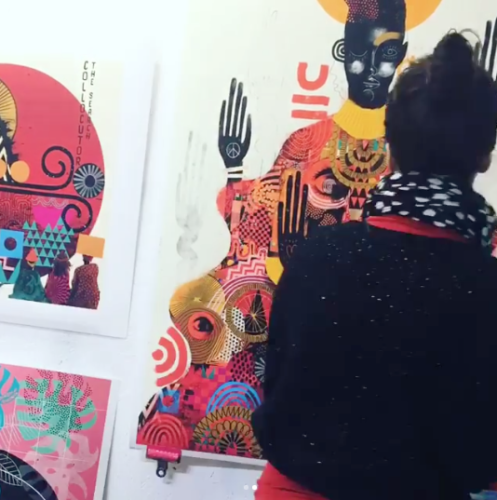 'After printing I get to work adding Gold Leaf and working back in to the prints.'
'I get commissioned to do LP covers as well as working with On The Corner Records. This first sleeve was the design for Collocutors – The search a amazing spiritual jazz album which is just out. I was lucky enough to work directly with Tamar Collocutor who's music and story filled me with wonderful ideas. The design from this went on to develop in to a whole new body of work which I have called 'meditate on music' and I will be showing it at The Other Art Fair along with the original artwork from the release.'
'Here is my 'Sound of Joy' piece on its way to the framers to get ready for the fair. There is a big piano theme running through my work. That and eyes. I place eyes in my work as i imagine them as little windows projecting back to me the place were they are situated after they leave my studio. Some of the names I call my pieces may sound curious… This is because I name them after jazz songs. This one being a Sun Ra track.'
'Signing off! Thanks for spending the day with me! Looking forward to meeting you at The Other Art Fair on the 30th. To keep up to date with what I'm up to head over to @victoriatoppingart or visit my website at www.victoriatopping.com. special thanks to my glamorous assistant (and provider of my spotty trousers for the snazzy camera-work.'
Meet Victoria Topping and more at The Other Art Fair on 30 March – 2 April in Bloomsbury's stunning Victoria House. Book tickets now.
Follow The Other Art Fair and catch #TOAFtakeover every Tuesday on Instagram at @TheOtherArtFair
Follow Victoria Topping on Instagram at @VictoriaToppingArt