Meet the Others: Rapheal Crump
The Game Changers. The Rule Breakers. The Innovators. Discover some of the fantastic emerging talent showcasing their work at The Other Art Fair.
Rapheal Crump is a painter originally from NYC and now working full-time in his Dallas, TX studio. He has a love for sneakers and admits he has collected too many to count.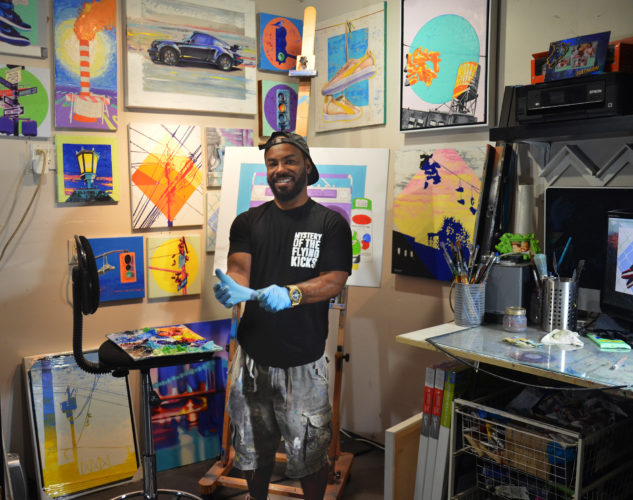 Rapheal often does paintings of shoes hanging in urban scenarios or vividly colored cityscape themed imagery. Through his work, he tells a relatable story of life in the concrete jungle.
---
Q&A with the Artist
Tell us 

about

 who you are and what you do. What is your background?
My name is Rapheal (e before the a) Crump, an artist originally from NYC, now  I live and work out of my studio in Dallas Texas. I come from a creative family that highly valued education. They have always supported and pushed me to follow my dreams in visual arts. We weren't the wealthiest of families and I had to find ways to pay for the things I wanted. I found out at an early age that people would pay to have my artwork. From middle to high school, I would draw people's names in graffiti style for their lunch money and I took it and reinvested it back into supplies for my art. To pay my way through college, I opened up a custom clothing store with a partner, which successfully lasted 5 years until I graduated. After graduating from The School of Visual Arts in 2007, I landed a great job heading the art and design department for a major media outlet until 2017. That was the job that moved me from NYC to Dallas, and the shift is what allowed me to really focus on my craft and focus on my passion. At a new year's party in January of 2017, I decided to take on my passion for painting as a full-time artist and with the support of my family, friends, and the Dallas art community, have been blessed to successfully do so. I have to say, It's been a rollercoaster of a journey!
What are the major themes you pursue in your work?
A majority of my work consists of urban imagery which comes from the experiences I had growing up in New York. you will notice that I rarely place people in my work, I want to give attention to the beauty in the everyday objects that are regularly overlooked. I am also am a very big sneaker fanatic and incorporate my love for shoes into some of my work. I show high-end footwear that has been tossed over powerlines, a phenomenon that has global recognition but few know the reason for the act.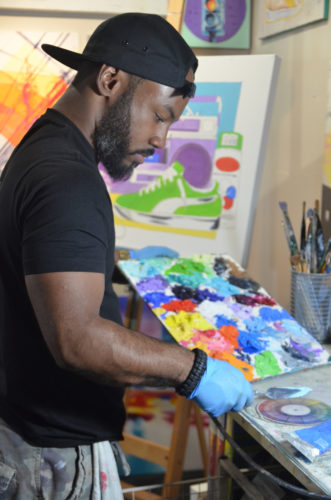 How did you first get interested in your medium and what draws you to it specifically?
Aerosol and acrylic on canvas was my go-to, which allowed me to paint fast, execute details easily, and have quick drying times. In 2019 I was convinced to make the jump over to oil paints by another artist that I look up to. The shift has opened up a new realm of creativity, helping me offer better value, visual quality, and technique when telling my story on my canvas. The change in medium has assisted in the completion of my paintings to a substantial degree.
How has your style and practice changed over the years?
My style and practice have developed as I have taken my work more seriously when becoming a full-time artist. I have fine-tuned my focus, storytelling, color pallet, and style just from experimenting on new things, trying new techniques, messing up and failing, and paying attention to how people react to in my work. I have also become more particular about where I show my work and how it is displayed. Those decisions have made a big difference in the advancement of my career, just treating it as anyone would a normal job. I wake up early, answer emails, advertise, work from certain hours of the day, plan ahead, and do my best to try to offer the best business practices to my patrons that support my work.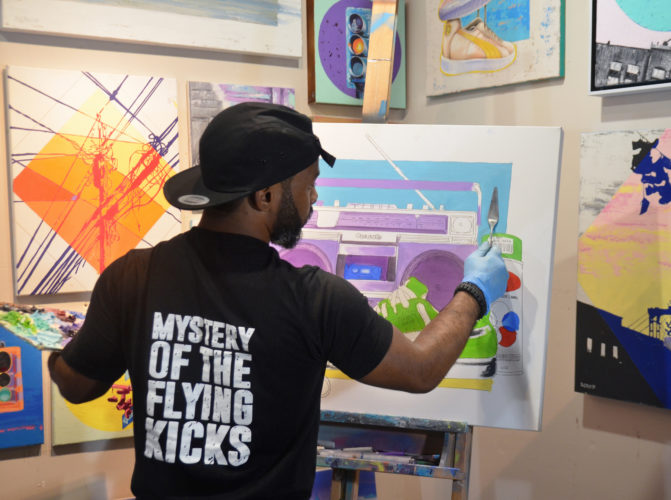 Can you walk us through your process? How long do you spend on one work? How do you know when it's finished?
I worked in the graphic media field for almost 11 years which you can observe, adds a strong design element to my work.  I would say the longest process in my work, is coming up with the composition before I start a painting. Merging the stories from my past with subject matter, finding the right imagery, composition, color palette, and then putting it all into one visual. Depending on my subject, size, and how I feel about the work, my paintings can take a day or even up to a year to complete. I kind of get into the zone while working, I pre-mix my colors, have my dachshund puppies laying by my feet, music plays in the background and just go at it. Painting puts me in a zen-like feel almost meditative and It's easy to go for hours at a time. In order to take a break from each canvas, I work on multiple pieces at once. This is a technique that allows me to have fresh eyes, thoughts, and complete multiple canvases at an optimum rate. Once I feel that a painting flows, I'll stop, sign my name, photograph it, and come back to observe it the next day.

What series or project are you working on next?

I originally started my paintings as a series called "Mystery of the Flying Kicks". It is a tribute to the sneaker culture with high end, very expensive shoes that are collected, sold, and traded like the stock market. I would paint them like they were tossed over powerlines in the streets. I have recently started small to medium-sized city-themed paintings that show a vibrant, energetic environment where you would see the shoes that hang on power lines. Now that I have a larger studio space, I started work on larger canvases. I have been incorporating all the objects I focused on with my smaller paintings, and produce city scenes which I'm excited to show you soon!

What is the best advice given to you as an artist?
If you really love your art, don't ever give up or stop creating. As an artist, it takes time to develop a voice and find the people that love your story. You have to ask questions, educate yourself about the community you want to be part of, go to the shows, get your work in front of as many people as possible using social media, local art shows, advertising, and networking. The most important word of advice is to stay true to what you love, people will appreciate and love you for it in the long run. Put in the work and do what you love!
Shop artwork by Rapheal and other trailblazing artists at The Other Art Fair's Online Studios.
Introducing The Other Art Fair Online Studios, a new online platform offering art lovers around the world access to over 800 Fair artists. The Online Studios will keep our community feeling inspired, engaged, and continue to spread joy through art.