Meet the Others: Patty Rodgers
The Game Changers. The Rule Breakers. The Innovators. Discover some of the fantastic emerging talent showcasing their work at The Other Art Fair.
Patty Rodgers is inspired to paint places and things she sees around her. Patty is struck by light on objects and the space. Then her painting becomes all about color and how the colors create a flat abstract design, and at the same time, distance and form and light.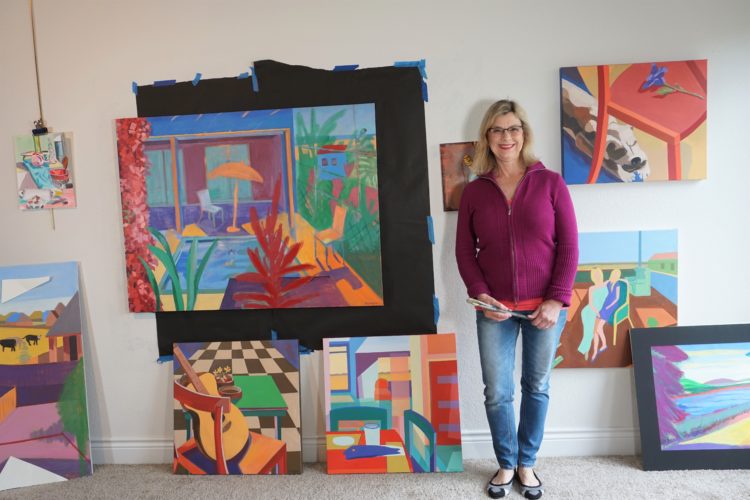 Based on the things she sees, Patty looks for the geometric design within the rectangle or square of the canvas, and work on a painting until it becomes a satisfying combination of aesthetic elements. 
---
Q&A with the Artist
Tell us about who you are and what you do. What is your background?
I grew up in a small city in western Massachusetts. It was uneventful until my parents began taking us to Cape Cod on summer vacations. Here is my earliest memory about color: I was maybe five years old and noticed some mossy looking plant in the sand, and I remember trying to define the color in my mind. Pale green? Mint? Moss green? Blue green? Another time, at around seven years, I had two purple dresses, one was blue violet, one red-violet. I kept putting them together and comparing. 
I just notice ordinary things in my environment.  I am very sensitive to light, landscape, color, spaces and design. I was driven to be a painter from this early time.  In Provincetown, near where I lived, were so many artists and galleries, and I was drawn to looking at the colors and technique. As a teenager, I took my first art lessons at the "North Truro School of Art", North Truro, MA,  majored in art at Simmons University in Boston, earned a BFA in painting at Rhode Island School of Design, then a teaching certificate in art k through 12 at Central Ct State University. I taught art in the public schools in CT and IL. Upon graduating from RISD, I entered my first group show in 1981,  where I received an oil painting award from well known artist Will Barnet! From 2000 to 2018 I lived in a northern suburb of Chicago from where most of my city painting ideas come. We moved to Texas in 2018 and I'm just starting now to do sketches of this environment.  My studio is in an upstairs room.  I am also a guitarist and an instructor at my home based business.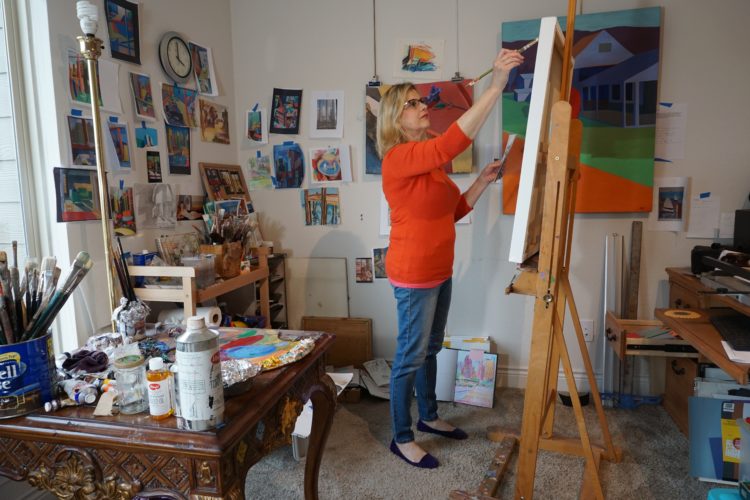 What are the major themes you pursue in your work?



Over the years, I have worked with a few major themes, and many of them overlap. One is quiet, stillness, and solitude.  
Others have been:
People in isolation

Abstracted design of forms and shapes
Inside/outside, either with cities or the suburbs.
The artist at work and studio spaces.
Interior spaces with a strong focus on light and space.
Nature as beauty
Still life objects in relationship to each other and environment
Black and white patterns
How did you first get interested in your medium and what draws you to it specifically?



When I was a teenager living on Cape Cod, I started taking painting lessons at the "North Truro School of Art". The owner/instructor (named Bassford), was a well known artist from Boca Raton, Fl and had quite a following. He started me drawing still life objects in charcoal, then the instruction began with oil paint. He had a very painterly, romantic Impressionistic style of painting, which he taught all of us students.  It was heavy on technique! To this day I favor oils because they are rich in creamy texture and can be reworked by sanding down or erased with turpentine.  I sometimes work on a painting so long that it ends up having a crust like texture. I also like using oils with a palette knife. There are tints and colors that Bassford taught me to mix that I cannot duplicate in acrylics. I do use acrylics sometimes, mostly when I work on paper to try an idea.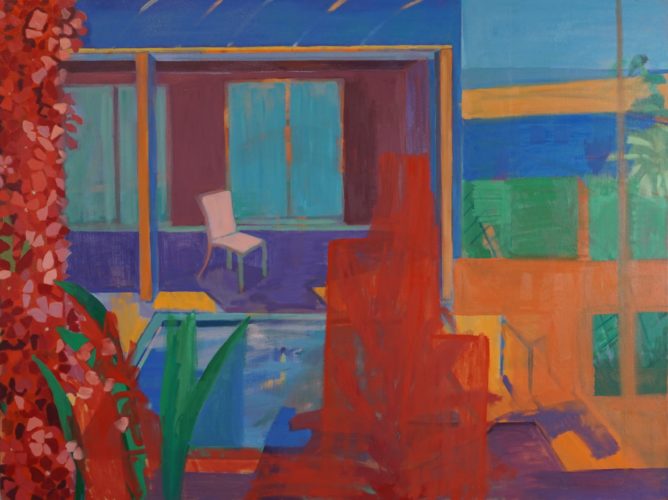 How has your style and practice changed over the years?



Oh boy, I have tried so many mediums and so many subjects. Stylistically, as I said before, I worked in the same impressionist manner as the Cape Cod instructor. During my time at RISD, I developed a clean hard edged style, which I have used throughout my career.  For a while, during the years 2002-2006, I also experimented with a very controlled post impressionist style, by dividing the picture plane into small squares or diamond shapes and changing colors with each pencil line. I didn't realize it then, but I was trying to capture light. In 2007-2008, I experimented with ink and cut paper patterned works in black and white.  I use a combination now of clean hard edge painting, scrubby brush work, and palette knife painting. 
Can you walk us through your process? How long do you spend on one work? How do you know when it's finished?
My process begins with drawings. Whenever I went to the city, or to the beach, to Florida, to NY, or saw something interesting in the house, I would draw in my sketchbook. I have about ten books full of ideas. I have enough to keep me busy for a few years. I keep pictures of successful painting taped to my studio wall for inspiration. I copy one of the sketches free hand with a brush and thin oil paint. Lately, I first tint the canvas with one or two colors of paint. When the drawing dries, I begin laying in color in broad sections. When it doesn't look right, I change it by laying over with a different color.
Sometimes during this stage I change the composition, redraw, and break it up. Things don't ever go smoothly. If I get really frustrated, I start laying on thicker paint with a palette knife. At this stage in my career I always thought I'd have a system, a sure way of doing things, but it never happened. Each new painting presents a challenge like I know nothing all over again. In the words of Richard Deibenkorn, "I just keep adding paint until it looks right". The hardest question to answer is when is it finished? I've ruined good paintings by going too far. I've thought some were good when there just wasn't enough and I later worked on them again. For this reason I work on more than one painting at once. I need to let them sit in my studio so that I walk by it, think about it, take pictures of it with pieces of colored paper in areas. When a painting is not good and I've put too much paint on it, I cut it up and save the parts to use as color references against something I'm working on. This gives me me new design ideas as well. It's finished when it looks like space on this flat surface. The colors have to be just right in relation to each other so that some appear to be in the foreground and others receding in the background. I can spend anywhere from a few weeks to a year or more on one painting. Average is two or three months.
What series or project are you working on next? 
I am working on some beach scenes and plan on adding more from sketches I did in Florida this past year. After that, I plan on doing a series of interiors from sketches I did in Kenoza Lake, New York, where we have visited family over the years.
What is the best advice given to you as an artist?
"Put your paintings together". "Don't be afraid of ruining it"
Picasso to a student, "Whenever you have an idea, do it"
Shop artwork by Patty and other trailblazing artists at The Other Art Fair's Online Studios.
Introducing The Other Art Fair Online Studios, a new online platform offering art lovers around the world access to over 800 Fair artists. The Online Studios will keep our community feeling inspired, engaged, and continue to spread joy through art.