Meet the Others: Mary Lai
The Game Changers. The Rule Breakers. The Innovators. Discover some of the fantastic emerging talent showcasing their work at The Other Art Fair.
Mary Lai is a Los Angeles-based visual artist & designer. She created mixed media artwork that is fun and colorful, while pulling from her academic background in graphic design.
Mary built a career in fashion handbags & accessories in New York City. She had an award winning handbag collection prior to her relocation to Los Angeles in 2015. With over 15 years of design experience, and her east-coast work ethic paired with her west-coast lifestyle has given her the opportunity to work with some notable brands, clients and exciting projects.
---
Q&A with the Artist
Tell us about who you are and what you do. What is your background? 
Hi, I'm Mary Lai, a visual artist and designer. I have a BFA in Graphic Design from Mason Gross School of the Arts and built a career in New York as a handbag and accessories designer. I relocated to Los Angeles for a design job in art curation for a luxury home, then transitioned over to the art world. With over 15 years of art & design experience, I've had the opportunity to work on a range of different creative projects. In recent years I have been able to focus on creating my personal artwork, which has always been a passion of mine. I am somewhere between visual artist, freelance designer, and small business owner.
What are the major themes you pursue in your work?
Art, fashion and music have been themes I've pursued in my work along with the foundation of the alphabet. A visual story of aspects in pop culture and people that have inspired generations.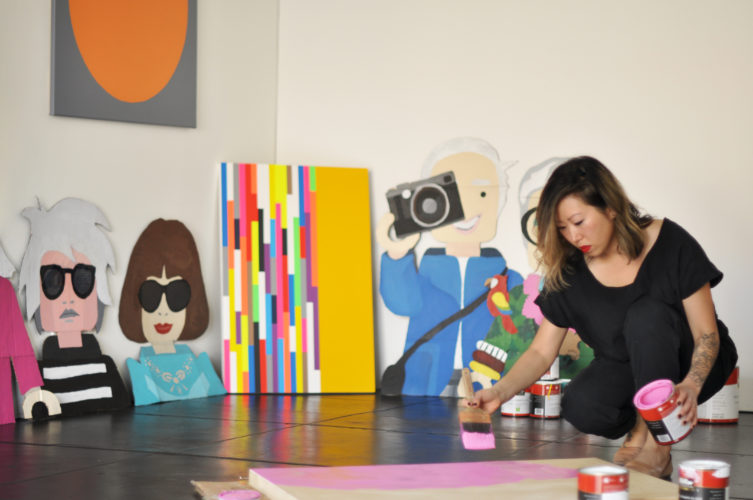 How did you first get interested in your medium and what draws you to it specifically? 
I love to experiment, so I am not held to just one medium. A reoccurring medium I am drawn to is merging digital art and hand-crafted art. The idea of using the computer and also my hands to create a piece came naturally over the years of experimenting because it was part of my background as a designer and artist.
How has your style and practice changed over the years? 
My artwork style is colorful, modern and fun. Over the years I've evolved the way I use color, subject matter, and practice. I am always evolving and finding new ways to create. Lately I've been balancing between being literal and abstract in my work.
Can you walk us through your process? How long do you spend on one work? How do you know when it's finished? 
My process starts with a sketch on paper with pencil then I work digitally. After completing the digital process on my computer, I will work on the final round on canvas bringing the art to life. This process usually takes me several days to complete and the completion of each piece varies from one week to months. Even though art doesn't have a solid answer like 1 + 1 = 2, I believe when an art piece is finished you know internally that you've found the answer. You just know.
What series or project are you working on next?
I'm working on the second set of an artist collaboration that is going to Korea, and also completing come commission pieces for the next month. Once those are completed I will be working on creating new work for the Fall shows. With all that 2020 has thrown at us, I'm just taking it one day at a time, riding the wave, pivoting and just creating.
What is the best advice given to you as an artist?
There's only one you. Your artistic voice, background, experience, and life are different than everyone else's so stay true to what you want to create. That authenticity will help you create work that is genuinely you and allow your art to stand out as a result.
Shop artwork by Mary and other trailblazing artists at The Other Art Fair's Online Studios.
Introducing The Other Art Fair Online Studios, a new online platform offering art lovers around the world access to over 800 Fair artists. The Online Studios will keep our community feeling inspired, engaged, and continue to spread joy through art.