Meet the Others: Dirk Guidry
The Game Changers. The Rule Breakers. The Innovators. Discover some of the fantastic emerging talent showcasing their work at The Other Art Fair.
Dirk Guidry is an abstract painter, born 1987 and raised in the bayou town of Galliano, Louisiana. His work primarily consists of large scale paintings wherein paint swirls across canvas, building and dragging pigment to create forms. A delicate dance- intuitive yet controlled, acting and reacting to create something that relates on a subconscious level.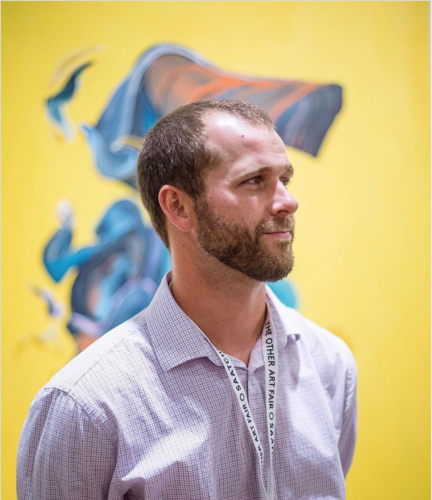 Dirk's paintings and other works have been featured in galleries and exhibitions across the state, and are a part of many private collections. Through the Louisiana State Arts Council and Bare Walls Lafayette Initiative, Dirk strives to expand the roles of creative arts within our communities and how it may better them.
---
Q&A with the Artist
Tell us about who you are and what you do.
 

What is your background?

My name is Dirk Guidry, and I am a full time artist based out of Lafayette, LA. My fine art mainly focuses on large, abstract paintings, however my studio also does various commission works in the forms of live wedding and event paintings, murals and portraits. I have a BFA in Painting from the University of Louisiana at Lafayette, owner of Dirk Guidry Art Studios, Program Director of BARE Walls, and I sit on the Louisiana State Arts Council.
What are the major themes you pursue in your work?
My work has much to do with the process of painting and the balance of intention vs. intuitive. Time and gravity play an important role with my work as well, because in some ways or another, I try to capture an emotional moment in time and turn . Since I'm dealing with nonrepresentational work, I want the work to resonate on a more subconscious level with my audience.
How did you first get interested in your medium and what draws you to it specifically?
I was actually in college for computer animation at first, but come to find out I really did not enjoy it… Luckily, I was taking painting classes at the same time and that is where I fell in love with the medium. Paint is organic, the process was and still is so addicting to me.
How has your style and practice changed over the years?
There has always been a fluidness to my style of painting, although over the years my technique and practice has evolved. My hand has become more disciplined when applying the paint and the decision making process is much more refined. Working full time as an artist now versus when I still had a day job to help pay for paint means I have more time to be in the studio and focus on creating the work, and the dedication shows.
Can you walk us through your process? How long do you spend on one work? How do you know when it's finished?
There's something about a blank canvas that gets me very excited to start working. I'll come in with a few color palette ideas that are based on my current emotional state and/or the current landscape of my life. I'm in a very vibrant and beautiful place in my life and that transfers over into my art. From there, I'll begin visualizing how I want the compositions and movements to flow. Of course, this is a very loose layout because the application of the paint is a delicate dance of intuitive yet controlled. I prefer to work large scale for multiple reasons: the presence of the works, the variety of larger brushes and tools I get to use, the amount of paint I get to push around the canvas, and of course the fact that I get to use my entire arm/body rather than just my fingertips. Even though my work is mostly one-time strokes, that doesn't mean that I achieved that stroke on the first try. Often enough, there is plenty of push and pull, reapplying the paint to the brush to try to make that brushstroke do what I want. The paint always has a funny way of keeping me in check since I would think that I could be able to execute my brushwork effortlessly by now.
When people ask how long I take on a piece though, I usually like to answer with "all of my life" since it is an accumulation of my life's work really. To answer your question though, I'm always working on multiple pieces simultaneously, usually taking anywhere from a few hours to a couple weeks, sometimes months, depending on size of course. Most paint sessions are around 3-4 hours at a time before I start making bad decisions, then I can be in critical conversation with the pieces for weeks at a time before diving back in to them.
It is much easier to overpaint something than underpaint it. There is usually a point where I happy to call the piece complete and make sure I put my signature on it so that I can't work back into it. Now don't get me wrong, there is no painting that I have completed that I don't analyze and try to see what I can do to improve it. So in some capacity, the paintings are never truly finished I suppose…
What series or project are you working on next?
Currently I am working towards a solo exhibition in the Fall. The series will feature some more sculptural pieces that work alongside the paintings, like three dimensional brushstrokes free floating. It's been interesting to learn new processes, and I'm having fun exploring the complimentary role the paintings and sculptures play with one another in that space.
What is the best advice given to you as an artist?
"Paint… just paint" My teacher/mentor used to reiterate it to me, especially during creative blocks. Seems simple enough, but I found out that it's really more about being disciplined to the production of painting. By setting aside the time in the studio to focus on painting and not waiting for inspiration or reasoning behind it, I was able to discover and fail and escape and do it again and again and again. So I continue to paint, striving for this perfect piece of art that is unattainable, yet I won't ever stop trying to reach for it.
Shop artwork by Dirk and other trailblazing artists at The Other Art Fair's Online Studios.
Introducing The Other Art Fair Online Studios, a new online platform offering art lovers around the world access to over 800 Fair artists. The Online Studios will keep our community feeling inspired, engaged, and continue to spread joy through art.