Meet the Others: Brendan Kramp
The Game Changers. The Rule Breakers. The Innovators. Discover some of the fantastic emerging talent showcasing their work at The Other Art Fair.
Brendan Kramp is a Twin Cities-based visual artist with a studio in the Northeast Minneapolis arts district. He creates both figurative and abstract works mainly in oil and ink with a focus on strong light and contrasting light effects.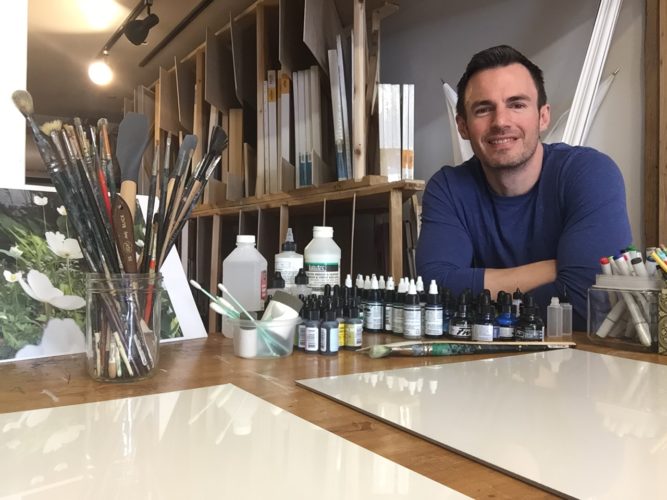 Brendan aims to create environments in his paintings that tell a story and create a mood or emotion, often eliciting feelings of calm, nostalgia, and wonder.
---
Q&A with the Artist
Tell us about who you are and what you do. What is your background?
I am a Minneapolis-based full time artist focused on oil figurative and realistic oil painting. I grew up in the Twin Cities in Minnesota, but left for college and ended up living in London and Paris for ten years with a brief stint in Washington D.C. working for several nonprofit organizations in the arts, education, and the environment. I returned to Minnesota in 2012 and secured a full-time studio workspace that allowed me to expand my artistic work and focus. Since 2012 I have built up a body of work and had the opportunity to show in several dozen exhibitions, open studio tours, art fairs, and collaborative shows both in Minnesota and nationally. Though I am a full time painter, I didn't study fine art after high school and instead majored in English Literature and Creative Writing  in college, followed by a Masters degree in Fiction Writing. I have been a self-taught painter since high school with a particular focus on representing everyday urban scenes like coffee shops, city views, and work spaces with a strong focus on characters, mood, and light.
What are the major themes you pursue in your work?
I like to focus on the everyday, pedestrian, and prosaic spaces of contemporary life. I am drawn to places like coffee shops and urban buildings or spaces where people gather, in addition to natural subjects. In every work I look for a certain feeling or mood to translate to the canvas in addition to the actual physical objects or space. Light, character, and mood or feeling are the guideposts for the subjects that I seek out.
How did you first get interested in your medium and what draws you to it specifically?
I was formally introduced to painting and oil painting in the 7th grade. I attended a school with an art program that taught us everything from color theory to perspective and self portraiture, to different art movements and concepts of the 20th century. I have always loved the physical act of painting and the intimate bond between the painter and the painting, the way that vision and thought has to be translated through a medium, and conveying feelings or concepts through depicted images, forms and colors. It still intrigues me every day that I pick up the paint brush and decide how to tackle a particular image, scene, or concept. I also draw from all the museums and galleries I have visited and the inspiration I draw from painters from throughout the ages who have depicted the lives, situations, and concepts that dominated their lives and times.
How has your style and practice changed over the years?
I would say that my style has become more comfortable and quicker with time, and that I am able to take on more complex and rich compositions with more comfort. I also have developed a curiosity about more subjects, themes, and settings ranging form the interiors of factories to corporate buildings to rural farms and urban nighttime scenes. My curiosity now drives my artistic practice and my style is adapting to the feeling or emotion of each scene and subject rather than staying constant to one ideal or recognizable technique.
Can you walk us through your process? How long do you spend on one work? How do you know when it's finished?
This very much depends on the size and complexity of a work. A painting can take me from one week to two months or more depending upon the size and the nature of the subject. I start with original drawings, sketches, and photographs of various spaces that intrigue or inspire me. I am always walking around with a camera or my phone taking snapshots for later reference and potential compositions. After I finally settle on a composition, I draw out the entire scene as I'd like to see it, and work from the farthest point away in the distance first, building up the layers of the picture much like the layers of the physical reality we take in with our eyes. I like to work on people last, after the setting or environment I have for them is fixed, almost like bringing characters into a film set or home where they will demonstrate and live their lives. My work involved many layers and that means lots of painting, waiting, and painting, and waiting again until I can work on the key features of a work and add highlights before moving on to another aspect or layer.
What series or projects are you working on next?
Earlier this year I began work on a series of very large 6 or 7-foot paintings depicting the interiors of otherwise unknown work spaces that were visually and culturally compelling to me. I was drawn to the idea of depicting spaces that are looked over or forgotten and not considered interesting or beautiful, but that are critical to support our modern day lives. I started with some paintings of a handmade tile factory in Northeast Minneapolis, not far from my art studio, where one of the fastest growing creative businesses in Minnesota is thriving and creating beautiful handmade tiles for homes, businesses, and offices throughout the world. I also took several photo sessions in an old florist workshop in Chicago, and an abandoned warehouse in St. Paul as potential subjects. In addition to these, I have a backlog of magnificent cafe images from around the world that I mean to get to slowly over time.
What is the best advice given to you as an artist?
Keep showing up. Keep working. Keep pushing ahead, and do not compare yourself to anyone else. The more you invest in the idea or inspiration that makes  you want to paint, the more it will become clear to those seeing your work. This is what will carry you through any obstacle or difficult period. Keep painting!
Shop artwork by Brendan and other trailblazing artists at The Other Art Fair's Online Studios.
Introducing The Other Art Fair Online Studios, a new online platform offering art lovers around the world access to over 800 Fair artists. The Online Studios will keep our community feeling inspired, engaged, and continue to spread joy through art.