Meet the Others: Bollee Patino
The Game Changers. The Rule Breakers. The Innovators. Discover some of the fantastic emerging talent showcasing their work at The Other Art Fair.
Bollee Patino is a contemporary street mix-media artist with a fast-paced practice between hasty motifs and representation of abstract expressionism while fusing graffiti and street elements with more traditional techniques in his acrylic and spray-paint works. Combining screen print stencil work with hand-painted details and a saturated background of bright, eye-popping color with a vibrant abstract foundation. His artwork contains layered metaphors of social views while flirting with identity subjects of ego and a sense of self.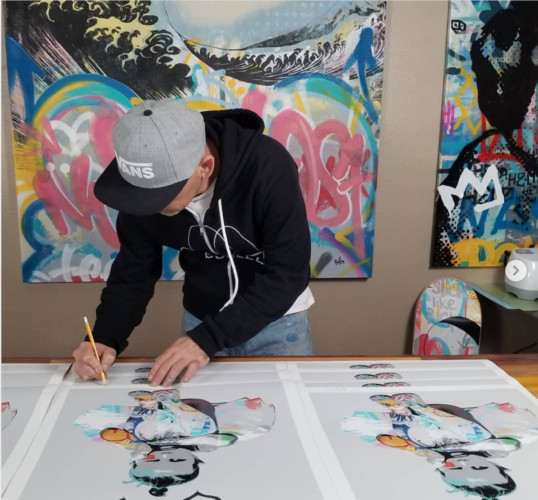 Often pulling from his graffiti background with influences from underground fashion, skate and hip-hop cultures and other forms of design movements to set a foundation of his infused painting. Bollee received a BFA in graphic design where he leverages this creative process to become the framework of his artwork. With its multilayered metaphors, vibrant colors and bold abstractions, Bollee's works are a daring, chaotic reflection of the complexity of the inner self.
---
Q&A with the Artist
Tell us about who you are and what you do. What is your background?
I am a Florida-based artist exploring the fusion of abstract expression, street art and graffiti. My medium of choice is acrylic and spray paint on canvas, but I often try alternatives as I go. I first found my love of art with graffiti at an early age. Learning this free form of typography and large-scale murals was key for me and eventually led me to design school and a professional career as a creative director.
Over the course of my corporate life, I found myself frequently visiting New York, Chicago and LA and with each visit I brought something back with me in the form of creative inspiration. Understanding your true sense of self is the foundation of my work. I convey a story of not being defined by your appearance, but defined by knowing your own goals, own values and own ideals. One key message is to be yourself and not follow the crowd.I do this by highlighting positive words or hints within a bright bold colorful background and leverage a focus point "stencil" of an idea conquering their own path.
What are the major themes you pursue in your work?
The major theme of my work is sense of self. Understanding who you are and being able stick out with confidence – achieving your own dreams. Holistically I am trying to pursue positive messaging for people to have the courage to accomplish their own goals and ideas. I believe in this new world of social media, we tend to fixate and compare ourselves to social feeds. But it just a feed, a highlight reel of carefully picked imagery and doesn't really showcase a real story or real life.
How did you first get interested in your medium and what draws you to it specifically?
I first got interested in spray paint in the form of graffiti. I like the speed and the bold colors. This pushed me to start including acrylic as it has the same feel to me. These mediums allow me to be more organic or having a free flow with my art. I enjoy painting in the moment without blueprints or planning. It just feels right to me.
How has your style and practice changed over the years?
The way my style has changed over the years is more in the form of color combinations and how I manipulate the paint on the canvas. My foundational ideas are still the same with positive messaging but I am exploring more with color than subjects.
Can you walk us through your process? How long do you spend on one work? How do you know when it's finished?
My process is very organic free and in the moment, where one stroke leads to another. I always start with a base foundation that pulls from abstract-style artwork. Once I have this set, I will add layers of paint to highlight elements and ideas that form an urban look and feel.  I always paint on rolled canvas that is pinned to a large wall to give me flexibly with creativity. The flat surface allows me to use traditional dry wall tools to push and pull paint around the canvas. This process takes anywhere from a few days to a few weeks. It really depends on how the layering is coming together. Once it feels complete – then it's completed. It's all based on a feeling.
What series or project are you working on next?
Right now I am working on a series titled "Heart Breaker" that shows beauty and strength from within.
What is the best advice given to you as an artist?
Don't compare yourself to others – they will always be better at being them then you will. Be yourself and the rest will follow.
Shop artwork by Bollee and other trailblazing artists at The Other Art Fair's Online Studios.
Introducing The Other Art Fair Online Studios, a new online platform offering art lovers around the world access to over 800 Fair artists. The Online Studios will keep our community feeling inspired, engaged, and continue to spread joy through art.