Meet the Others: Bartosz Beda
The Game Changers. The Rule Breakers. The Innovators. Discover some of the fantastic emerging talent showcasing their work at The Other Art Fair.
Born in Poland in 1984, Bartosz Beda relocated to the UK in 2008. After graduating with a MA in Fine Art in 2011, he was selected for the 2012 Catlin Art Guide as one of the most promising emerging artists in the UK.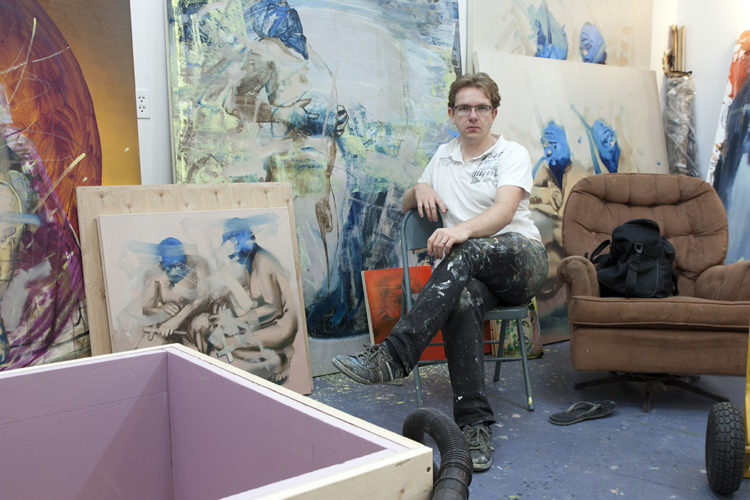 In 2012, Beda was short-listed for Saatchi New Sensations exhibition in London for most exciting graduate students in theUIK, and won the esteemed Towry Award for the Best of North of England, as well as a six-month scholarship to Academy of Fine Arts in Dresden, Germany. Bartosz currently lives and works in Dallas, Texas.
---
Q&A with the Artists
Tell us about who you are and what you do. What is your background? 
I am Bartosz Beda, and I was born in Poland. When I was about seven years old, I told my mum that I want to be an artist. My parents were always supportive, and they sent me to Private Secondary Art School focused on traditional drawing and painting. 
In my early 20's I worked at an animation studio for the "Peter and the Wolf" production that later on in 2008 received an Oscar.
In 2005, I moved to the UK, where three years later, I enrolled for a painting course at Manchester School of Art, Manchester Metropolitan University. When I graduated, I was awarded a scholarship at Dresden Academy of Arts, the same academy where Gerhard Richter was studied. The same year I was selected for the Saatchi New Sensation exhibition in London, and I also won the National Open Art Competition in the UK. It was a great beginning of my early-stage career as an artist.
During this time, I had scheduled solo exhibitions in Madrid, Spain, Bogota, Colombia, and won a national exhibition in the United States. I had my first long article in The Independent, Guardian, and mentioned on BBC Radio 4 as 'one to watch.' In the Summer of 2013, I moved to the United States. Currently, I live in Dallas, TX.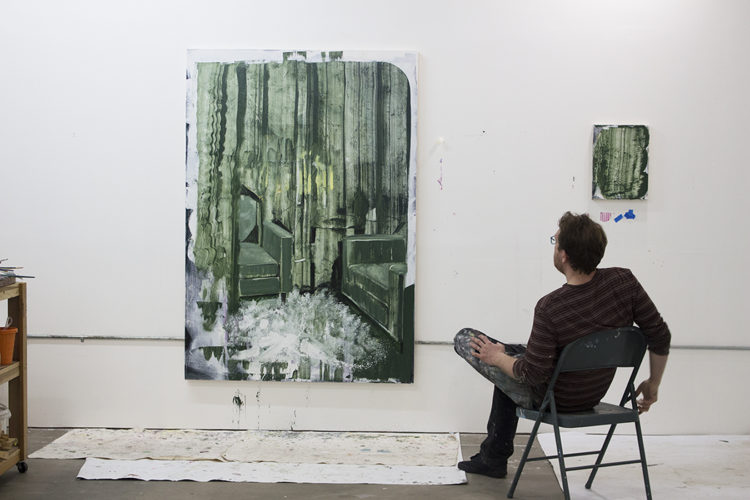 What are the major themes you pursue in your work?
I consider myself an abstract-figurative artist. It is a confusing phase and does not mean much when you say it at first. It is a philosophical problem where abstract and representational paintings are in the range against each other. For me, abstract-figurative is a form of a defense system against the trends of abstraction around me, and it is a combination of both (abstract and figurative). When I combine figuration and abstraction, by doing it on canvas, I get two meaningful pictures of representation and abstraction together. I also refer to Freud, who suggested that a dream is the fulfillment of a wish, and there is an excellent connection between fantasy itself and daydreaming. I feel the same with an abstraction that fulfills the figuration. It is a connection between daydreaming and passing into a deep dream where we combine consciousness with the subconscious. That way, we can talk about painting in various styles and leave it unanswered, just like our dreams.
How did you first get interested in your medium and what draws you to it specifically? 
It goes back to my brother. When I was 7 or 8 years old, I saw my older brother drawing and painting. It was a mystery to see my brother unpacking paints and brushes and getting ready for a painting session. Each time I saw him doing it, it was like unfolding a sacrum ceremony. That made me think about painting as something very different from other mediums. There is always something unpredictable in painting that maybe I don't find in ceramics, sculpture, or digital art.
How has your style and practice changed over the years? 
I believe my style changes continuously, but it is still recognizable as a Bartosz Beda painting. Painting is a constant struggle. It is like biking up the hill and on top of that having muscle pain. 
The United States is much bigger, and it is challenging to make it here as an artist. At least from my perspective. First five years, I lived in a rural Idaho. That was killing my personality and practice as an artist. Now, when I am in Dallas, I feel much better. I like big cities. The city keeps me busy and up at night.
Can you walk us through your process? How long do you spend on one work? How do you know when it's finished? 
I spend about 15 mins to 8 hours on one painting session. Painting is never finished. My intuition tells me when to leave the painting alone and move to another one. That is how I decide about it.
What series or project are you working on next?
The COVID-19 and recent curfew complicated my projects and situation in the studio. I go to the studio in the late afternoon and stay till late at night. I am working on new paintings for my solo exhibition at Execute Project that will take place in the Fall of 2020.
What is the best advice given to you as an artist?
Don't make your prices too high. Don't hang your paintings too high. Be nice.
Shop artwork by Bartosz and other trailblazing artists at The Other Art Fair's Online Studios.
Introducing The Other Art Fair Online Studios, a new online platform offering art lovers around the world access to over 800 Fair artists. The Online Studios will keep our community feeling inspired, engaged, and continue to spread joy through art.