Inside the Studio with Fair Director's Pick Bartosz Beda
As part of our ongoing series highlighting exceptional artists showing at The Other Art Fair Dallas, I caught up with artist Bartosz Beda, one of the exhibitors I'm most excited for people to discover. This week, I visited his studio to preview the works he'll be showing at the Fair and other works in progress. Take a peek behind the scenes in my photo diary below.
The Other Art Fair Dallas
Fair Director's Pick
Bartosz Beda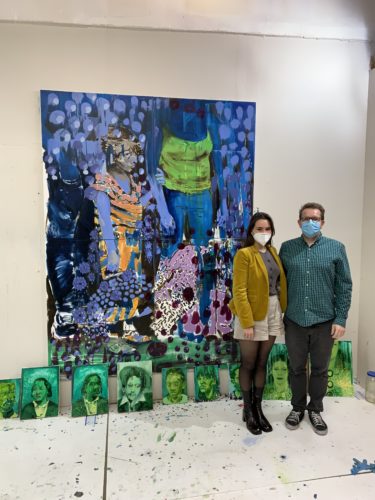 Fair Director Nicole Garton with artist Bartosz Bedia in his studio, standing in front of the "Winter" painting from his new "Four Seasons" series
Bartosz Beda is a Polish artist, based in the US, who explores the emotions we feel when confronting our highest aspirations, forever beyond our reach. He expresses this ongoing conflict in his paintings through a combindation of abstraction and figuration, where the characters that populate his works exist in a state of ambiguity, neither fully abstracted nor fully articulated.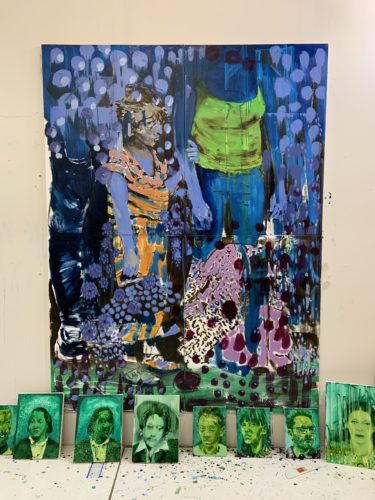 "Four Seasons: Winter" with a series of portaits inspired by found photographs
Click here for tickets to The Other Art Fair Dallas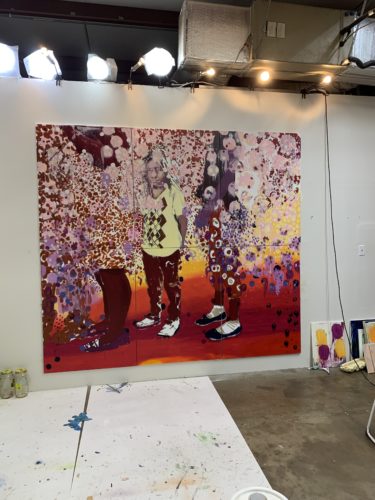 A work in progress: "Four Seasons: Spring"
In his most recent series, "Four Seasons," Bartosz continues his examinations of this in-between state, never to be resolved, echoing states of human emotion, felt simultaneously and at odds with each other: fear, love, anguish. As Bartosz sees it—or, rather, as his paintings reveal it—a successful resolution is futile and a "search for comfort" absurd.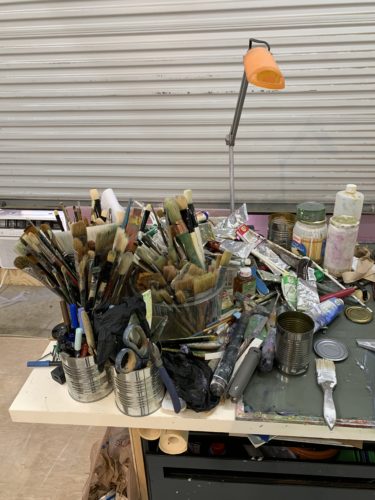 A scene from Bartosz's studio featuring his materials and tools
As I'm forming my "Director's Pick" recommendations, I'm considering key aspects of an artist's work that demand special recognition—whether it be a fully articulated style that is unique and arresting, a mastery of technical skill that reveals an uncommon talent, or a strong underpinning of ideas that is fresh and provocative.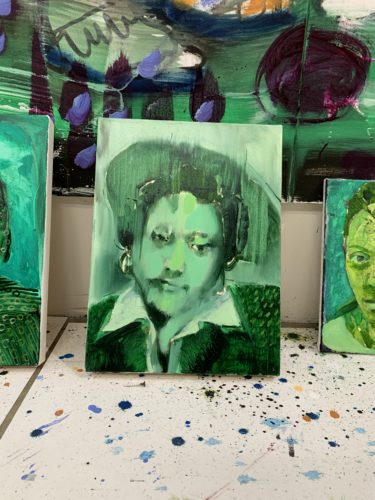 Click here to discover more of my Fair Director's Picks.
With Bartosz's work, it's all of the above. It's no surprise that he's garnered recognition by no less than the Catlin Art Guide, as one of the most promising emerging artists in the UK; Saatchi Gallery's New Sensations as one of the most outstanding recent graduates; and Saatchi Art, as a feature of our Invest In Art (now 'Rising Stars') program. It is my hope that you enjoying discovering and learning more about Bartosz' work, as I have.
Click here for tickets to see Bartosz's latest works at The Other Art Fair Dallas
Come see us this week in Dallas, or wisit The Other Art Fair Online Studios, an online platform offering art lovers around the world access to over 800 Fair artists. The Online Studios is keeping our community feeling inspired and engaged—wherever in the world you may be.