Vanessa Prager on Curating, Befriending Other Artists, and the Elusive L.A. Woman
With the fall art season upon us and Pacific Standard Time unfurling across the Southland, Saatchi Art is poised to debut a blockbuster show that's not to be missed.
Borrowing a title from The Doors' 1971 classic and media partner Los Angeles Magazine's annual ode to the city's preeminent women, Saatchi Art's curators Katherine Henning and Victoria Kennedy teamed up with resident artist-about-town Vanessa Prager to curate L.A. Woman, an exhibition featuring recent works by 15 Los Angeles-based women artists, including Shawna Ankenbrandt, Hilary Baker, Mitsuko Brooks, Kelly Brumfield-Woods, Mercedes Helnwein, Melissa Herrington, Mel Kadel, Tahnee Lonsdale, Sona Mirzaei, Sophie Morro, Monica Perez, Lisa Solberg, Stephanie Vovas, Kim West, and Hiejin Yoo.
The all-women show is on view from September 14, 2017 through January 31, 2018 at Saatchi Art, located at 1655 26th Street, Santa Monica, CA. There will be an opening reception Thursday, September 14 from 6-9pm. Gallery hours are by appointment only, Monday through Friday, 10am-5pm and Saturday. Please email to schedule a visit during gallery hours.
In anticipation of the show, we sat down with Vanessa Prager to chat about her selections for the show, the PST events she is most looking forward to, and some of her favorite L.A women.
---
For this exhibition, we had it in mind to present works by women, to showcase some of the many talented artists working here in Los Angeles. Can you tell us about what inspired your selections and how you became familiar with their works? 
I always look out for women artists who are talented. I want to go to their shows, follow their work, and be their friend. I have known Mel Kadel and Mercedes Helnwein for a long time—I think they are great artists. Kim West, Lisa Solberg and I met while living downtown, as they are both locals there. One of the best things about being an artist is all of the people you get to know.
Having grown up in Los Angeles, do you think there is some quintessential trait that every 'L.A. Woman' has?
I grew up here and have surrounded myself with this city—it's in my bones, so I wouldn't know a trait as easily when I see it. Although, there is something about that Southern California air and orange tinted blue sky…
That is what drives me as an artist…the variation of techniques and alteration of scale and texture plays a hand. I want to bring you all the way to the top, and then drop you off a cliff.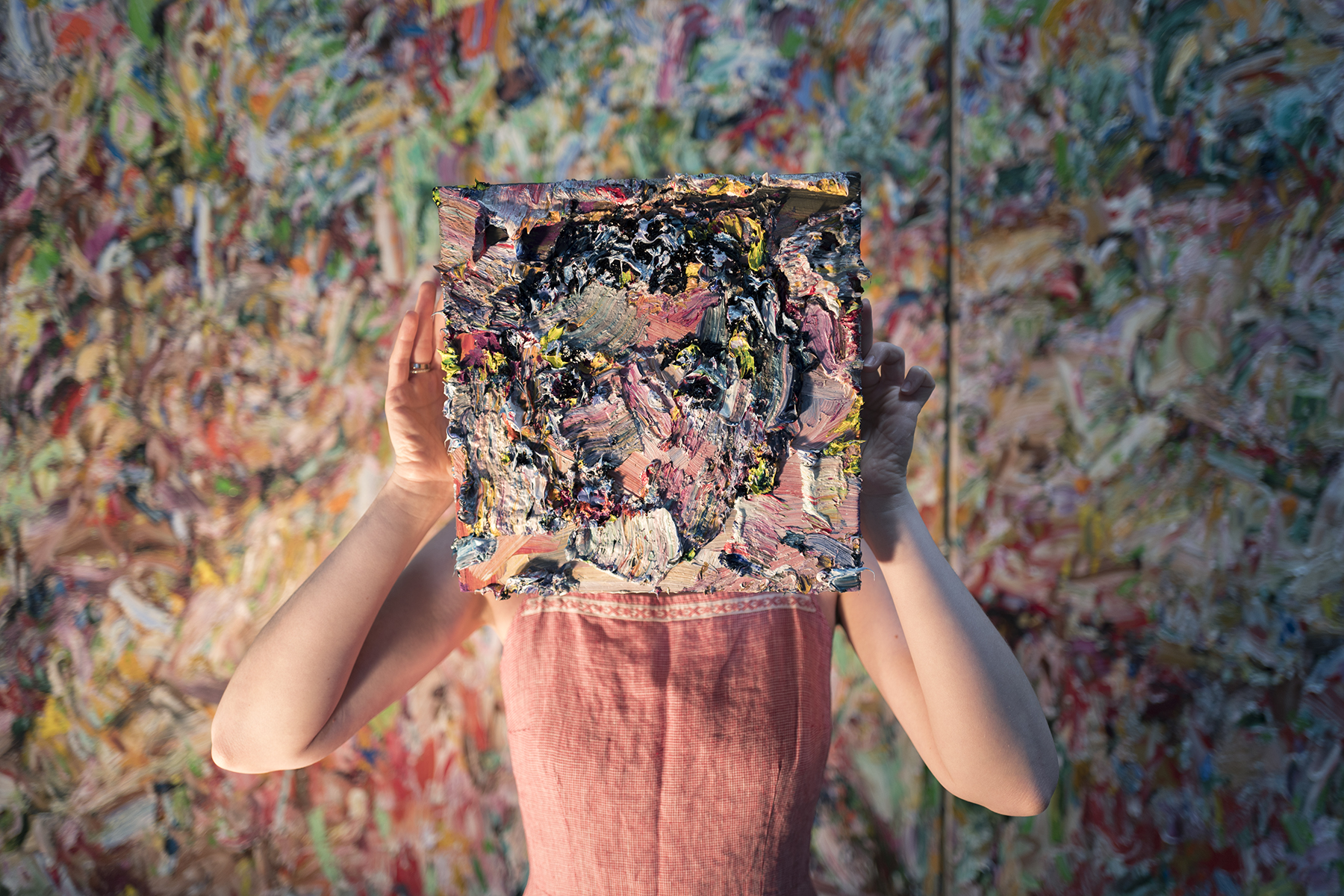 Did you find any unifying principles among the works of the artists you selected that say to you—'This is so L.A.'? And what is it that makes them so?
Color is a predominant factor. I love color, I love the various ways these artists use color. Kim splashes large swaths that relay, whether on the side of a 50-foot building with one of her murals, or on a tiny canvas.
Mercedes has insane technical skill with a nod to the past, but with a unique new perspective, faces getting muddled in a pool of color, hands tied into knots on the canvas.
Mel loops and loops her figures and patterns into hypnotizing swirls that I can't take my eyes off of.
And Lisa has a unique way of using neutrals and color with stillness and action to give you a buzz while allowing you to be both mellow and alive at the same time.
How does your work as an artist influence the way you approached curating this show?
I chose artists that I like personally and works that interest me. That is what drives me as an artist as well. The variation of techniques and alteration of scale and texture also plays a hand. I want to bring you all the way to the top, and then drop you off a cliff.
Anything you're working on now that you can tell us about?
I am working on a new show in New York at The Hole in 2018. Some other dimensions will be touched upon.
What museum and gallery shows are on your must-see list for Pacific Standard Time: LA/LA?
I want to see the LACMA show Home—So Different, So Appealing; the Getty show on Identity; artist Alejandro Almanza Pereda at Ibid gallery; the Hammer's Radical Women show; as well as many, many others. L.A. is so diverse and always has been—the melting pot aspect really interests me.