What is Feminist Art?
The quest for one true meaning of "feminism" will likely leave you unsatisfied. Luckily, along the path to carving out a singular meaning, amongst the waves and intersectional considerations, artists have helped to define an aesthetic approach to the concepts explored. We're in an age where Feminist Art should be in your canon – and if it's not, here's where to start. Please don't be afraid.
The feminist art movement largely grew out of the efforts of female artists of the 1960's and 1970's. The movement cut its teeth by criticizing traditional gender expectations and the male-dominated art history canon. During this time, women produced art that created a dialogue between the artist and the viewer. The artwork, in a sense, became a feminist lens through which one could view the contemporary issues of gender and adopt or identify with female experience. While women artists still face disparity in the art world today, two women in particular broke ground in raising awareness of the feminist art movement: Judy Chicago and Jenny Holzer.
Judy Chicago and The Dinner Party
Born as Judith Cohen in 1939, Judy Chicago received her Bachelor of Fine Arts degree from UCLA in 1962. As an artist, her skills are wide-reaching, including painting, drawing, live performances, pyrotechnics, and printmaking, among others. In 1970, Chicago decided to teach full-time at Fresno State University, hoping to inspire other women to achieve a feminist lens on their work. Her efforts ultimately led to the nation's first Feminist Art program, and encouraged numerous women to pursue their artistic practice with a feminist mindset.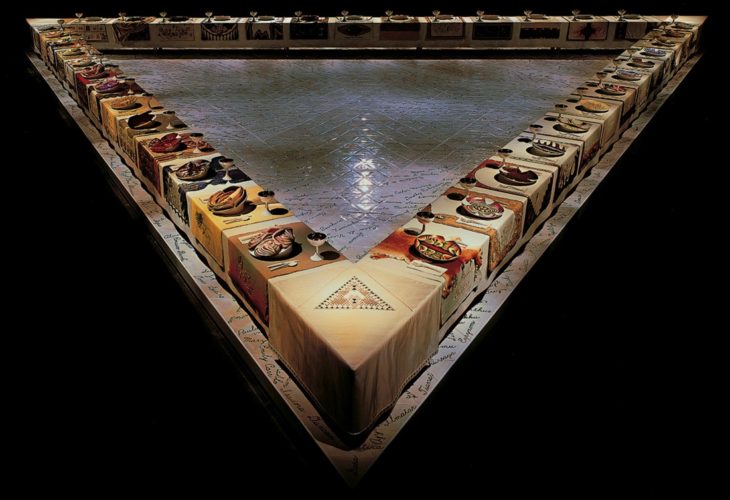 In 1975, Chicago conceived the idea for her famous installation, The Dinner Party, in her Santa Monica studio. Chicago set a triangle table 43 by 36 feet long, filled with placemats, dinner plates, and goblets. In constructing the art, Chicago incorporated artistic techniques traditionally used by women in a domestic setting, such as ceramics, needlework, and china-painting. By using these techniques to illustrate a history of women at a dinner party, Chicago called attention to the presence of women in the arts and honor their contributions. The project took nearly five years, and around $250,000 of Chicago's own funds to create. With the assistance of over 400 people, primarily women, constructing Chicago's Dinner Party was itself an act of feminist art.
Jenny Holzer
Part of the second wave of feminism in the 1970's and 80's, Holzer is best known for her neo-conceptual artwork that brings the written word to public spaces. Although she began as a painter, Holzer's extensive reading of Western and Eastern literature brought her to experiment with the written word as art. She created a collection of "Truisms," which were printed plainly on white paper, and pasted to the sides of buildings. As these were anonymous works of art, their presence encouraged viewers and passer-by's to scribble responses in return and interact with the art.  Some of her phrases are now well known, such as "Protect Me From What I Want," and, "Abuse Of Power Comes As No Surprise."  All of them intend to confront the viewer and force them to think critically about contemporary society.
The public environment of Holzer's work is where its power lies – often her artworks appear on billboards, protected onto buildings, or as illuminated electronic displays. In particular, when technology introduced the development of LED lights in the 1980's, Holzer began creating large-scale displays for the sides of building. Her smaller LED works have inspired the works of Donald Judd and Dan Flavin.
Feminist Art Today
While most of the strides in the feminist art movement were made in the 1960's to 1980's, many female artists today continue in the traditions of their predecessors. The Guerrilla Girls are feminist art activists, who continue to undermine the mainstream (and often masculine) narrative of the art world. Their works call attention to the overlooked, and often unjust, aspects of society and act as champions against discrimination not only for women, but for all genders and races. Their signature style is anonymity by wearing guerrilla masks, as it allows the spotlight to focus on the issues, rather than themselves.
Every day, by creating art, women are contributing to the story of feminist art, a narrative that is still being written.
Looking for more contemporary art? Enjoy browsing the variety of talents and styles in our Works by Women collection below.