Explore Marfa, Texas Through the Eyes of Artist Thomas Hammer
Travel through Marfa, Texas with Harlem-based Saatchi Art artist Thomas Hammer. See the iconic Prada storefront, nestled amongst the sparse desert backdrop. Get a glimpse of celebrated minimalist Donald Judd's Chinati Foundation works and learn about his influence over Marfa, echoed deeply in the art scene and permeating throughout the city. Much more, all below. For a refresher on the works of Donald Judd, Dan Flavin and more, check out this Canvas blog post: Art History 101: Minimalism.
All photos courtesy of Thomas Hammer.
1. Prada Marfa
If you're driving from El Paso, Texas (the closest major city), Prada Marfa greets you on U.S. Highway 90 about a half hour out of town. As a sculpture, the work is visually arresting. Intentionally out of place in this rural west Texas site, it looks like a colonial outpost from another galaxy (presumably one whose denizens wear $800 pumps). When you pass by for the first time, you have to photograph it. It's an unofficial rule.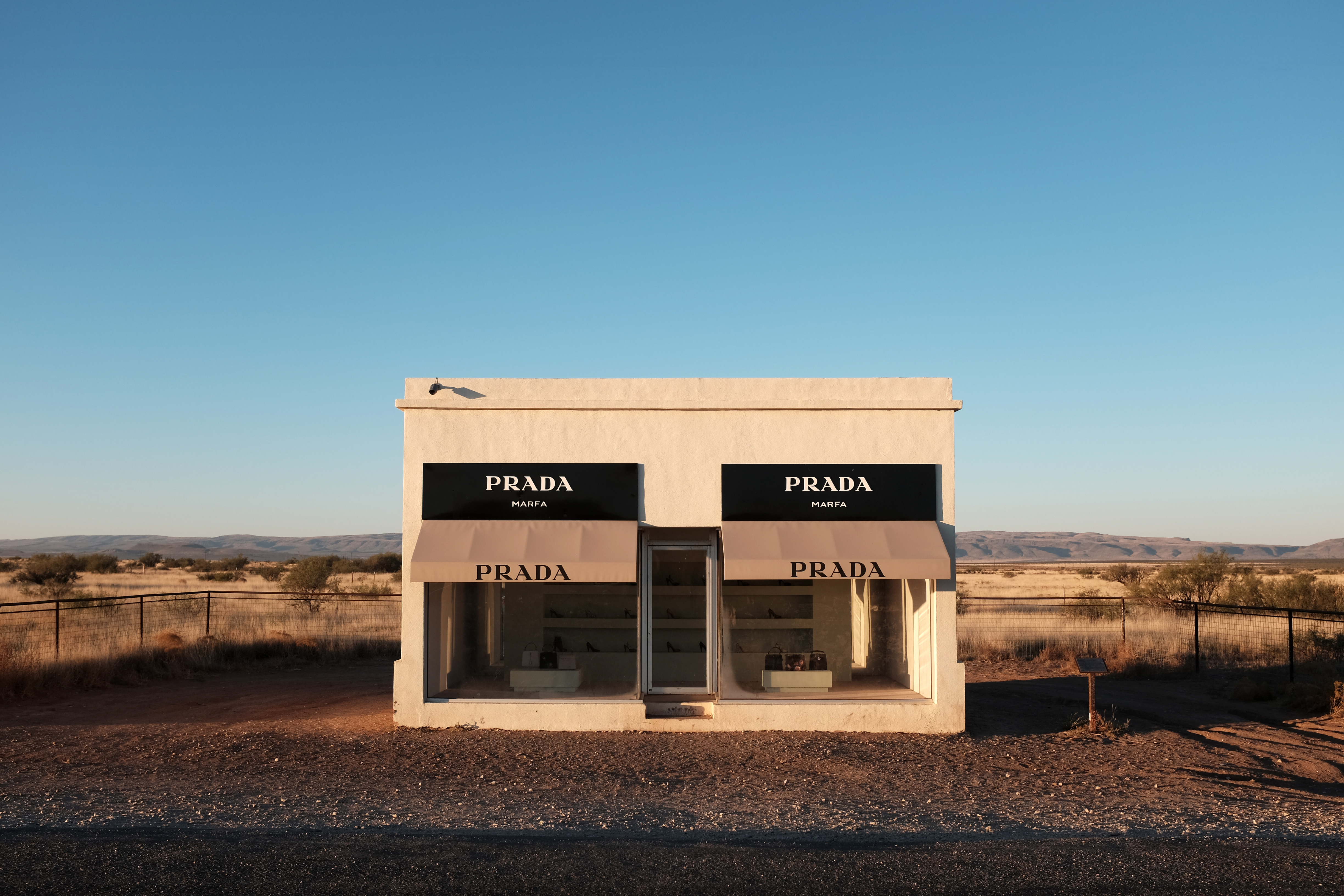 2. Ice Plant
If you visit before August 2017, you can check out two groups of large-scale Donald Judd works, which have never been publicly displayed. Untitled (U channel, 1980 and V Channel, 1982) were sitting in storage for about 30 years before being installed in this decommissioned ice plant. Judd's presence looms large in Marfa. His works were ambitious in scale and, in partnership with the Dia Foundation, he and his contemporaries pushed beyond the limitations of commercially viable art before the mega-collectors made monumental works totally commercially viable.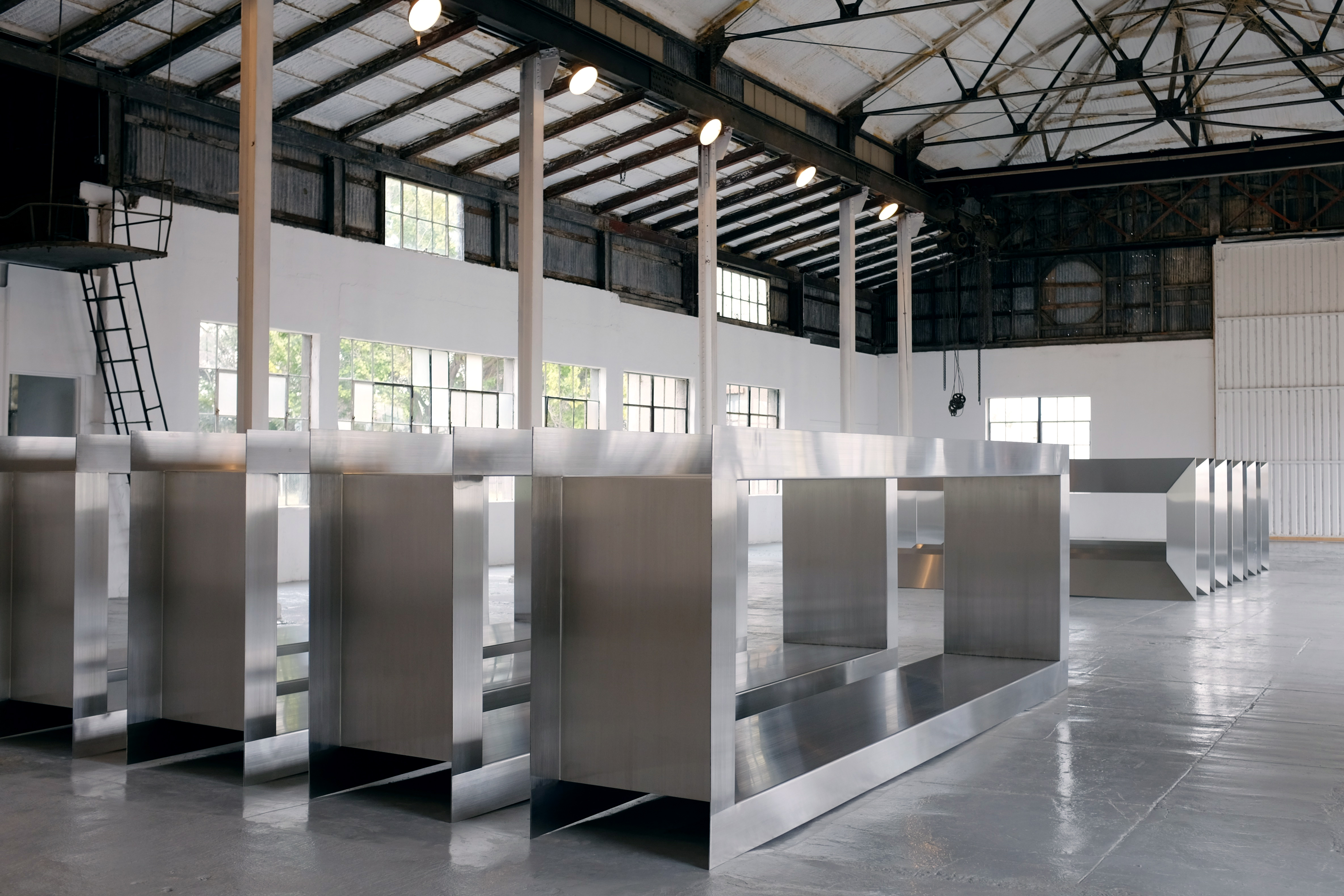 3. Dan Flavin Chinati
Most of the Chinati Foundation tour takes place a few minutes out of town at Fort D.A. Russell. Before serving as a museum, the former military base operated as an artillery base during the Mexican Revolution in the early 20th Century and also notably housed German POWs during WWII. Today, twelve of Dan Flavin's fluorescent light installations reside within 6 former military barracks. At the entrance of each of these buildings, you can see the echo of saturated light reflecting off the wall and inviting you in. At the end of the hall is the epicenter where the eight foot sculptures glow, appearing both toxic and sublime.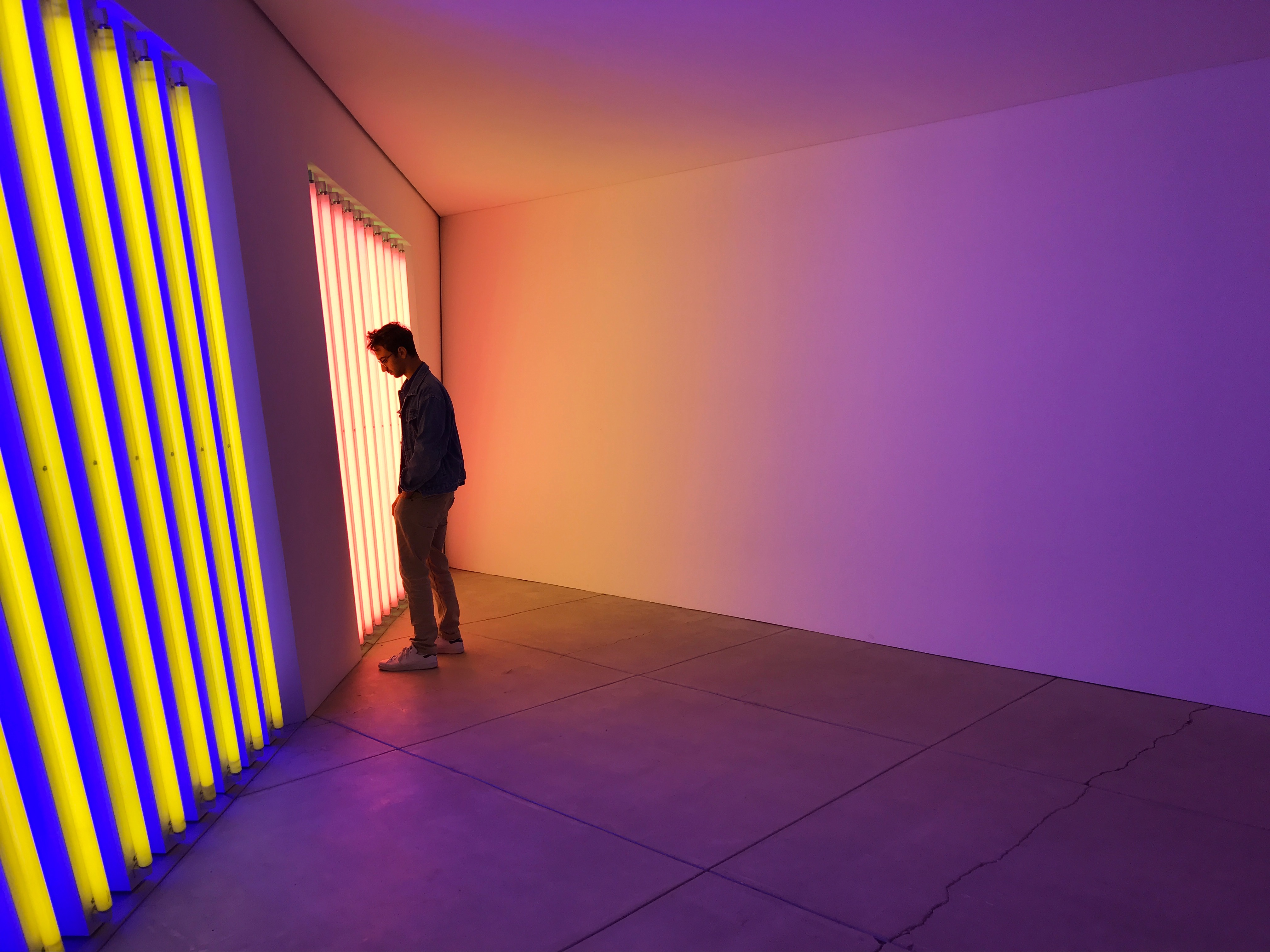 4. John Chamberlain Chinati
The Marfa Wool & Mohair Company building in downtown Marfa hosts a large collection of John Chamberlain works. His most iconic artworks are large metal sculptures comprised of crumpled up automobile parts. In the foreground is a video piece by Chamberlain titled The Secret Life of Fernando Cortez.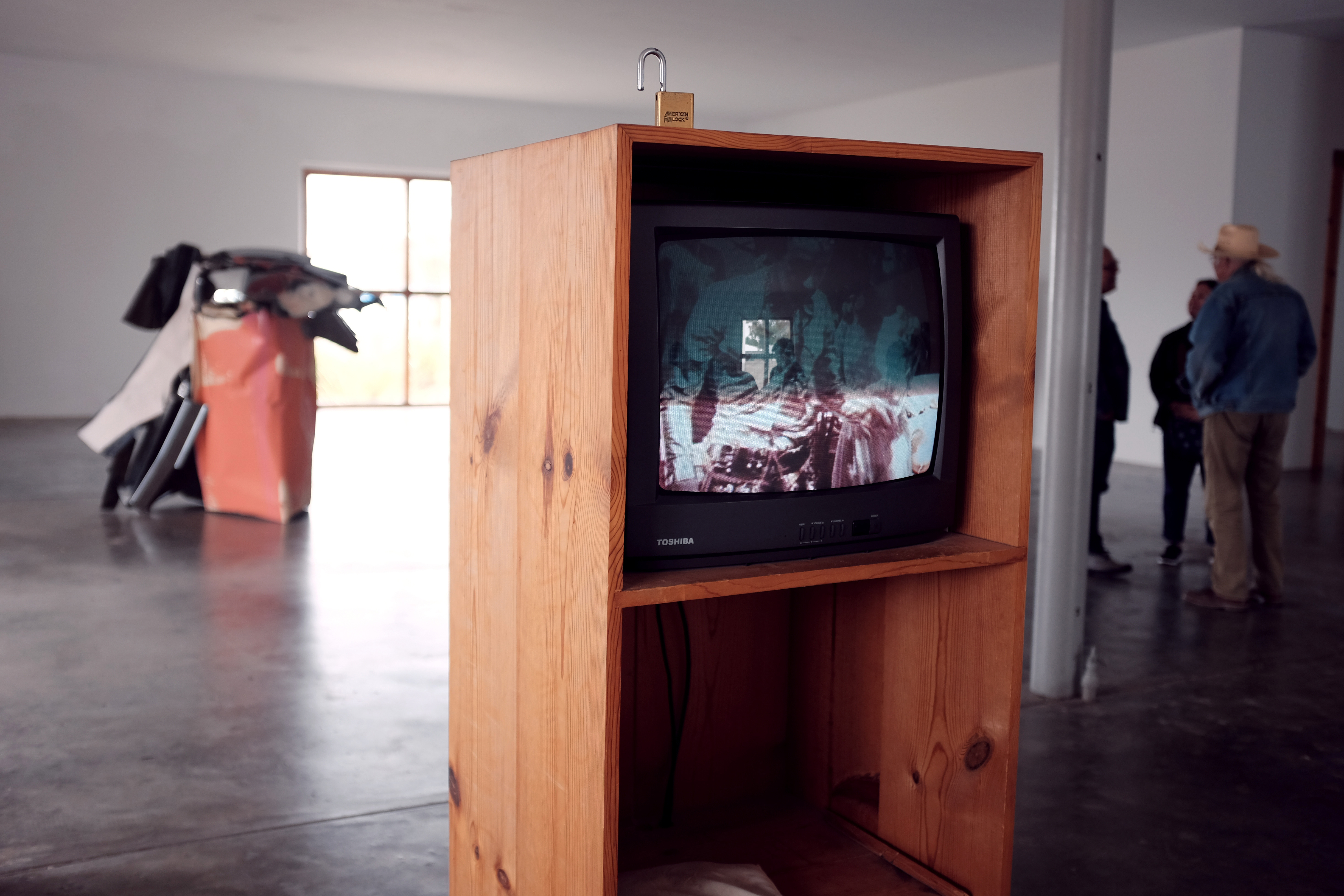 5. Bookstore
After the tour let out, I wandered into the Marfa Book Co., a well presented collection of art books and design-y retail goods. Marfa Book Co. is adjacent to the lobby of the Hotel Saint George, the new fancy-pants luxury property locals love to hate for its chic white brick exterior, which stands in defiance to the surrounding stucco vernacular. Donald Judd, who worked hard to preserve the aesthetic integrity of the surrounding community, also would not have approved.
6. Judd Concrete
Along the border of The Chinati Foundation property are 15 Untitled works in concrete, each with the same measurements of 2.5 x 2.5 x 5 meters. From a distance the assemblages resemble giant grazing cattle. Up close you can walk around and through them. You can sit down for a moment, put down your camera and your plans while you contemplate the connection between earth and art. You can look out from the architecturally framed vistas and marvel at how the plain no longer seems monotonous, but infinite.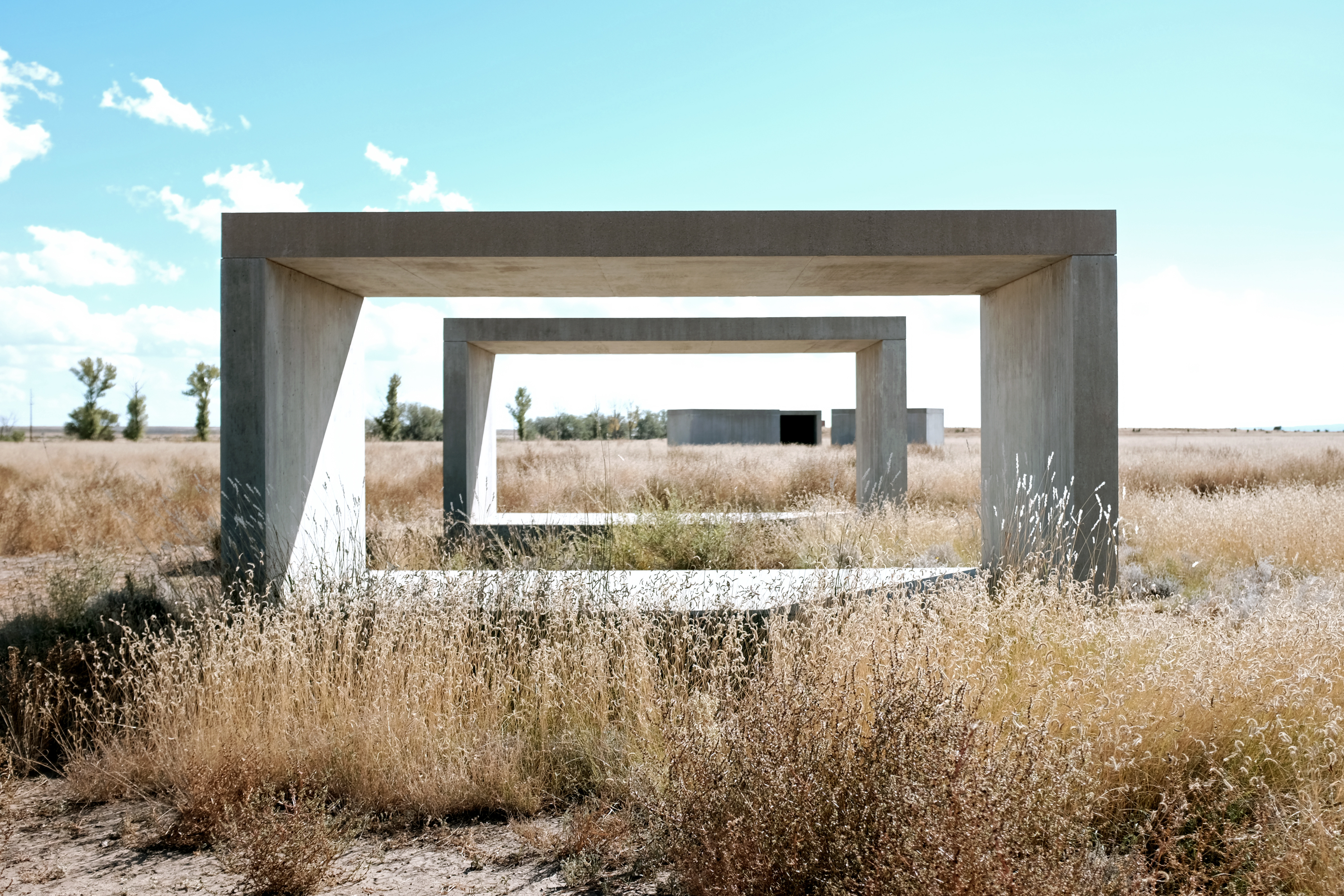 7. Christopher's in Marfa furniture shop
Legend has it Donald Judd began designing furniture for himself and his family when he saw what was available to purchase in local stores. I considered the story apocryphal until I wandered by Christopher's Furniture Shop downtown. Now closed, the washer dryer combo greeted me like apparitions of the promise of a good American life. I put my face to the glass and browsed plastic flowers and pastiche-laden furniture. The story checked out.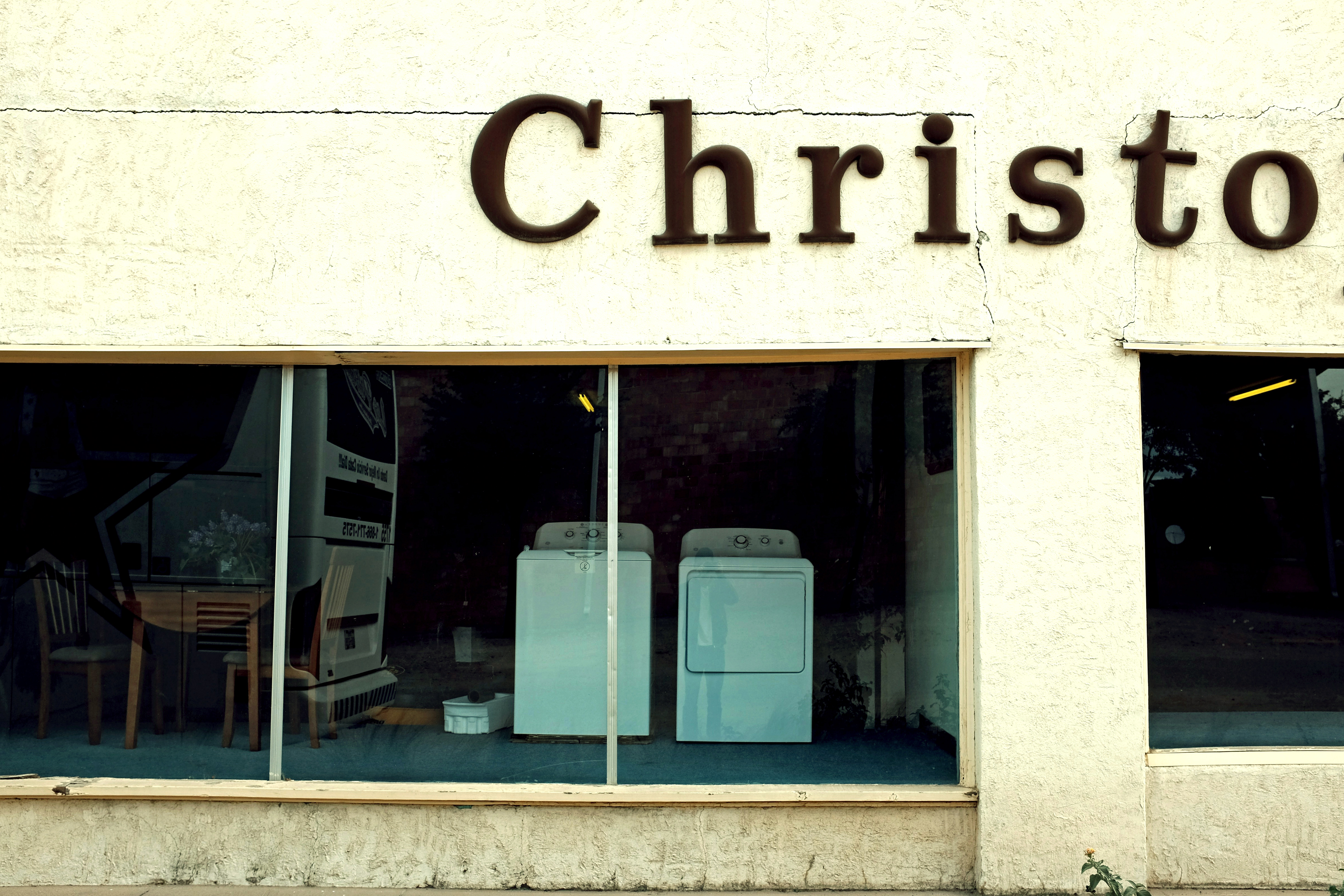 8. Judd by the pool
After a full day, I headed back to my hotel pool to catch the remaining sun. I cracked open the journal I had picked up earlier at Chinati. There Donald Judd appeared once again in front of me, brow furrowed and concentrating on bringing his next vision to life. I thought about how Judd's disdain for urban life led him here. How, little-by-little, he orchestrated Marfa into the pilgrimage site it is today. I thought about how after his unexpected death he passed it on, to the artists, historians, and conservators of today and tomorrow. I thought about my own practice and felt, well, connected.
9. Marfa Contemporary
Later that evening I took a stroll down San Antonio Street, one of the main drags in town. I passed by Marfa Contemporary, which sits on the site of an old gas station, the archetypical elements remaining. Beyond its foundations, Marfa is also home to several other world class art institutions, including Marfa Contemporary and Ballroom Marfa. Their ever changing programing focuses on projects by notable and emerging artists working today. They are well worth exploring over an afternoon.
10. Capri Oaxacan Old Fashioned
If night rolls in and you're still not done, latch onto the people you met in your tour group. Go to Planet Marfa, dance the two step, and have a beer in a teepee. Play pool with the locals at the Lost Horse Saloon, if you want. If you're a tequila fan (and really who isn't?), DO NOT miss the Oaxacan Old Fashioned at Capri.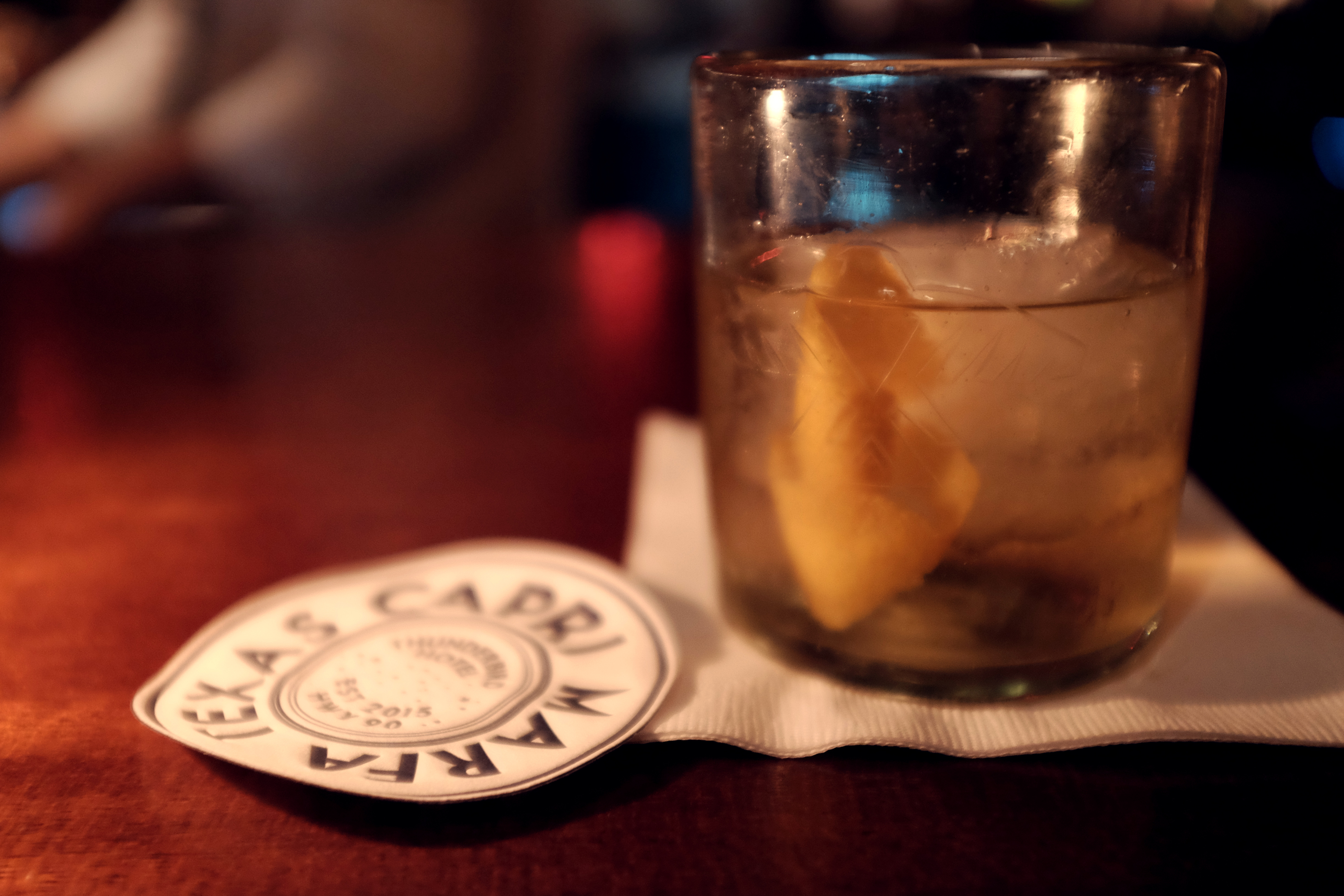 Bonus:
11. Prada Marfa middle finger
The day before the presidential election I drove back to El Paso on my way home to New York. I stopped again at Prada Marfa to snap one last photo. Knowing I couldn't match this…
I decided to create a fun homage to the great artist, Ai Weiwei. In Weiwei's body of work entitled Study of Perspective (1995-2003), the artist photographed himself flipping off monuments around the world as a gesture of social responsibility and the right to protest. Far beyond gesture, Weiwei has spent his career championing free speech. He has been called an enemy of the state in his native China. He has lived through imprisonment and omnipresent surveillance to fight for individual and civil rights. He has kept his sense of humor throughout, like a total boss. I wasn't originally planning on sharing this, but here it is.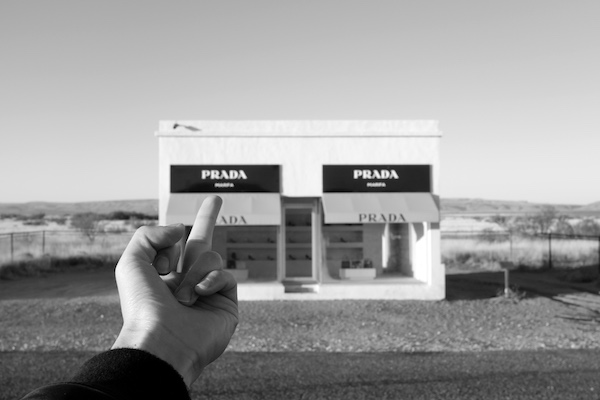 Love reading and learning about all things art? You can have articles from Canvas, curated collections, and stories about emerging artists delivered straight to your inbox. Sign up for the Saatchi Art Newsletter.