Inspired by Jackson Pollock: Meet 7 Saatchi Art Artists Who Also Paint On The Floor
My painting does not come from the easel. I need the resistance of a hard surface. On the floor I am more at ease. I feel nearer, more part of the painting, since this way I can walk around it, work from the four sides and literally be in the painting.

When I am in my painting, I'm not aware of what I'm doing. It is only after a sort of 'get acquainted' period that I see what I have been about. I have no fear of making changes, destroying the image, etc., because the painting has a life of its own. I try to let it come through. It is only when I lose contact with the painting that the result is a mess. Otherwise there is pure harmony, an easy give and take, and the painting comes out well.

– Jackson Pollock
Regarded by many as one of the greatest American painters, Jackson Pollock's style is effortlessly recognizable and has influenced countless artists working today. As a major player in the Abstract Expressionism movement, spontaneity was the core of Pollock's work.
Pollock tackled his paintings fearlessly — maneuvering around each work at all angles, able to be completely consumed by the process. The paintings throughout Pollock's oeuvre continue to inspire many contemporary artists. However, it was his later work, defined by art historians and critics as implementing a "drip technique," which could only be achieved by unfurling his large canvases on his barn floor, that he became known for.
In honor of Jackson Pollock's birthday, we take a look at 7 artists on Saatchi Art that take a cue from Jackson and work on the floor. 
Jonas Fisch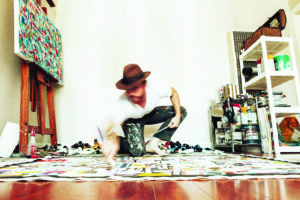 Los Angeles-based, Swedish born artist Jonas Fisch creates large scale paintings inspired by street art and artists such as Jackson Pollock and Jean-Michel Basquiat. Using both imagery and text, Jonas paints with pointed commentary imbedded in each of his works. Learn more about Jonas' work in his One to Watch feature. Explore Jonas' Portfolio.
David Fredrik Moussallem
Toronto-based artist, David Fredrik Moussallem finds inspiration and utilizes found materials from the city itself. While David explores the city streets, he will tear down posters and flyers to later use in his mixed media paintings and collages. Read more about David's technique in the current Saatchi Art catalog. Explore David's Portfolio.
Liz Barber
The paintings of Liz Barber represent a transitional cycle seen in the changing of the seasons. She expresses her memories on the canvas, that are defined by changing colors of the leaves in autumn, or the visible haze seen in summer evenings, or the vivid greens appearing every spring. Go behind the scenes and view Liz's studio in her Inside the Studio feature. Explore Liz's Portfolio.
Taylor O Thomas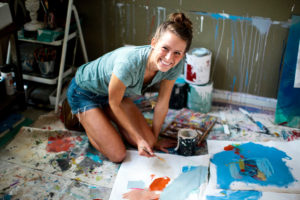 Taylor O Thomas views her paintings as an ever-changing story. Each layer adds a new element representing her physical, mental, and spiritual explorations of issues she faces. To learn more about Taylor's artistic practice, check out her feature in Saatchi Art's One to Watch series. Explore Taylor's Portfolio.
Thomas Hammer
Initially inspired by action painting, Thomas Hammer strives to depict movement and energy. Throughout his practice, he has created his signature gestures and techniques involving lyricism and calligraphy. Take a deeper look into Thomas' technique with his Canvas blog feature. Explore Thomas' Portfolio.
Juliana Do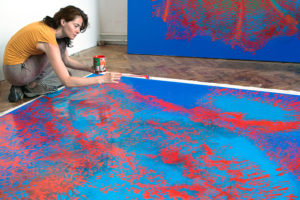 Juliana Do combines intensely realistic figures and pure abstract in her works. Both serve to help her better understand the origins of human life, the meaning of humanity, and our inner selves. Learn more about Juliana's practice by going Inside the Studio. Explore Juliana's Portfolio.
Steve Byrnes
Utilizing everyday materials around him, Steve Byrnes creates his paintings from dirt, dust, oil, and paint. Greatly influenced by the Japanese aesthetic of wabi-sabi, Steve embraces imperfections in his artworks. Head over to One to Watch to learn more about the themes Steve examines in his work. Explore Steve's Portfolio.
Love reading about all things art? You can have articles from Canvas, curated collections, and stories about emerging artists delivered straight to your inbox. Sign up for the Saatchi Art Newsletter.