Meet the Others: Ziesook You
The Game Changers. The Rule Breakers. The Innovators. Discover some of the fantastic emerging talent showcasing their work at The Other Art Fair.
Ziesook You portrays her surroundings and daily life in a bold, unaffected video language. Her pieces include the video diary of her family using time flowing methods, a documentary film taken in various world travel sites depicting space and time, and 10 Years Self-Portrait using time compression techniques.  
Since 2016, she has been working on the "Scent of Broq-pa" project, which expresses happiness through the coexistence of humans and nature, with people from various walks of life. Her work prefers continuous series in which layers accumulate over a long period of time, examining time, space, nature and life. She currently works from her Dallas-area studio.
---
Q&A with the Artist
Tell us about who you are and what you do. What is your background?
I was born and raised in Korea. I studied painting in undergraduate school, but I was also attracted to photography and video, So, I studied and worked on images, videos, and related installations in graduate school. After graduating, I taught media art, video, and modern art as a university lecturer for eight years. I participated in various art exhibitions, documentary film festivals, and residence programs. My interactions with the various artists, curators, and members of arts associations I met along the way have helped me expand the scope of my work. 
I love taking pictures, listening to music, and travelling. I have traveled to about 30 countries including Asian, European, and American countries. On those journeys, I photographed, wrote, and made documentary videos about my experiences, all of which became a source of inspiration for my later work. 
As my work evolved, I participated in group and individual exhibitions and won several competitions. Then in 2019, I came to the United States because of my husband's new job here. This newest adventure is full of hope and challenges for me. I think it's a new beginning.
What are the major themes you pursue in your work?
Through my art, I record the ordinary moments that are a trace of my life. I try to express relationships, emotions, colors, and nature in everyday life.
All my work is either a reflection of the moment or explores the continuity of time through sequences. I like exploring how various media such as photography, video, installation, painting, and writing can exist as harmonious voices.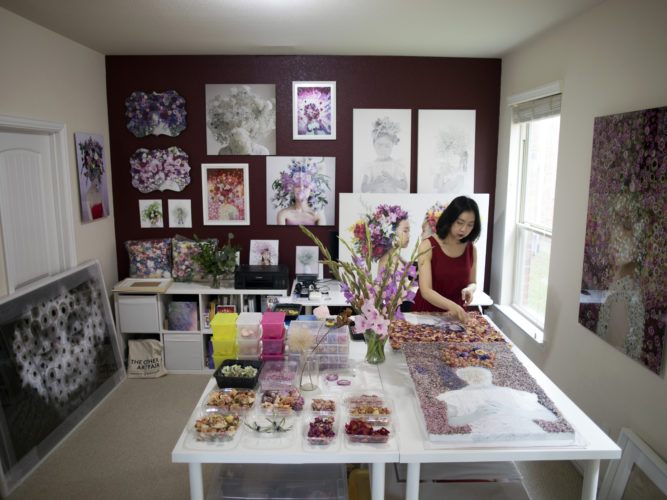 How did you first get interested in your medium and what draws you to it specifically?
In my early work, I recorded myself and my family's daily life and represented those events in a single channel video. While I was developing new ideas for my next artwork, I came across a media piece introducing a story about Nepal. I was particularly impressed by what I learned about a small Nepalese village named Broq-pa, located at the end of the Silk Road. In Broq-pa, flowers have special meaning. For the villagers there, flowers represent love, happiness, and faithful appreciation for God. Broq-pa's women are committed to growing flowers in their gardens and they decorate their hair with flowers every day.
I wanted to borrow the meaningfulness of flowers I found in Broq-pa and reflect it in my art and life. I believe flowers can bring a piece of happiness into people's lives, and I want to share the joyful spirit of Broq-pa through my series, Scent of Broq-pa.
How has your style and practice changed over the years?
The first works in the Broq-pa series were floral portraits of my twin daughters. Now, I am expanding the series with images of seniors, single mothers, people from multicultural backgrounds, and different age groups. This new work goes beyond my early self-portraits with fresh flowers by adding experiments in various media. The new series combines the characteristics of photography and painting and uses fresh flowers and dry flowers together, and will eventually include works in collage.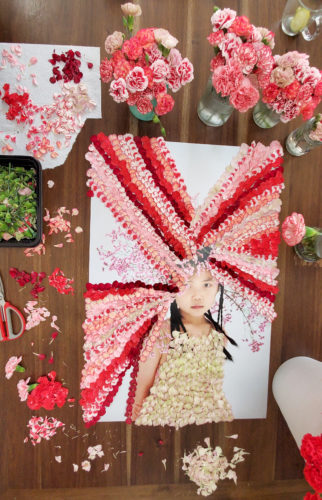 Can you walk us through your process? How long do you spend on one work? How do you know when it's finished?
Each person has their own unique identity and their own color. I imagine the color a person has and try to find the right flower to represent him or her. A person's color is derived from my impression of them, their skin color, a costume they wore that day, their makeup, or their belongings. I try to discover every possible expression of the person.
My works are primarily created in the form of a series. Although each piece is different, a single portrait often takes three days. However, most of my projects involve multiple people, so some take three months while others take three years. The Scent of Broq-pa series has been going on since 2016.
My work in collage begins with the collection and drying of the flowers. The final color varies depending on the drying period, and it can take as long as three years to express the greatest range of color. I use a variety of processes for drying flowers, then sort and arrange them by color to make the colors more harmonious. I repeat the steps I used in the most successful prototype to make the final piece. In the case of my video work, it takes about a year and a half to collect and edit data to capture the four seasons. 
I feel that a piece is finished when my experiments, thoughts, and actions are finally well-organized and the expression I wanted to achieve feels complete.
What series or project are you working on next?
I still find working with flowers and people richly attractive. The theme of my current work is centered on people and specific groups of people, for example, seniors and single mothers. I realize now that the range of colors found in nature is so much greater than what I expected. I intend to continue exploring flowers and colors in new ways and in new places. In future works, I would like to visit the flower markets around the world and reflect the fashion and cultural characteristics of people in different countries in new images.
What is the best advice given to you as an artist?
Creating art is a long journey. So enjoy and believe in yourself and don't stop. Keep going ~
Shop artwork by Ziesook and other trailblazing artists at The Other Art Fair's Online Studios.
Introducing The Other Art Fair Online Studios, a new online platform offering art lovers around the world access to over 800 Fair artists. The Online Studios will keep our community feeling inspired, engaged, and continue to spread joy through art.