Meet the Others: Lorenzo Diggins Jr.
The Game Changers. The Rule Breakers. The Innovators. Discover some of the fantastic emerging talent showcasing their work at The Other Art Fair.
Lorenzo Diggins Jr. is visual artist, creative director, and art book publisher based out of South Central Los Angeles. One could find Lorenzo either in pursuit of bringing his own creative ideas to life or helping others actualized theirs.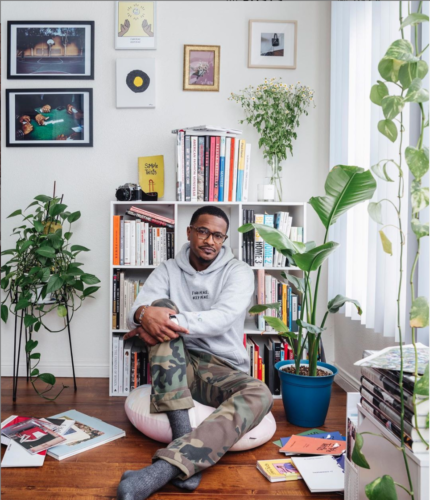 The common thread weaved throughout his art practices, is a deep value in fostering connection among people. Having exposure to different cultures, the objective of his work is also to be a bridge to connection and dialogue and hopefully creating community.
---
Q&A with the Artist
Tell us about who you are and what you do.  What is your background?
My name is Lorenzo Diggins Jr. and I'm a visual artist (photography & illustration), creative director, and art book publisher based out of South Central Los Angeles. I'm either in pursuit of bringing my own creative ideas to life or helping others actualize theirs. The common thread weaved throughout my work, is a deep value in fostering connection amongst people. Simply put, I love using my work as the tool to create community.
Aside from operating my design studio/art book publishing company – I am currently working on a newsprint publication exploring inner-peace and I plan to release it on September 1st! Stay tuned.
What are the major themes you pursue in your work?
As a visual storyteller, I am committed to using my work not only to tell the stories of my subjects, but also to serve as an opportunity (and invitation) for viewers to share their own stories. One of the objectives of my work is to be a bridge to connection and dialogue while simultaneously creating community.
In other words, the exploration of people and places are major themes in my work – but specifically focusing on the humanity and heart of the people and places misrepresented and/or underserved in areas like my hometown, South Central Los Angeles.
How did you first get interested in your medium and what draws you to it specifically?
My mother definitely (though subconsciously) piqued my interest in photography. She always had a camera with her and though as a child I was usually annoyed by her obsession with taking many pictures during our family outings – I later realized that she was simply capturing moments not only for sentimental value but also for documentation. Because my mother was the only one who ever thought to document moments, particularly in my family, those images also served as visual time capsules to the events that other family members spoke but didn't have a visual reference…my mother actually had the visual reference.
Long story short, I later discovered that the role my mother played as the "family documentarian," subconsciously I occupied the same space amongst my friend groups being the one who always had a camera, and was drawn to capturing the moment(s).
How has your style and practice changed over the years?
Since I didn't have a clear vision when I first started pursuing photography – I was encouraged to explore different aspects of photography and that's exactly what I did. After the first year of taking portraits (but mostly headshots lol) and doing event photography, I quickly learned that I wasn't passionate about neither one of those and then I decided to focus more on lifestyle photography. What I liked about exploring lifestyle photography was that it was subjective and I felt like I had more creative freedom. I started getting commissions from brands to create content and aside from taking beautiful pictures, what I discovered is that I really loved the storytelling approach I developed in creating the content and eventually I honed in on that aspect, and that's essentially my practice today…capturing moments to tell a story/narrative.
Can you walk us through your process? How long do you spend on one work? How do you know when it's finished?
Truthfully my photography process is pretty intuitive and fluid…since I always have 1 (or 3) camera(s) with me, my only intention is usually to capture the moments (or things) that resonate with me at that specific time, and I repeat that daily; before you know it, I have a collection of images (body of work) to reference from.
As an off topic but very relevant note, I think it's also necessary to state that because I engage in art book publishing, initially, I envision the work that I create to be experienced in book form (before it is exhibited on the walls of a gallery) – so I actually don't know when it's finished until I'm going through my collection of images and a story starts to form. Until then, I just keep creating (documenting).
What series or project are you working on next?
Aside from the publication I plan to launch on September 1st – next year, I also plan to release my first big coffee table book…so a lot of the "work" or images that I've been capturing lately, perhaps is subconsciously being catalogued with the intention of possibly including in the book. Ideally, I'll have an exhibition for that body of work as well. Stay tuned!
What is the best advice given to you as an artist?
Since I can't recall any specific advice, as an alternative, please allow me to share, 3 quotes that I always refer back to for inspiration:
"Creativity can not exist outside of work." – Nathaniel Mary Quinn
"Forget the noun, do the verb." – Austin Kleon
"Make good art." – Neil Gaiman
Shop artwork by Lorenzo and other trailblazing artists at The Other Art Fair's Online Studios.
Introducing The Other Art Fair Online Studios, a new online platform offering art lovers around the world access to over 800 Fair artists. The Online Studios will keep our community feeling inspired, engaged, and continue to spread joy through art.