The Other Art Cities Detroit Spotlight: Johnny Floyd
The Other Art Fair is proud to present The Other Art Cities Detroit Spotlight. A new feature showcasing some of the best emerging talent from around the world. First stop Detroit!
Johnny Floyd is a Detroit based self taught artist. We asked him about his work, being an artist in Detroit and how his practice has evolved over the last six months.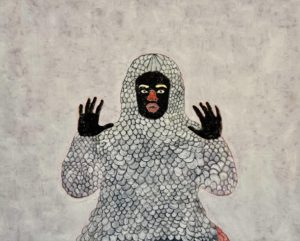 Phobos, Johnny Floyd
Tell us a bit about yourself
My name is Johnny Floyd. I'm a self-taught African American painter working in Detroit, MI. I started painting 2 years ago when it became clear that creating was the only thing that made any sense. My work both examines and reimagines the African American experience through the melding of figurative, surrealistic, and abstracted practices that lend a broad lens through which to view this world.
What are you inspired by at the moment?
There are so many spaces to draw inspiration from in this moment. While the seemingly apocalyptic mess that is our country right now remains a source, I have been attempting to draw from within lately; to allow my practice to be a place of refuge, solace, and healing. That  said, the brave work of those on the frontlines of cultural movements such as BLM have given me a sense of urgency. As a visual artist, I recognize the necessity for Art as a means of historical documentation. For far too long we have depended on traditional, antiquated and homogeneous forms of documentation. My art attempts to disrupt that harmful practice. 
In Plain Sight, Johnny Floyd
What are some of the best things about art in Detroit/ being an artist in Detroit?
Detroit is a complicated place with a complicated history; so too goes the story of it's Art community. There are a lot of beautiful aspects of it. It is fairly insular so there are a lot of opportunities to meet artists, expand your network, and find space to truly express ideas. That being said, just as most places, the galleries and institutions seem to be mostly homogeneous places. This is not to say there aren't instances in which diversity exists, but as is the case in the Art scene across the world, Detroit has a lot of work to do. The beautiful thing about this is that it is an opportunity. We can still address these issues and facilitate meaningful dialogue and precipitate change. 
How has your practice shifted over the last 6 months?
Outside of having a lot more time to focus on painting, the last 6 months have been an extended moment of reflection and personal inventory. My practice has shifted significantly toward abstraction. Perhaps that has been a reaction to the violently amoebic nature of the moment? I have tried to allow the work to be what it wants to be. I'm not skilled or experienced enough to fully articulate my thoughts and render them directly, so I'm learning more and more to give myself to make mistakes and learn from them. 
What are you working on at the moment?
I'm mostly working on establishing myself as a working artist in this weird world. For a long time I was so hesitant but now I know this is my purpose. That was a huge and scary realization for me. As far as painting is concerned, I'm working on a series of larger pieces dealing with navigating this moment in history as a black man through abstraction. 
Shop artwork by Johnny and other trailblazing artists at The Other Art Fair's Online Studios.
The Detroit Artist Spotlight is first in The Other Art Fair's Other Cities Series. The series aims to showcase some of the best emerging artists in undiscovered art hubs to our global platform, providing exposure to these up and coming stars and bringing collectors and buyers from around the world to new destinations.