New Futures Class of 2021
As part of The Other Art Fair's continued mission to break down traditional barriers of the contemporary art world, New Futures is designed to launch the careers of talented emerging artists through prizing that includes free exhibition space and mentorship.
Opportunities to exhibit physically at the Fair, digitally through Virtual Editions and on The Online Studios will provide creatives with valuable exhibition and sales experience. Whilst a complementary program of focused, ongoing mentoring and professional development workshops will provide the tools needed to further the career of artists.
We are proud to present the New Futures Class of 2021!
New Futures Los Angeles
Jessica Carranza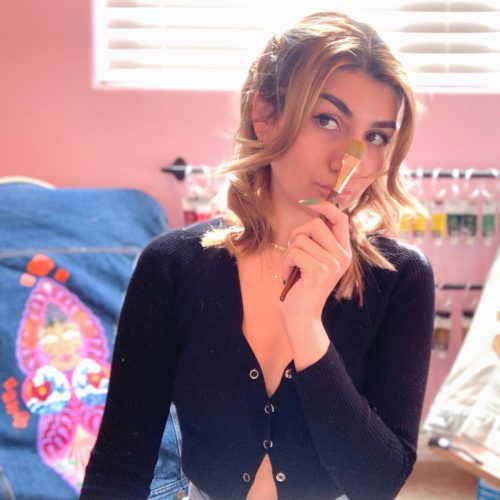 "I'm a self-taught artist based in Los Angeles with a focus on acrylic and digital painting. I'm predominantly interested in symmetry and the use of color, themes I frequently explore. Growing up in Los Angeles, I draw a lot of inspiration from the city I love so much, an influence that appears in a number of my works. "
"Although art is something I've been passionate about from a young age, I actually didn't study it in college and instead opted to study architecture and business. However, I found that exploring alternate career paths only served to reinforce my love of creating. As devastating as it's been, the recent pandemic has actually provided me the opportunity to finally focus on my artistic endeavors the way I had always wished I could. During this time, I've started a small business painting custom clothing, which has allowed me to combine my enthusiasm for painting and my love of fashion. My business is primarily commissioned pieces, but I actually find that to be rewarding in a way because I have the ability to work with my client, taking in their ideas and translating them into something that is both visually beautiful, as well as meaningful and personal to them. With that being said, my primary medium is acrylic on denim, however I do use digital tools to mock up and flush out my designs, and have also done some completed digital paintings."
---
Ricardo Cobian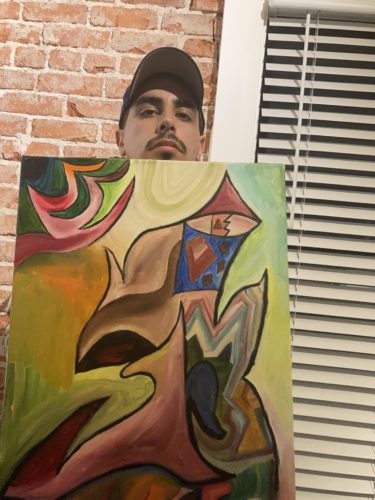 "From the cantaloupe fields of Fresno County to the streets of Los Angeles, I am a self taught artist with the ambition for a better future."
---
New Futures Brooklyn
Wenlu Bao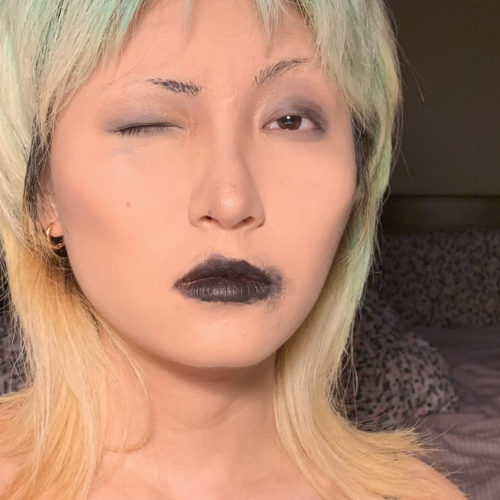 Raised in Shenzhen, Guangdong and currently based in Brooklyn, NY, Wenlu Bao got BA of Sports English in Beijing Sport University, BA of TV Directing in Communication University of China and MFA of Photographic and Electronic Media in Maryland Institute College of Art.
Born in a peaceful and affluent Internet-based era, Wenlu Bao believes contemporary young artists possess distinct emotional experiences, rational thoughts and moral regulations. She sets out from her personal perspective in order to dig deeply into modern cyberculture, video as a medium and visual expressions. Integration and conflicts of values and aesthetics between East and West have hugely influenced her. Shackles and breakthroughs, stereotypes and resists in her works always appear as basic contradictions which inspire her a lot. Through different media like video, installation, visual and photography, with self-portrait, she concentrates on depicting awakening and revolting of individuals and females against stereotype and pressure under mass-culture. 
---
Watson Mere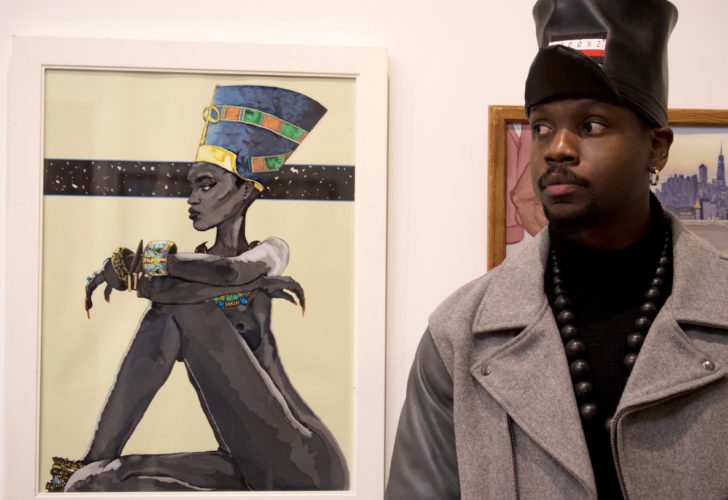 Watson Mere has been an exhibiting artist for the past five years. Mere's work has been exhibited in galleries and museums, which include the Weeksville Heritage Center, Brooklyn, NY; Norman Rea Gallery, York, United Kingdom; Philadelphia City Hall, Philadelphia, PA; Urban Art Gallery, Philadelphia, PA; The Canvas, New York, NY; Johnson C. Smith University, Charlotte, North Carolina; Fable Jones Studios, Brooklyn, NY. He has earned various awards including the 2018 Citation of Honor (Arts) from the District Attorney of Kings County, the 2018 Tropicalfete – Award of Excellence, and the 2018 Jean-Michel Basquiat Award from Creole Image Honors. In 2018, C-Suite Quarterly chose Mere as a NextGen 10 in Philanthropy, Art, & Culture. Mere's work has been featured in publications and television networks such as The Washington Post, NPR, Philly Magazine, AfroPunk, PopSugar, BronxNet TV, Nylon, CSQ, Caribbean National Weekly, and more.
Mere attended Florida A&M University, receiving a B.A. in Business Administration in 2011 and a Masters in Business Administration in 2015. He was born and raised in the town of Belle Glade, FL to two immigrant parents from Haiti. He now lives and works in Brooklyn, New York.
---
Caroline Boreri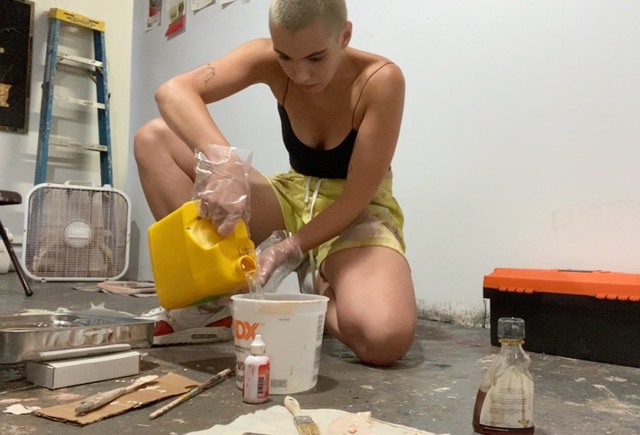 Caroline is a mixed-media artist based in New York. Her practice is informed by her material surroundings, upbringing and nostalgia. Caroline's work is comprised of everyday objects that are often overlooked, and moved around on autopilot. She collides day-to-day material into unfamiliar compositions, evoking a new vibrancy and possibility.
Caroline sources her material from her personal, daily goings: food labels, retired bedding, 99 cent shops, street furniture, paper wrapping from cut flowers, hand-me-down clothes, documents reconnecting with family, newspaper clippings, beauty products, etc. In sourcing her material, Caroline is drawn to specific make/model, pattern, texture, font, color palette, silhouette, sun-fading, scent: all signifiers of a particular upbringing marked by class, regionality, and heritage.
Formally, Caroline's work extends across a range of mediums. But all of her work draws on the principles of collage. Whether its a site-specific installation, fabric quilt, photo print, resin cast or painting, there is a sense layering and lived-in. 
---
New Futures London
Marion Mandeng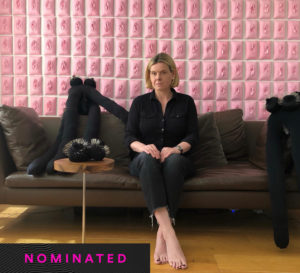 Marion Mandeng – MA Contemporary Photography; Practices and Philosophies. Marion's work focuses on human behaviour and highlights what she considers persistent discrimination in society. Using sexual objects as proxies for gender conflict, her work explores the fundamental cause of inequality and brings greater urgency to the debate about discrimination. Her practice reflects her personal experience as a woman and mother of three daughters.
---
Giacomo Layet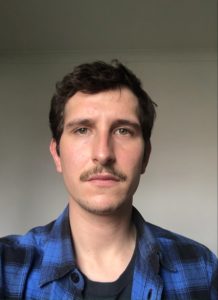 Giacomo Layet – MA Fine Art. Giacomo focuses on Health and Safety aesthetics and materials, experimenting with both organic and industrial materials to create mixed-media installations, photographs and paintings. Giacomo's works mix identifiable elements with invented ones, expressing a humoristic interplay between an imaginative projection and actuality.
Stay tuned as we announce the rest of the New Futures winners for 2021!
If you're interested in applying for New Futures, go to our website to learn more about the application, and eligibility criteria.