Meet The Others: Yianni Johns
The Game Changers. The Rule Breakers. The Innovators. Discover some of the fantastic emerging talent showcasing their work at The Other Art Fair.
Drawing all night from his earliest memories Yianni Johns was and still is addicted to art. In some cases he has referred to art, as, important to him as oxygen, without it he can't survive. Yianni is a self-taught artist who started exhibiting his work in public in 1985. In 1991 had his first solo exhibition in Sydney where he was involved with at the time, a very progressive art movement called, 'Art in Public Spaces.'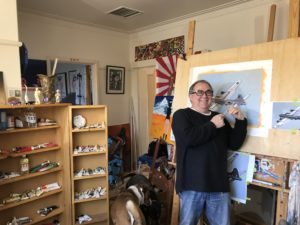 ---
Q&A with the Artist
Tell us about who you are and what you do.
 

What is your background?

I am a painter, sculptor and writer. I live in Australia in the Riverina district, predominantly a farming area, the village I live in has about 300 residents and they have said I am their resident artist, after putting on 2 major exhibitions for the town as a charity event. I have been drawing for decades but took up the brush in earnest in the early 80's. I have been a painter since then and haven't stopped. My day job was as an aerospace engineer working on fighter jets in the navy. Then commercial jets with Qantas in Australia for most of my adult life. For years I wanted to work my aviation engineering experience into my art. You can see this in my Pseudo Symbolism paintings. They depict, strange people in strange places in love with highly manufactured objects. At the moment I am working on a series of commissions painting portraits of Warbird aircraft and now with the end of Qantas's involvement with the 747 aircraft I have commissions of those to do.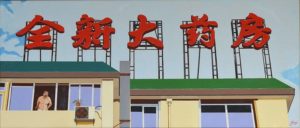 Where do you draw inspiration from and what does your work aim to say?
I see the beauty in the man made. I love structures and aircraft and bridges and buildings all the monuments to us as humans. I love the shadows buildings will cast. I love all the things people take for granted. By me selecting a building a car a plane a dam wall, I am elevating that thing to art and refocussing not only my view of this world but my audiences view as well. So without trying to sound like a cliche, I find there isn't much out there that doesn't inspire me. What I am saying is everything has beauty and that's our job as artists, showing the beauty in the every day and mundane.
Can you walk us through your process for creating a work?
I build images in photoshop if I have photographic references. I will juxtapose those in the composition building stage of the idea or painting concept. Once I am comfortable with my image and placement of images within that. I will grid the printout and the canvas and draw the image onto the canvas. Once that is done, I look for the feeling or mood I want to express and do a wash over the sketch, carefully wiping back the areas of light. Then I paint in the shapes of the darkest darks and then build the light onto the painting until it is done. I spend a lot of time looking at the work as it grows, hours and hours of contemplation and artistic construction go into my works of art.

How has your style and practice changed over the years?
Thank god I have improved as a painter from way back in the 80's. My ideas now carry with them the experience to basically approach anything on canvas. Just recently I felt that there is nothing I can't do on canvas. It comes with your belief in yourself as an artist, and following that thing inside you that guides you from concept to finished paintings. Yes my style has, let's say, improved immensely over the past decades.
Who are your biggest influences and why?
Edward Hopper, Jeffrey Smart, Andy Warhol, Brett Whiteley, Picasso and a plethora of others. All these artists lived totally for their art, as I do now as a full-time artist. Art to me is like oxygen without it I can't survive, which is similar to the artists I have mentioned when it comes to their lives.
What was the best advice given to you as an artist?
Keep working, don't get a big head and never, never, never give up.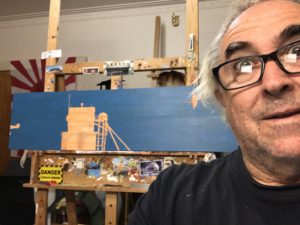 Shop artwork by Matt and other trailblazing artists at The Other Art Fair's Online Studios.
Introducing The Other Art Fair Online Studios, a new online platform offering art lovers around the world access to over 800 Fair artists. The Online Studios will keep our community feeling inspired, engaged, and continue to spread joy through art.