Meet The Others: Xinxin Wen
The Game Changers. The Rule Breakers. The Innovators. Discover some of the fantastic emerging talent showcasing their work at The Other Art Fair.
Since learning art at an early age, xinxin has been forever creating. She believes the quirky beauty and the cursed charm through darkness could bring some kind of harmony of mystery, it's something from our sub-consciousness and she enjoys telling those untold stories inside each lonesome soul. Now xinxin is constantly curating her solo exhibitions internationally and collaborated with broad range of brands across Australia and Asia as award winning artist.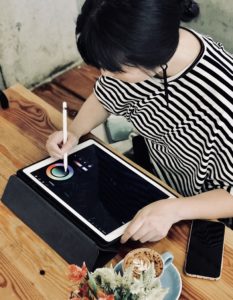 ---
Q&A with the Artist
Tell us about who you are and what you do.
 

What is your background?

I'm a Sydney based pop-surrealism artist mainly focus on re-mix of classic Renaissance style and modern twist. I have an art & design background and in the creative industry for over 15 years.
Can you walk us through your process? How long do you spend on one work? How do you know when it's finished?
Normally I started with a concept, a line or a story that I want to tell. Once I have a roughly idea of the whole image I'll start some research of reference such as colour scheme or lighting etc. I often use myself as reference so it's also easy for me to paint particular pose. The time for each work is really vary, could be couple of hours to months, depends on the workload or if I have the right 'feeling' with it on the day. It's always hard to tell when is the timing to stop, but when I feel I deliver the main emotion that I want to express, I'll try to move to next piece, or I may never finish one.
Can you walk us through your process for creating a work?
Once I have the concept, I'll start to sketch. If everything went smoothly I will do colour underpainting to indicate each section and light volume etc to help me determine the details later.
Who are your biggest influences and why?
I have to say Mark Ryden, he literally opened the door of pop-surreal world to me, unlike the old master, those quirky dollish elements in his painting showed both innocence and the beauty of darkness. Hieronymus Bosch also one of my favorite artist from all time, I love how he puts together all the strange creatures into a world that full of critical realism.
What was the best advice given to you as an artist?
Find your own style and keep going.
Can you tell us something about yourself people might be surprised to hear?
I grow vegetables on my balcony : )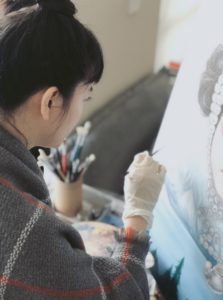 Shop artwork by Xinxin and other trailblazing artists at The Other Art Fair's Online Studios.
Introducing The Other Art Fair Online Studios, a new online platform offering art lovers around the world access to over 800 Fair artists. The Online Studios will keep our community feeling inspired, engaged, and continue to spread joy through art.