Meet the Others: Nadia Jaber
The Game Changers. The Rule Breakers. The Innovators. Discover some of the fantastic emerging talent showcasing their work at The Other Art Fair.
Artist Nadia Jaber (Spanish, b. 1986) channels the artist as a post-digital algorithm, an online magpie curating a found line, shape, and color to generate an analog version of the digital stream of information.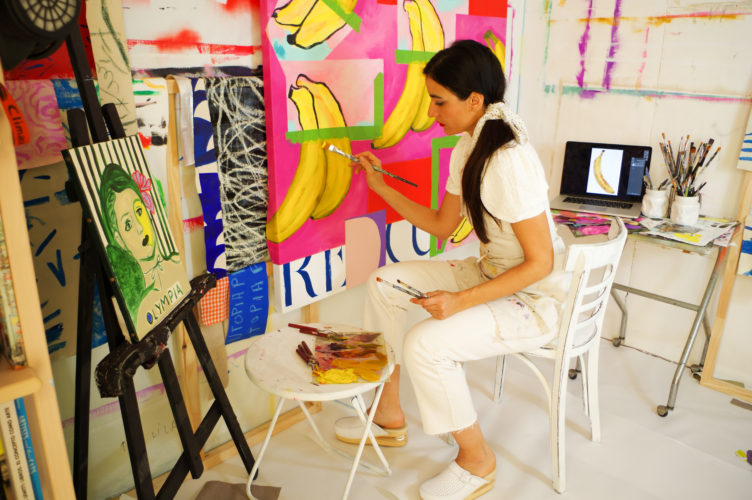 Nadia's work reflects not just on our visual ADHD but on what the mysterious machines behind social media are making us want, or think we want, and what that means for art appreciation.
---
Q&A with the Artist
Tell us about who you are and what you do. What is your background?
I am a contemporary painter born and raised in Barcelona. I have a degree in Economics and a professional background in Marketing and Communication. After working as a Product Manager for a couple of multinationals and realizing that the job did not fulfill me, I decided to go to New York in 2011 to study in Parsons for a summer. I ended up settling in NYC for a year and a half and started experimenting with different artistic practices there.  
What are the major themes your pursue in your work?
My series are a collection of paintings build up around samples of other inspiring paintings that I have come across while navigating the Instagram vastness —thanks to the insatiable work of its algorithm. The canvases could be the ultimate collage of the current algorithmic syncretism. This work acknowledges not only my belonging to the digital art revolution, but points rather gratefully to art's ultimate dimension, it's digital kingdom, where artists thrive, collect, exchange, buy, sell, and perhaps, more definitely, find inspiration and have live. Nobody with their wits about them would question that the art world is increasingly virtual, and that its health hasn't been better in decades. So the question here begs: are technologies to blame or to praise? Andy Warhol, one of the most accomplished ambassadors of appropriation, was ecstatic after discovering the wonders of silk-screening. In one of the few interviews available online —omnipotent technology in full bloom— Warhol told to Art News's reporter Gene Swenson a rather legendary line: "I think everybody should be a machine. I think everybody should like everybody." 
How did you first get interested in your medium and what draws you to it specifically?
I started experimenting with urban photography while living in New York. I was fascinated by the compositions created spontaneously by the contraposition of bright colors on doors and windows along with the walls worn by the passage of time and by the intervention of graffiti. I used to spent hours cycling around Bushwick, Williamsburg or in Bed Stuy – where I lived at the time – capturing those compositions with a camera. After that I started with collage, inspired by a friend and artist who does incredible works in this technique, and I kept experimenting until I realized that painting offered me the freedom and flexibility I needed to create those compositions that I saw on the streets. 
How has your style and practice changed over the years?
Experimentation is something I can't resist; I've always been a very curious person who loves new challenges. If there is something that inspires me, it absorbs me, and I end up putting it on a canvas. 
I started painting in 2012 employing Automatism, which allowed me to investigate textures and materials, focusing on painting by emotion and intuition. That gave me the space and freedom to develop my pictorial language, not forcing myself to follow a very closed line in it, but rather I let myself be carried away by what excited me.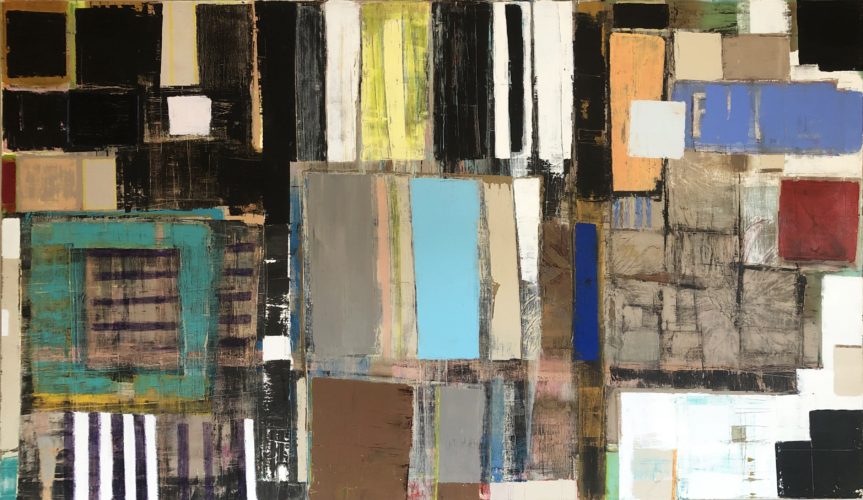 I started the "Asymmetry" series in 2017 intending to create with more geometric and textured compositions, that led me to experiment with resin and other materials such as iron powder.  I also started working with wool, which leaves no residue and gives a very intense effect, both visually and tactilely. As in marquetry technique, I pieced together different patterns and textures to create a single new composition, with the pieces applied in a jigsaw formation rather than in layers. This results in paintings with much more daring and intense compositions, whilst still maintaining spaces with layers and textures that resemble the style of my past paintings.
In mid 2018, I started experimenting with sewing on canvas and I conceptualized the series that I brought to a solo show in Santa Monica, CA at No Free Bread Gallery in 2019, and also to The Other Art Fair Brooklyn that same year. This year, I was scheduled to show this series at The Other Art Fair Los Angeles in April, and also at a solo show at Garna Gallery in Madrid in June.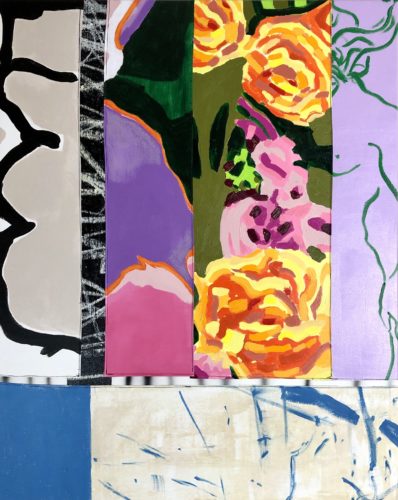 Can you walk us through your process? How long do you spend on a work? How do you know when it's finished?
I usually start a painting with a general idea of ​​what I want it to transmit and it has been nourished by all the visual inputs that I actively expose myself daily. I create an initial composition digitally, as a digital collage, and I analogize it. Although I have this general intention on the painting, in its development it ends up taking me in other ways, and very often the result is a surprise. I believe you can only come to a satisfying result if you find a way to surprise yourself, so I keep an open mind during the process, going back and forth from the physical painting to the digital one, many times until I am happy with the result.
What series or project are you working on next?
I am currently conceptualizing my next series, they are related to the current ones as they are still reflecting on the influence of technology but focusing in another realm.
What is the best advice given to you as an artist?
Create everyday until it becomes a craving.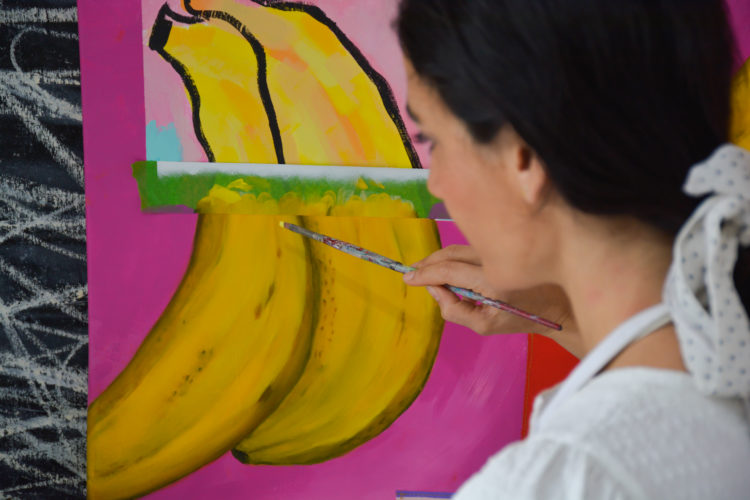 Shop artwork by Nadia and other trailblazing artists at The Other Art Fair's Online Studios.
Introducing The Other Art Fair Online Studios, a new online platform offering art lovers around the world access to over 800 Fair artists. The Online Studios will keep our community feeling inspired, engaged, and continue to spread joy through art.