Meet the Others: Mike Biskup
The Game Changers. The Rule Breakers. The Innovators. Discover some of the fantastic emerging talent showcasing their work at The Other Art Fair.
Mike Biskup is a contemporary watercolor painter of imaginary landscapes and abstracts living and working in Port Townsend, WA. Born in 1970 in Los Angeles, Mike comes from a family historically rich in artists, poets, and dreamers. As early as he can remember, he was voraciously drawing ultra fast cars, funky dudes, and piles of interesting things with his two older brothers.
In 1993, he completed a Bachelor of Fine Art at UC Santa Cruz. There he encountered a richly blended stream of artistic freedom, Zen Buddhism and Native American spiritual consciousness which has shaped his life and work ever since. Mike is currently embracing his role as a bringer of visions in the Artist/Shaman tradition elucidated profoundly by Joseph Cambell. His paintings can be found in collections worldwide, notably that of Oscar-winning actress Patricia Arquette and Facebook Inc.
---
Q&A with the Artist
Tell us about who you are and what you do.
 

What is your background?

Big question… Who am I? I'm my own part of everything. I'm an eternal spark of God/dess spending some time in a place we call earth. I'm a man, father, husband, grandfather, godfather, son, grandson, etc, etc. I'm a born again Buddhist/Christian,  Artist/Gardener/Musician/Shaman. I sound to myself like I'm bragging, yet I know it's all true. It's true until I start telling people about who I am, at which point I'm certainly lost in my thoughts about who I am.

My background is being born in Los Angeles in 1970, son of Mary and Stefan Biskup, court reporter/mother and milkman/draftsman/stockbroker/dad/etc. Brother of Tim and Steve. At age 7 I moved with the folks I just mentioned to a house carved out of a dusty fig orchard in Clovis, CA. So I was raised mostly out in the boondocks in one of the most intensively (modern AG) farmed valleys in the world. I temporarily moved out of that place to move to Santa Cruz where I tried to avoid (unsuccessfully) getting a fine art degree in 1993ish. Then I moved back to Clovis for about 10 years during which I became a VERY small scale organic farmer growing vegetables for a restaurant, almonds for the farmer's market, and raising almost all of my growing family's food – Vegetables/fruits/milk/meats. Finally my first wife and three kids moved to a lovely cohousing community in Port Townsend, WA in the pacific northwest in 2003. In 2009 my first marriage ended which bisected my children's lives for a time until they all moved onto the specific paths of their own lives as young, outstanding adults. Laura and I began our loving lives together in 2010 and we now live together married and sweetly singing songs as sparrows in our little piece of paradise in Port Townsend.
What are the major themes you pursue in your work?
Everything and Everyone Connected has been my tagline as an artist for the last 5 years and that is the major theme of my work. In my paintings, everything flows together. Diverse colors, lines and shapes – People, places, plants and things are woven into one harmoniously functional ecosystem. I want to subtly remind viewers that we humans, in all our diversity, are essentially interconnected, and with thoughtfulness, can function together harmoniously as well. A very recent focus/theme is drawing and combining the endless variety of growth patterns I see in plants into fresh collections/bouquets. This is currently filling my heart to the brim and causing solid anticipation for my daily studio time.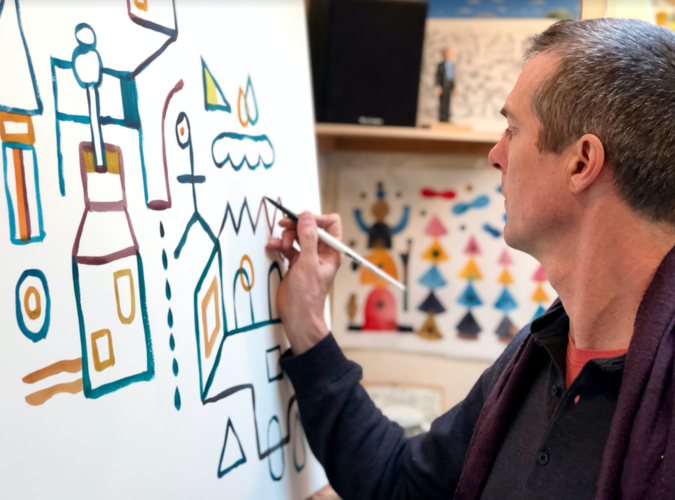 How did you first get interested in your medium and what draws you to it specifically?
For me, the pencil was the second tool of childhood (after crayons). Pencils can be sharpened indefinitely and to an infinite level of precision, so they've really kept growing with me for all my decades and they never cease to fascinate me. Being "colorblind" does limit my ability to discern some colors from others, and this has always made the pencil a particularly trustworthy instrument in my eyes. Adding watercolor and ink to a pencil drawing is a natural way to accentuate a drawing that I began exploring extensively in college. In 2005 I primarily dropped the pencil from the mix after finding my arm swollen and painful from all that pencil pushing. So 15 years of lighthearted watercolor and ink exploration were a necessary next step. Here we are in 2020 and I'm learning a lot of new things. Being born again can have that effect! So I'm drumming while BARELY holding onto my drumsticks and learning to draw while BARELY holding onto my pencil. All those years of trying are finally yielding to being.
How has your style and practice changed over the years?
My experience of art went from childish and non judgmental as a young child to about age 25, to searching for myself and my voice until about 50, at which point I've finally made my way back to no (or very little) judgment again! The changes to my style reflect my change in attitude in a pretty complex way – More hindsight will probably make that clearer.
Can you walk us through your process? How long do you spend on one work? How do you know when it's finished?
Lately, I start with sweeping pencil lines made on stretched paper on my wall easel that get slowly tuned into a clear drawing with some shading to define three or four dimensions. Then I intuitively add some watercolor paint without much regard to natural color schemes (my color"blind"ness kind of requires this lovely approach). Then I often find myself pushing an pulling forms with more pencil lines (crosshatching). And maybe I define some of the initial pencil lines with ink. Finally I alternate homemade natural titanium white paint, graphite, ink, and various watercolors, to hone in on the final state. Lately my paintings have been taking a few weeks to complete. I know a piece is finished when there is nothing more that can be done to add energy and enthusiasm to the piece. I know it's done when it's done. 🙂
What series or project are you working on next?
I'm working on these big bouquets of plant growth patterns. They actually have people growth patterns in them as well and that part appears to be becoming more evident as time goes on. I certainly will be letting things unfold in a completely improvisatory way. I'm going to be focusing on what I can create that creates a sense of relaxation in my body, especially in my right hand/arm which has taken a beating over the decades with external (self) judgements.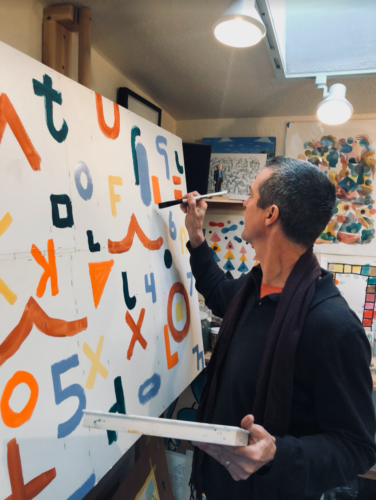 What is the best advice given to you as an artist?
Let Go and Let God.
Shop artwork by Mike and other trailblazing artists at The Other Art Fair's Online Studios.
Introducing The Other Art Fair Online Studios, a new online platform offering art lovers around the world access to over 800 Fair artists. The Online Studios will keep our community feeling inspired, engaged, and continue to spread joy through art.