Meet the Others: Micheal Lopez
The Game Changers. The Rule Breakers. The Innovators. Discover some of the fantastic emerging talent showcasing their work at The Other Art Fair.
Micheal J Lopez (EA) is an artist and designer currently residing in Oakland, California. He is a self-taught oil painter and multi-media artist. His current body of work is exploring the human form at rest and contemplation.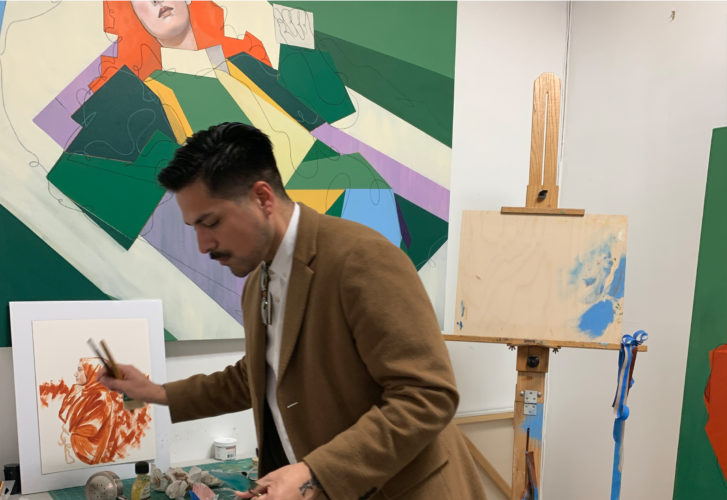 His body of work titled "At rest" is a representation of people caught in a moment of peace or vulnerability. The subjects range from men and women who have candidly been captured in one of these moments. The nature of the artwork is meant to abstract both line and color to allow the viewer to focus on the form as it exists in the environment it occupies.
---
Q&A with the Artist
1. Tell us about who you are and what you do. What is your background?
I am a Bay Area native having grown-up in a small town in the East Bay and eventually moving to Oakland, CA, where I currently reside. My parents are Mexican so I had the benefit of growing up with strong cultural influences. I have always pursued artistic endeavors and have been encouraged by my mom since a young age. I would often draw and paint as a kid as I was inspired by my sister, who has artistic capabilities in her own right. My dream was to go to art school to sharpen my craft in painting. It was about mid-way through art school when I had my son, Nathan, that  I decided to put my art career on pause to pursue a career in design. I currently work as a Design Director in the tech industry.

2. What are the major themes you pursue in your work?
My focus has always been to attempt to capture true feelings or candid emotions. I have always painted people and as of late I am working to capture moments of people at rest. Or the moment before a photo or event happens. The deep breath before the snap.
3. How did you first get interested in your medium and what draws you to it specifically?
When I was younger, I mostly worked in charcoal and colored pencil. Given my subject matter is people and faces, I wanted to explore more traditional forms of portraiture to discover new ways of figurative exploration. I began using oil more consistently in the past 5 years and began teaching myself traditional painting methods from books and online tutorials. I am drawn to oil because it feels like a living thing. A layer of paint may dry overnight and look different from when you last saw it. There is always discovery and beautiful accidents with oil. It's complex, elegant, and at times unforgiving.
4. How has your style and practice changed over the years?
I have always loved figurative work and the pursuit to capture people. I am also a professional designer with a graphic design background. I use to follow more traditional themes and methods, but now I do my best to blend both practices – painting and design.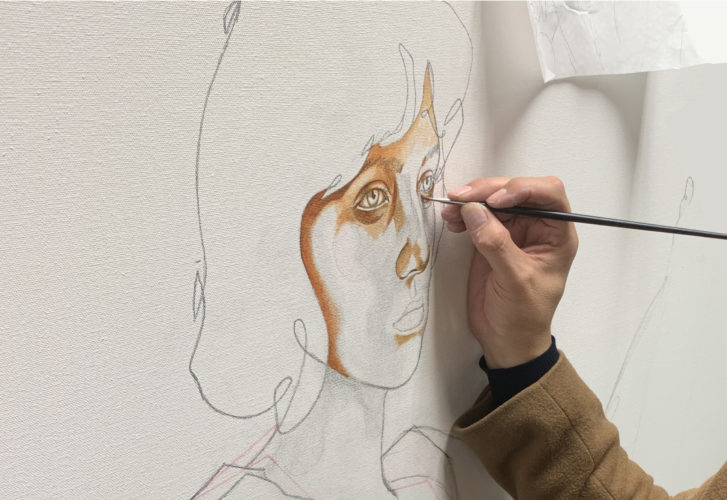 5. Can you walk us through your process? How long do you spend on one work? How do you know when it's finished?
I pull inspiration from a handful of artists — more frequently from Elena Kiseleva, William McGregor Paxton, Norman Rockwell, and Ingres. I  always want to be as expressive and accurate as possible in my portraiture, so my process reflects that devotion. My process is likely a bit longer than it should be, but each step produces its own smaller piece of art entirely.
First off, I use transparent paper and pastel pencil to create a figurative sketch. The reason for transparent paper is so that I can also play with and conceptualize the color that will eventually make up the form of the subjects. Then I cut pieces of colored construction paper and slide them under the transparency. I do this until I find the right color combination and shape composition. Once I am happy with the composition I will use this as my reference for the painting.

I then begin by creating a loose sketch onto canvas or arches oil paper. This process can take several days as I will work the right facial proportions out of my sketch layers. Then I paint an underpainting to create the values of the final piece. This underpainting is done with  burnt sienna and liquin where I build up layers to pull out the values.
Finally, I begin with the face which is the most laborious part as the sketch fades away and the values take over. In the image below you can see how the painting evolves and where I make decisions as I paint. Once I feel the face has taken on life, I stop. The process that follows is almost ceremonial where the shapes and lines that create the figure and composition are loose and fluid.
6. What series or project are you working on next?
I love allegory in paintings. I am currently working on a series that explores the narrative in portraiture.
7. What is the best advice given to you as an artist?
An art teacher once told me there will always be a phase in the painting where you'll want to scrap it, start over. Push through that phase and think of the scrap as more the foundation from which something beautiful will be built.
Shop artwork by Micheal and other trailblazing artists at The Other Art Fair's Online Studios.
Introducing The Other Art Fair Online Studios, a new online platform offering art lovers around the world access to over 800 Fair artists. The Online Studios will keep our community feeling inspired, engaged, and continue to spread joy through art.