Meet The Others: Matt Jukes
The Game Changers. The Rule Breakers. The Innovators. Discover some of the fantastic emerging talent showcasing their work at The Other Art Fair.
Matt Jukes' large-scale, one-of-a-kind monotypes are misremembered landscapes and nearly forgotten memories. His process starts by doing away with plates and screens, surrendering control to the materials and follows the flow of the ink. Each work explores colour and texture as the layers build over and over again, producing a discussion within the piece. Slowly, a memory of an emotion and a place will emerge, creating a space for dialogue with the viewer where they are invited to explore their own emotions and places.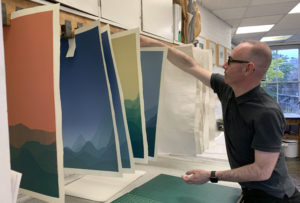 ---
Q&A with the Artist
Tell us about who you are and what you do.
 

What is your background?

I am a large scale monoprinter, who is interested in how we store memories in objects, and how unreliable our memories are. My work is about capturing the emotion of a memory, and the feeling of a place rather than a physical depiction.
Where do you draw inspiration from and what does your work aim to say?
My work has two sides, one is finding my forgotten memories, and the emotions associated with them, but when i hand this over to the viewer to share that emotion, but find their own place. This shows that even through we see different things, we feel the same— and aren't that different from each other.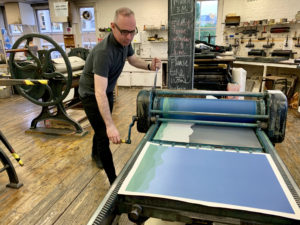 How did you first get interested in your medium and what draws you to it specifically?
I love how monoprints are perfectly fragile moments in time, the can only ever be one as they can never be reproduced. this is what makes them very special to me.
How has your style and practice changed over the years?
My practice is alway evolving, from subtle changes in my printmaking, to exploring different mediums. My latest photography works uses the greek myths to explore how the landscape around us helps us keep our memories.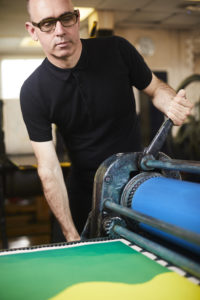 Can you tell us something about yourself people might be surprised to hear?
Music is hugely important to me, so every piece has a soundtrack, which i hint towards with the the lyrics which accompany each piece.
What can people expect from you next? Do you have any exciting projects/opportunities coming up?
I am working on an interactive piece which responds to the viewer to visualise their own memory.
Shop artwork by Matt and other trailblazing artists at The Other Art Fair's Online Studios.
Introducing The Other Art Fair Online Studios, a new online platform offering art lovers around the world access to over 800 Fair artists. The Online Studios will keep our community feeling inspired, engaged, and continue to spread joy through art.