Meet the Others: Luis Esquivel
The Game Changers. The Rule Breakers. The Innovators. Discover some of the fantastic emerging talent showcasing their work at The Other Art Fair.
Luis Esquivel is a multi-disciplinary artist living and working in Mexico City. He graduated from the Technological University of Mexico with a degree in Graphic Design in 2005. He combines interior and exterior spaces, random objects, and textiles integrating art, design, and technology.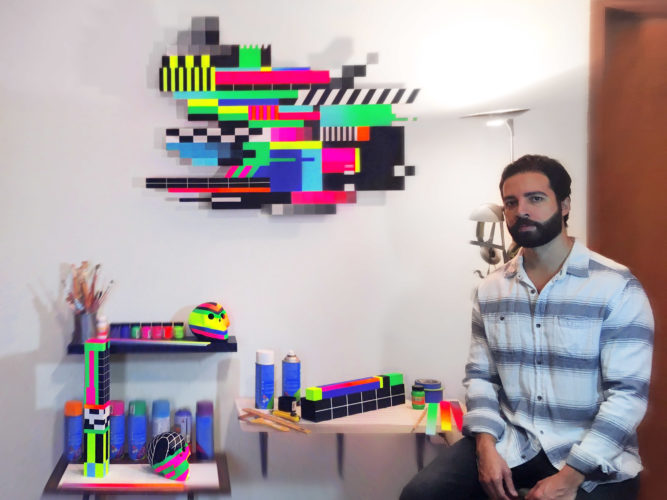 Luis uses neon colors to express while being inspired by fashion, electronic music, and the digital world.
---
Q&A with the Artist
Tell us about who you are and what you do. What is your background?
I was the first member of my family to have the interest and skill for the art. At the age of nine-ten years old I discovered for the first time about my drawing skills, so I started to experiment with different themes, styles, and techniques. I never had a mentor or art class in my childhood so all my skills were developed in a self-taught way, thanks to that my works became very experimental. I remember that the colors, graphics, and anything that had design always caught my attention, that's why some years later I decided to study Graphic design. In my professional stage, I became an advertising art director with almost 10 years of experience, all my graphic design work was created on a computer so I forgot the painting.
In 2019 I decided to return to painting but this time I wanted to combine all my experience as a graphic designer with art. I describe myself as a graphic artist.
What are the major themes you pursue in your work?
I want to transmit that there are new ways of visual languages, also I want to break with the traditional, with what we are used to seeing in our visual environment through powerful geometric shapes, bright neon colors and dynamic compositions, generating very eye-catching and disruptive visuals. For me the color is the principal element in my work, color is the most powerful visual element to provoke emotions and sensations.
I take influence by fashion, electronic music, and the digital industry.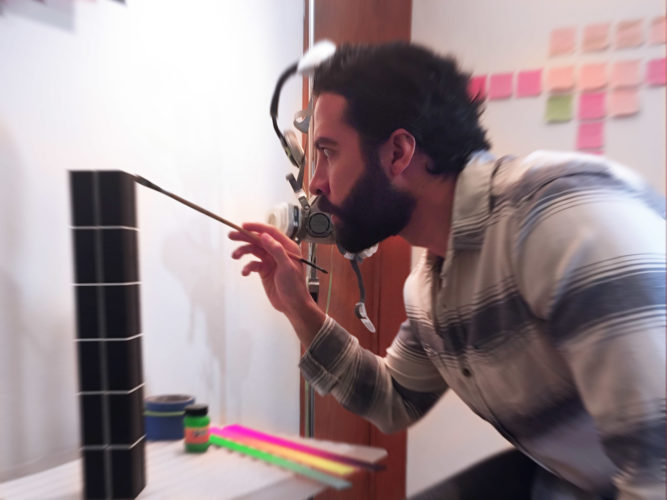 How did you first get interested in your medium and what draws you to it specifically?
One of the mediums that I liked the most when I painted in the past was spray paint because it allowed me to paint easer than other techniques. Now that my work is made up of the use of gradients the spray paint adapts perfectly and the quality of results is amazing.
What I can say is that from my work as a designer I have always been interested in experimental design, that's why my recent artwork is not only made up of the use of a single medium. As I said before my work is experimental, so I like to experiment with different mediums, techniques, and resources, for example some techniques I use are spray paint, digital print, acrylic paint, some of the material I work with are PVC, wood, mud, textiles, acrylic. This allows me to get unexpected results and enrich my work.
How has your style and practice changed over the years?
In my early ages I started with traditional art, painting everyday objects, landscapes, portraits, etc. using traditional techniques. My graphic design career had a huge impact in how I perceive the art now. My work passed, as I have mentioned, from traditional techniques and themes to mixed digital resources, such as design software and digital techniques with traditional art. Now my style and themes are more graphic and structured.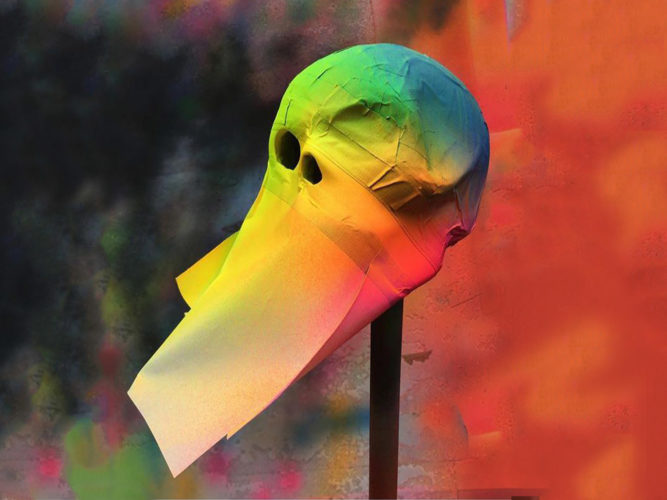 Can you walk us through your process? How long do you spend on one work? How do you know when it's finished?
My process starts by being aware of things that catch my attention. From what surrounds us, such as shapes, colors, textures in places like in the street, movies, museums, or in themes that are of my interest like fashion shows, music concerts, sports. I am used to taking photos of those interesting things and generate my own photo library. This helps me so much as a resource of inspiration.
With my photo library and my computer I create my own graphic resources. I spend some time with my design software sketching and exploring. What is important to me during the design process is to create very eye-catching visuals using dynamic composition, strong shapes, and bright colors.
How long a work takes depends on several factors like size, surface, amount of detail, technique, sometimes unexpected situations happen which can delay the process.
I know that work is finished when I apply the last layer of finish with transparent lacker, but as an artist there will always be something to change.
What series or project are you working on next?
I am planning to create a furniture line and also a clothing line and some sports items.
What is the best advice given to you as an artist?
Jump into creating without fear, always trust in your work no matter the criticism, there will always be people who do not like your work and who do, you just need to keep going.
Shop artwork by Luis and other trailblazing artists at The Other Art Fair's Online Studios.
Introducing The Other Art Fair Online Studios, a new online platform offering art lovers around the world access to over 800 Fair artists. The Online Studios will keep our community feeling inspired, engaged, and continue to spread joy through art.