Meet the Others: Linda O'Neill
The Game Changers. The Rule Breakers. The Innovators. Discover some of the fantastic emerging talent showcasing their work at The Other Art Fair.
Linda O'Neill's paintings are gestural and adventurous and communicate a state of mind through color, movement and form. Linda has struggled with OCD most of her life so aspects of that journey — pain, healing, fulfillment, loss, contentment and uncertainty — are important elements in my work.
Painting with acrylics, she incorporates collage, paint pen, oil pencil, caran d'ache and whatever else she can get her hands on. Working layer upon layer, always listening to music, Linda often rotates the canvas as she goes until she is happy with the progression. She tries to let go of critical thinking while painting, and prefers to let her subconscious run the paintbrush.
---
Q&A with the Artist
Tell us about who you are and what you do. What is your background?
I grew up in the San Francisco Bay Area before moving to Boulder, Colorado 23 years ago. I live with my husband and dutch shepherd on an acre of land and my studio is on the property next to our home. I began my journey as an abstract artist in 1993 at Dominican University in California where I received a Bachelor of Fine Arts in printmaking.
What are the major themes you pursue in your work?
I work intuitively and don't begin a painting with a preconceived idea. Aside from that, I do hope to express the emotional content of what it's like living with obsessive compulsive disorder and anxiety. The themes of hope, struggle, uncertainty, strength and recovery are all important elements. I am also influenced by the color, textures and light of the landscapes here in Colorado.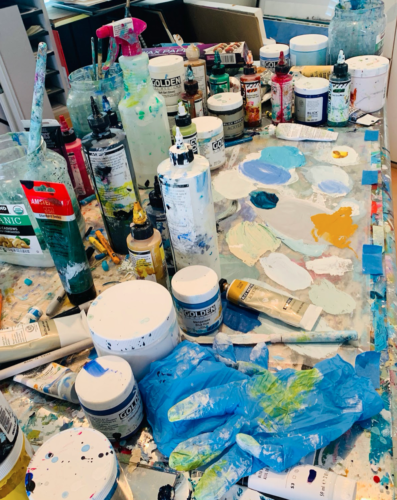 How did you first get interested in your medium and what attracts you to it specifically?
Painting with acrylics is my preferred medium but I also like to incorporate materials such as collage, graphite, acrylic paint pen, wax pencil and caran d'ache crayon. I find that using more than one medium gives the painting more interest and dimension.
How has your style and practice changed over the year?
My abstracts used to be more structured in appearance so there were more obvious shapes, some being quite geometrical in line and form. Then I began to work towards articulating myself more freely, allowing for less critical thought and increased fluidity of emotion. I admire the works of Cy Twombly, Joan Mitchell and Jean-Michel Basquiat and their almost child-like freedom of expression.
Can you walk us through your process? How long do you spend on one work? How do you know when it's finished?
Sometimes I begin a painting on the floor where I can draw, write, drip paint and just have fun with whatever I may be feeling that day. After the canvas is up on the wall, I start to use the brush more and let the painting take on it's own personality. I continue to layer with acrylics, collage, pencil, etc until a certain depth of emotion and energy starts to emerge. I'm often working on several paintings at a time and enjoy being able to let one rest for a while before I return to it. It's difficult to explain how I know a painting is finished although it is a combination of color, composition and feeling.
What series or project are you working on next? 
I usually don't work in a series, I like that each painting takes on it's own vocabulary. However, I am focusing my attention on this current time period of Covid-19 and the political issues that are affecting us all at a very deep level. There is violence, illness and unrest to name a few. I strive to be honest and open in my work about how those things affect me. I also hope that my paintings communicate resilience, healing and love.
What is the best advice given to you as an artist?
The best advice I was given is that "mark making" in your work is important, meaning that whatever you decide to put on canvas or paper is uniquely you. Don't compare yourself to others. Be yourself.
Shop artwork by Linda and other trailblazing artists at The Other Art Fair's Online Studios.
Introducing The Other Art Fair Online Studios, a new online platform offering art lovers around the world access to over 800 Fair artists. The Online Studios will keep our community feeling inspired, engaged, and continue to spread joy through art.