Meet the Others: Kristjana S Williams
The Game Changers. The Rule Breakers. The Innovators. Discover some of the fantastic emerging talent showcasing their work at The Other Art Fair.
Icelandic born artist Kristjana S Williams studied graphic design and illustration at Central St Martins and quickly gained critical acclaim as Creative Director of Beyond the Valley for 8 years. In 2011, Kristjana began creating fine art pieces, art prints, furniture and more. Her inspiration lies heavily with layering nature upon nature and 'the symmetry in all things living', which stems from the artist's childhood in Iceland. When growing up, Kristjana found nature in Iceland stark and unforgiving, never seeing trees, colorful butterflies or exotic flowers – everything seemed grey. Now in retrospect, she feels the complete opposite as though the colors and landscape are like nowhere else in the world.
Each piece created by the artist is its own universe of botanicals, atmosphere and animals, each born and grown from the things that have inspired her since childhood. Williams' work has become well known throughout the industry winning numerous awards including a D&AD award, Clio Award and a first prize at New York Festivals Grand Prix. Kristjana has exhibited at The Other Art Fair London, Los Angeles, and Dallas.
---
Q&A with the Artist
Tell us about who you are and what you do. What is your background?
Born in Reykjavik in 1974, I spent much of my childhood looking out over Iceland's spartan landscape of black sand and frozen seas, dreaming of new worlds filled with abundant animal and plant life.
This wanderlust fostered my love of maps and botanical engravings which, after completing my degree in graphic design and illustration at Central St Martins in London, became the foundation of my work.
What are the major themes your pursue in your work?
My fine art pieces and prints see vintage illustrations of exotic animals and insects layered over lavish foliage and antique maps to reimagine fantastical new creatures and what I call 'wishful forests'.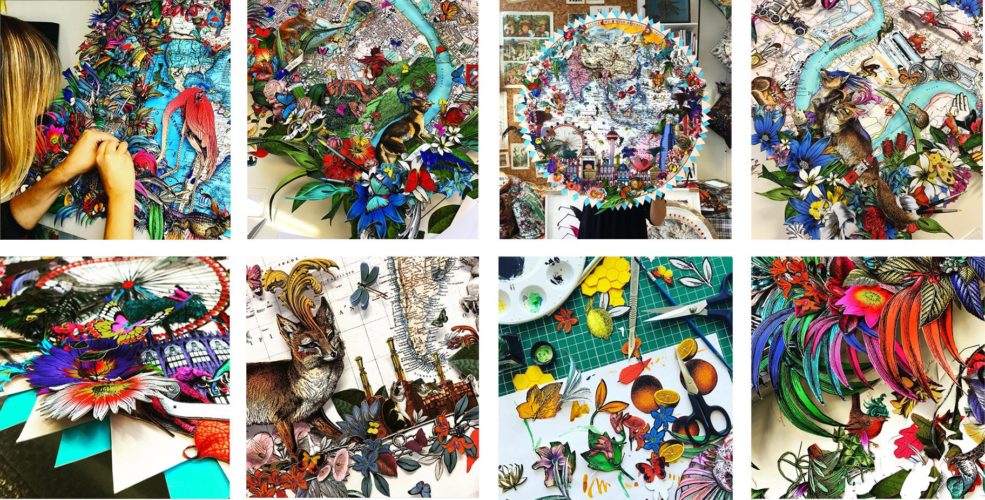 How did you first get interested in your medium and what draws you to it specifically?
Working with silkscreen printing is how I got into engravings, also the beauty of the technique of engraving marrying up the old and the new had a huge appeal to me.
How has your style and practice changed over the years?
My pieces have become more detailed as well as using different medias like the three dimensional tableaus and dioramas.
Can you walk us through your process? How long do you spend on one work? How do you know when it's finished?
All pieces start with a concept. If working for a client, there is a lot of back and forth communication. I keep coming back to some pieces for months. I usually let things rest for a bit and then come back to it with fresh eyes. I stop when I get the just right feeling.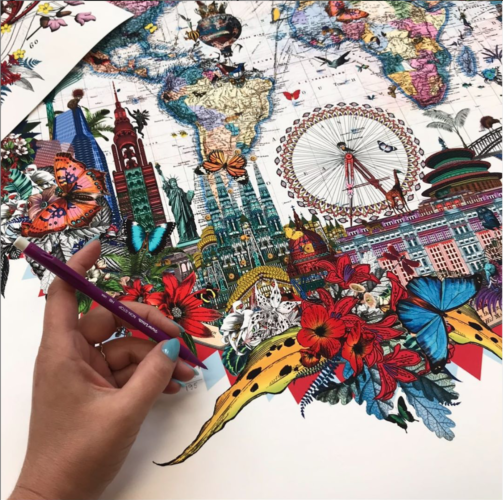 What series or project are you working on next?
I am working on a traveling series at the moment, work that is all evolving around how I wished I could travel.
What is the best advice given to you as an artist?
That inspiration can come from anywhere – don't be afraid, don't try to reinvent the wheel every time, your originality will be there when you create lots of work and will always come through and be excited that you are inspired by the architecture and the nature around you – also if you have a piece of paper in front of you make sure that you can extend the edges don't get locked into the the lines of the box or the finite lines.
Shop artwork by Kristjana and other trailblazing artists at The Other Art Fair's Online Studios.
Introducing The Other Art Fair Online Studios, a new online platform offering art lovers around the world access to over 800 Fair artists. The Online Studios will keep our community feeling inspired, engaged, and continue to spread joy through art.