Meet the Others: Kristin Hart
The Game Changers. The Rule Breakers. The Innovators. Discover some of the fantastic emerging talent showcasing their work at The Other Art Fair.
Kristin Hart is a Florida based artist. Her pieces have a sense of calmness and dreamlike, almost otherworldly beauty. Often while editing she adds washes of soft pastel color and accentuates the light to help express the emotions that she felt in that moment in time. 
Kristin's photography is a self reflective and emotional journey, a way for her to document and visually express what is inside of her, with the primary objective of making the viewer feel a sense of peaceful and spiritual elevation.
Kristin has exhibited at The Other Art Fair in Brooklyn, Los Angeles, Dallas, Chicago, and London.
---
Q&A with the Artist
1. Tell us about who you are and what you do. What is your background?
I grew up in South Florida in a large family and was so fortunate to have been surrounded by art my whole life. My mother was an artist and always had different projects going at once, so she is a strong influence on me as a self-taught artist. I have always had a love for photography and have focused on this medium for over a decade. My subject is always nature, but my style frequently changes with what is influencing me at the moment.
2. What are the major themes you pursue in your work?
My photography is highly influenced by color and light — I'm mainly working in pastel colors right now. I love the combination of  pastel colors with nature — I think they work perfectly together. I love how the colors play with the light, add depth and emotion, and give my photos an ethereal quality. When looking at my pieces, I want viewers to blur the lines between where they are and where they want to be.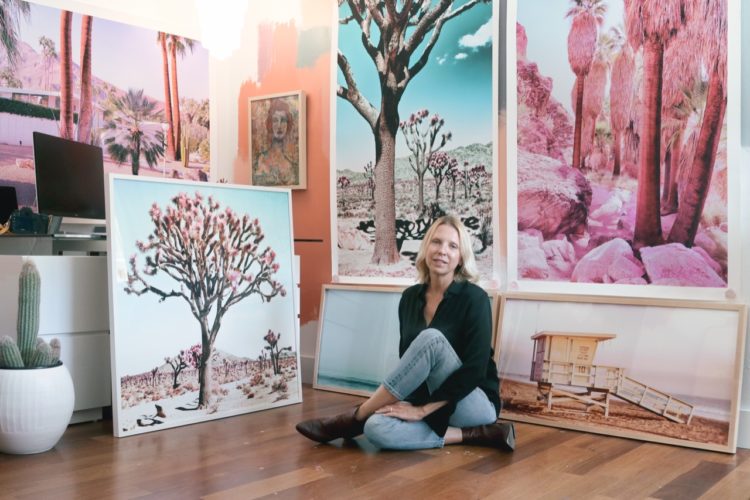 3. How did you first get interested in your medium and what draws you to it specifically?
Originally I was really into painting, but when I broke my left arm years ago I could no longer paint or hold my camera.  I had to find a new creative outlet, so that is when I started to focus on my photography in a different way.  I started editing and "color washing" my photographs, in a way this became like painting for me. I became obsessed with the editing process and what I could achieve — adding color, removing color, accentuating color —  I find the moods that color and light create are fascinating. I love when the emotions I experienced while I took the photograph come through in my finished piece.
4. How has your style and practice changed over the years?
When you look at my photographs from early on they are quite representational. I feel they are moody and beautiful, but literal. I think I became inspired to start creating in pastel colors because I had a strong desire for "crazy" beauty in my life, something to escape my reality at the moment,  just something a bit surreal. I feel my photography is this, a bit surreal, a bit of an escape.
5. Can you walk us through your process? How long do you spend on one work? How do you know when it's finished?
My creative process starts with my love of nature and what I have the desire to capture. Lately my mood has been the desert and ocean — the lighting and silence of these two places have a meditative effect on me which I aim to capture in my photography. I do not use a tripod or artificial light, this allows me to be more spontaneous while shooting. I like that the light given by Mother Nature is unpredictable and beautiful. 
I sort through the photos instantly when I get home. Unfortunately, sometimes what I was seeing and feeling while shooting a particular area does not always translate to what I captured, but when I do capture that particular mood it is so exciting to me. From there I shut myself in my studio and have fun editing. Editing one photo can take hours or it can take days. I know the piece is complete, when the image brings back the feeling I had when I was on that particular trip.
6. What series or project are you working on next?
I've been planning to photograph sand dunes and rolling fields of golden grasses — I want to capture the light and simple drama of them. I have been daydreaming of these places washed in pale golds and blues and even had few trips planned around this desire, but they will have to wait until we can travel again.  I've also been experimenting with painting on top of my photos to add texture and introduce new colors.
7. What is the best advice given to you as an artist?
The best advice given to me as an artist is to get yourself out there in the art world. Do art shows if you can, apply for everything you want to apply for, join artists groups, put your art online – basically surround yourself with art and artists. It is very rewarding to be part of an artist community. Artists support each other, we give each other advice and we are so happy when an artist friend succeeds. 
Shop artwork by Kristin and other trailblazing artists at
Introducing The Other Art Fair Online Studios, a new online platform offering art lovers around the world access to over 800 Fair artists. The Online Studios will keep our community feeling inspired, engaged, and continue to spread joy through art.