Meet The Others: Katie Edwards
The Game Changers. The Rule Breakers. The Innovators. Discover some of the fantastic emerging talent showcasing their work at The Other Art Fair.
Katie Edwards is inspired by music, the places she travels to and the landscape she sees. using a palette of pastels, fluorescents and earth tones, she uses a number of different techniques to create layer upon layer of texture and colour. some of these techniques include dripping, colour washes, application with her fingers and saturation of under-layers to create crinkling. Katie's pieces fill a room with joy, wonder and excitement – reflective of how painting makes her feel.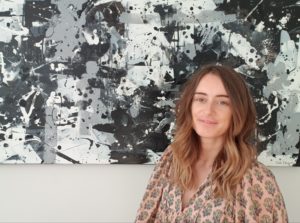 ---
Q&A with the Artist
Tell us about who you are and what you do.
 

What is your background?

Originally born in the UK, i moved to Australia with my family when i was 13. i studied art at school but went on to study law, work as a model and makeup artist and eventually pursued a career in the law after finishing university. i picked up painting just over a year ago and taught myself, and in a short space of time i have been included in local and international art fairs and group shows, and completed a number of commissions for private clients.
How did you first get interested in your medium and what draws you to it specifically?
I was first interested in acrylic paint as it seemed like there were endless ways of using it. I started off as any artist would, testing different formulas, brands, mixing with mediums and water and how these elements worked (or didn't work!) over the top of one another as my work is quite layered and I like to try and create different textures and finishes.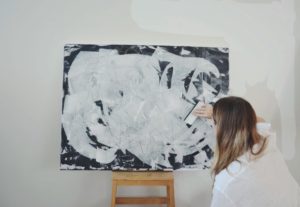 Can you walk us through your process? How long do you spend on one work? How do you know when it's finished?
It really varies depending on the size of the work. I will typically pick a colour palette based on something i am inspired by, then use a squegee to put down some initial layers of colour. I will then dilute paint with flow medium, water or both and pour over the initial layers, and add different colours while the pour is drying. Once dry I will then finish off with more colour which has been further diluted, and undiluted colour which is applied directly by dripping from the bottle or dabbing on directly from the tube, and also applied using my fingers and palette knife. I have spent varied amounts of time depending on the techniques I am using but right now it is taking around a few weeks to complete a work. I have to be careful not to over-do it so I like to step away from the work for a few days to decide whether or not it needs more, or if I am happy with it as is. Once I think it is finished, I will leave it for a couple of weeks before signing it just to check I am happy with it.
Where do you draw inspiration from and what does your work aim to say?
I initially drew inspiration from landscape and sunrises and sunsets and the colour palettes I saw when travelling to different places, but i also now draw inspiration from listening to different types of music, noticing how that music makes me feel and translating that feeling through colour.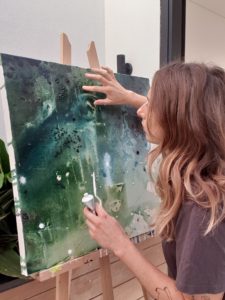 What is the biggest challenge you've faced as an artist and how did you overcome it?
Being self-taught has been a challenge, and navigating the new world that I had no exposure to previously. I had to learn by trial and error about how the art world works from a commercial perspective i.e. how galleries and fairs structured their fees and commissions, logistics involved in shipping works overseas and the costs involved in being an artist – which are high! It really was (and still is) a learn as you go process while also getting tips from fellow artists – instagram has been great for this, i.e. reaching out to artists who have previously had the same opportunities that have been offered and getting feedback from them as to what they have done.
Can you tell us something about yourself people might be surprised to hear?
I am still working as a full time lawyer, and also still take on clients for makeup from time to time.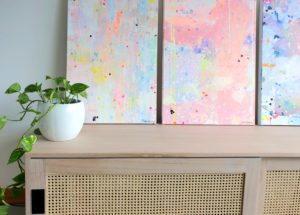 Shop artwork by Katie and other trailblazing artists at The Other Art Fair's Online Studios.
Introducing The Other Art Fair Online Studios, a new online platform offering art lovers around the world access to over 800 Fair artists. The Online Studios will keep our community feeling inspired, engaged, and continue to spread joy through art.