Meet the Others: Karin O
The Game Changers. The Rule Breakers. The Innovators. Discover some of the fantastic emerging talent showcasing their work at The Other Art Fair.
Karin O's creative foundations were discovered in the treasure trove that was the home of her artist grandmother. She then honed her technical craft for capturing facial features through her career as a make-up artist and hair stylist. Now she breathes new life into forgotten materials and in doing so celebrates the unseen heroes of modern life, and the people that she reveres, as she puts it, "the colourful people that choose their own path in life". Introducing Karin O….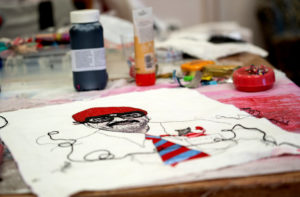 ---
Q&A with the Artist
Tell us about who you are and what you do. What's your background?
I'm Karin O. I'm a Swedish artist who just can't get enough of stitches. It's in my hands. I want to embroider, always.
The threads are a reoccurring element in all my artworks. In my artistic creations, I let embroidery meet unexpected materials such as old letters, postcards, vintage invoices, recycled tins and photographs. I like to see forgotten textiles come alive again through my stitched characters.
As a kid I found my love for creativity in my grandparents' home in the majestic Swedish countryside. My grandmother was an inspiring multi skilled artist with great charm and charisma. I would like to describe their house as a place taken from a Pippi Longstocking story. Filled to the brim with threads, colours, fabrics, beads, paintbrushes and many nooks and crannies to inspire passion and imagination. A place full of love, laughter and encouragement. That was a great starting point for my artist career.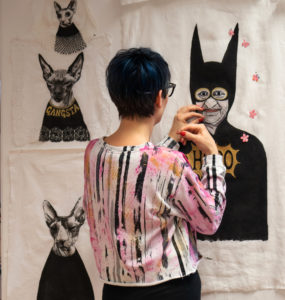 During my earlier years I trained and worked as a make-up artist and hairstylist. As many of my artworks feature portraits of people, these skills became an integral part of my art, to capture the features of a person's face when making a portrait come to life. I have always been fascinated by faces and people. When working on my more humorous pieces I am still all into people – and some animals. Living creatures are amazing with their looks, feelings and expressions.
After years in art schools and years as a full time artist my time is all about art and creating art. It's my passion and my life. A day without stitches and art is just not complete.
Where do you draw inspiration from and what does your work aim to say?
My surrounding is my inspiration for my art – I'm touched and affected by events and people I have met, seen or heard about. I'm fascinated by the absurdities and fun things of the world, where I question traditional roles in society and change places for high and low. It's the act of transforming something through art and adding a hint of reverse perspectives that illustrate my works.
I believe creating textile art is a wonderful way to awaken thoughts, convey comedy, tragedy, beauty and, not least, joy. What better way to do this than through an endless myriad of fantastic little needle stitches!
I make Happy Art – from A Happy Heart.
Can you walk us through your process for creating a work?
I have different ways of creating an artwork. For example when making art of a vintage letter I am often inspired by the person who stands as the receiver on the envelope. Who was this person? My imagination sets in and with drawing and embroidery I create that person and pieces of his/her world on the paper.
Many times my creativity is triggered by a photograph or image I have taken that I transfer to textile. My needle and thread then becomes my paintbrush and the inspiration flows naturally to the piece. The detailed embroidery is recurring in all my artworks. It's through the embroidery that my art really takes its form into its expression.
In these creations, I transform people from different worlds and walks of life into my own interpretations and thereby re-create them into a new reality. Behind many of my original pieces lays a story. In my art, I like to transform the reality into something new. I like to awaken the idea in the viewer's mind – what if things were different. The embroidered artistic creations are a terrific way to portrait comedy, tragedy, beauty and joy.
I often use recycled products such as old postcards and anchovy tins as features in my works.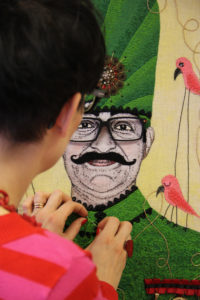 Who are your biggest influences and why?
My biggest influences are the people that surround me in my every day life – the local, often unseen, heroes. I am inspired by colourful people that choose their own path in life and I am forever grateful for my talented artist friends around the world that is a great source of encouragement and joy.
What can people expect from you next? Do you have any exciting projects/opportunities coming up?
In September 2020 I will be one of the featured artists at the show 'Stitch Fetish 8' at the Hive Gallery and Studios, down town Los Angeles, USA. The show is curated by Ellen Schinderman and is all about hot stitches.
Can you tell us something about yourself people might be surprised to hear?
Not only am I a pretty good artist I am also an excellent back seat driver, I have absolutely no idea how to make coffee in a coffee maker and since I once lived in India for four years I (thanks to my very patient Hindi teacher) know how to say really important stuff like "my horse is very beautiful" and "tomorrow I will make coffee (!)" in the wonderful language of Hindi.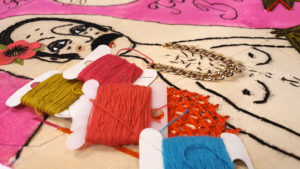 Shop artwork by Karin and other trailblazing artists at The Other Art Fair's Online Studios.
Introducing The Other Art Fair Online Studios, a new online platform offering art lovers around the world access to over 800 Fair artists. The Online Studios will keep our community feeling inspired, engaged, and continue to spread joy through art.