Meet the Others: Justin Lees
The Game Changers. The Rule Breakers. The Innovators. Discover some of the fantastic emerging talent showcasing their work at The Other Art Fair.
Justin Lees is a visual artist based in the coastal town of Newcastle, Australia. Justin's work is big, bright, vivid and reminiscent of abstract expressionism and gestural abstraction periods from New York in the 50's and 60's. The artworks seem to take on a life of their own and are very much inspired by his surroundings, whether that be sight or sound. Justin also draws on a lot of feelings and memories through his work, using abstraction and broad strokes of colour, along with the quickness and free flowing nature of finer strokes that are almost signature like in appearance. 
---
Q&A with the Artist
Tell us about who you are and what you do.
 

What is your background?

My name is Justin lees, I'm a visual artist from Newcastle, Australia. I paint, I take photos and I design. I have no formal fine arts training, I did however study graphic design and photography.
Where do you draw inspiration from and what does your work aim to say?
I draw inspiration from everything around me. The laid back coastal town of Newcastle and its lifestyle. The memories I have as a child playing, running the streets with friends till all hours. Playing sport of a weekend with friends, then going to parties at night. Music and sound play a big part in the gestural movements I make while painting, also the colour palettes I may use. This, intertwined with a memory or feeling a particular song may bring on, will play a big part in the direction a painting may take.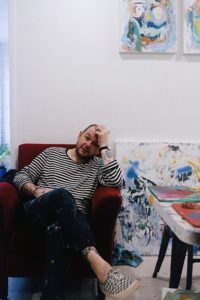 Can you walk us through your process for creating a work?
Usually I will cover the walls of the studio with blank canvas, paper, card, panels of wood all different surfaces large and small. I usually set smaller cards on a table. I'll then create a playlist, which will evolve as I continue to paint. Once I have that I'll start with a colour palette and let everything just take a natural course after that. A painting may get reworked 3-4 times while another may just work straight away.
Who are your biggest influences and why?
So many to choose, I'm constantly finding beauty in all different artists and art. Sometimes it may just be that 1 painting by an artist out of a thousand that hits me. Though the main ones are; Cy Twombly – the large scale of his work and the freeness of his scribbles. I remember just being in awe when I saw his Four Seasons in person in New York some years back. Jean-Michel Basquiat – Everything about his work excites me. I have the Warrior tattooed on the inside of my left arm. Simply a genius. Joan Mitchell – I love the expansiveness of her work, 5 large canvas or panels making up 1 work, with these gestural violent brushstrokes and then these very soothing, calming sections. James Drinkwater – A close personal friend of mine, who I admire and look up to, he and his wife Lottie, inspire me tremendously in every aspect and are nothing but encouraging. Some others are Ben Quilty, Chen Ping, Ken Done, Craig Waddell, Georg Baselitz, Robert De Niro Snr, Asger Jorn, Sydney Ball. I could go on and on…

What can people expect from you next? Do you have any exciting projects/opportunities coming up?
I've just had my "We All Play Parts of Tomorrow" exhibition in my hometown of Newcastle, and coming up I have a photography exhibition all shot on 35mm. I'm about to launch a webstore, and I'm also working on a few different ideas for clothing.
Can you tell us something about yourself people might be surprised to hear?
I'm a huge fan of movies like 3 men and a baby, father of the bride, The Concierge. I can't watch horror movies. The first concert I ever went to was New Kids On The Block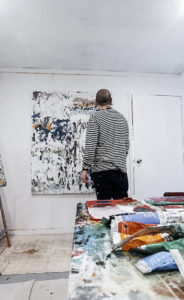 Shop artwork by Justin and other trailblazing artists at The Other Art Fair's Online Studios.
Introducing The Other Art Fair Online Studios, a new online platform offering art lovers around the world access to over 800 Fair artists. The Online Studios will keep our community feeling inspired, engaged, and continue to spread joy through art.