Meet the Others: Jessica Poundstone
The Game Changers. The Rule Breakers. The Innovators. Discover some of the fantastic emerging talent showcasing their work at The Other Art Fair.
Jessica Poundstone is an artist from Portland, Oregon inspired by the minimalist, light and space, and color sensation art movements.
Jessica's work has been exhibited at Womxn House Gallery, hClub Los Angeles, The Gathered Gallery and Pleat Gallery, and featured in contemporary art publications 1 Million Diamonds and Supersonic Art. Saatchi Art named Jessica a top 100 artist.
---
Q&A with the Artist
Tell us about who you are and what you do.  What is your background?
I've always loved looking at pictures and making pictures. I remember taking my first trip to New York when I was 15: my friends wanted to see the Empire State Building and the Statue of Liberty; I wanted to see the Edward Hopper paintings at the Whitney. (And I did!) While I've taken a few classes here and there, my real art education has been looking closely and carefully at tons of art over many years, noticing what I connect with and what I don't, and using it all as fuel and inspiration to make work I believe in. I get an enormous amount of energy and joy from exploring new ideas and expressing myself visually.
What are the major themes you pursue in your work?
I am fascinated by the way that color and abstract forms can both express and create inner experiences — it's quite mystical and magical to me. Exploring that mysterious connection between art and our inner lives is really at the heart of my practice. My greatest hope is that my work can do for others what my favorite pieces of art have always done for me: serve as a catalyst and a conduit for meditative moments — a visual cue to pause, re-center, and reconnect with ourselves and our place in the world.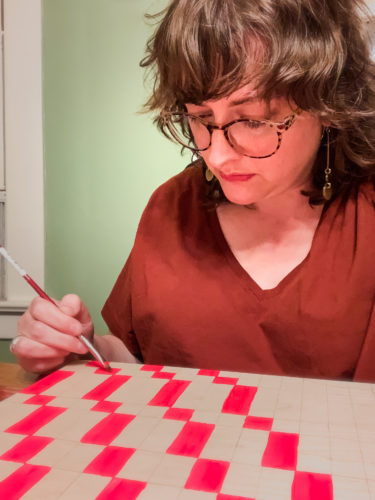 How did you first get interested in your medium and what draws you to it specifically?
For years I experimented with all kinds of mediums, from clay to oils to screenprinting to watercolor without feeling like I had really found my voice. When I started experimenting with working digitally, I was shocked by how right and natural it felt to me. Around the time I was starting, I ran across an article about David Hockney's digital work on his phone and iPad: that gave me the confidence to take the work seriously. Seeing that the digital pieces could be reproduced with pigment prints on fine art paper and look exactly the way they looked on my screen was the clincher that this was a medium that I could continue to pursue.
The techniques and processes I've developed for my digital work feel like a culmination of techniques I learned working in other mediums, including drawing, painting, screenprinting and printmaking. I love the way working on a touchscreen maintains a physical/tactile component of my practice. Plus, as a working mom living with my family in a pretty small space, using digital as my primary medium allows me massive freedom to work whenever and wherever I want, using any color I can dream of, with no cost restrictions on materials, no mess and no waste. It has been incredibly freeing, both practically and creatively.
How has your style and practice changed over the years?
Everything I've ever made has been rooted in exploring color, so that piece has stayed the same over the years. But there was a big change at some point when I made the conscious decision to let figurative work go. I love looking at figurative work and many of my favorite artists and illustrators work in realism to some degree. But realizing and accepting that I get so much more energy from working in the language of color and abstraction opened up a whole new world of possibilities for me. I'm also spending more time than ever on my art practice right now — I have almost a compulsion to create: I can barely keep up with myself!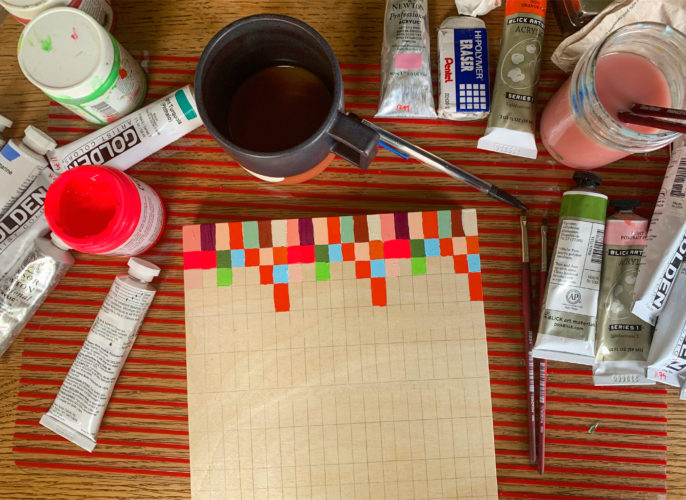 Can you walk us through your process? How long do you spend on one work? How do you know when it's finished?
Sometimes I start with a color or a color combination; other times there's a feeling or concept I want to explore. No matter the starting point, I try to let the work lead me wherever it wants to go. Some pieces come together very quickly; others take hours and sometimes weeks or even months to reveal themselves.
I know a piece is done when I get a pretty visceral emotional "ping!" — like the tiny moment of euphoria you get when you put the last piece of a puzzle in place. It feels amazing.
What series or project are you working on next?
I'm always working on a bunch of things at once — I can't seem to help myself! After many years of working almost exclusively in digital, I found myself drawn to analog painting, and have created a series called Color Stories with acrylics on birch board. It's been interesting and exciting to see how the methods I've developed for working in digital influence the way I work with paint: I'm really loving it.
I'm also working on some additional pieces in my Color Cloud and Color Ideas series, and considering moving forward with some publishing and installation projects I've had in mind for a long time. I'm also interested in exploring surface design applications for my work, as well as fabrication possibilities for some really large-scale pieces. We'll see where everything lands, but it's really energizing to challenge myself and consider new ways of evolving and growing my practice.
What is the best advice given to you as an artist?
Make what you want to make, and trust yourself.
Shop artwork by Jessica and other trailblazing artists at The Other Art Fair's Online Studios.
Introducing The Other Art Fair Online Studios, a new online platform offering art lovers around the world access to over 800 Fair artists. The Online Studios will keep our community feeling inspired, engaged, and continue to spread joy through art.