Meet the Others: Harry Chandler
The Game Changers. The Rule Breakers. The Innovators. Discover some of the fantastic emerging talent showcasing their work at The Other Art Fair.
Harry Chandler is an accomplished mid-career multi-media artist, painter, photographer, sculptor and digital artist, based in downtown Los Angeles. His recent work focuses on icons and imagery of California. He has had three solo museum shows and multiple gallery shows.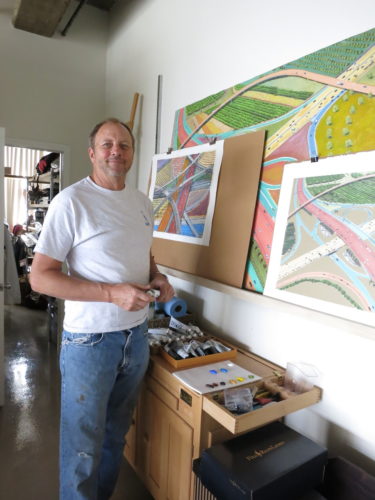 Harry studied art at Phillips Academy Andover and Stanford University. He also attended the UCLA Graduate School of Motion Pictures and Television.
---
Q&A with the Artist
Tell us about who you are and what you do. What is your background?
I am a mid-career artist from Los Angeles, working in a variety of media on subject matter related to California themes. I graduated from Stanford University and attended UCLA Graduate School of Film and Television.  Prior to my career as an artist, I worked as a television executive (Spotlight, Showtime, CBS, Hearst Entertainment) and as an independent film producer, producing eight television films. After leaving the entertainment business, I was an executive in new business development for the Los Angeles Times and the EVP in a technology startup that invented paid internet search, Overture (now Yahoo Search Services).
What are the major themes you pursue in your work?
My recent work focuses on series in different media, exploring various themes in my exploration of iconic California imagery. From beaches, to sun bathers, to Pacific Ocean, to freeways, the Hollywood sign and more.
How did you first get interested in your medium and what draws you to it specifically?
I work in painting, sculpture, photography and video. One of my newest series, Pacific Shimmers, start with photographs printed on aluminum that I paint over.
How has your style and practice changed over the years?
I am constantly changing mediums and styles. Four years ago, I moved into a big downtown L.A. studio that allowed me to work on multiple projects simultaneously, and fabricate pieces.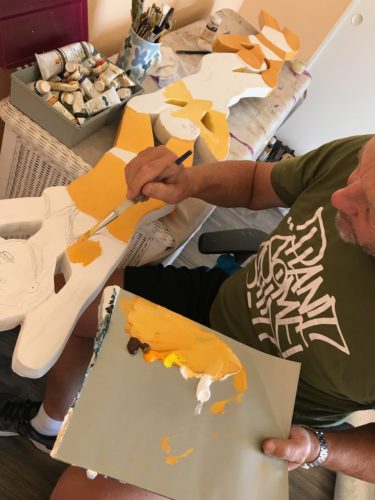 Can you walk us through your process? How long do you spend on one work? How do you know when it's finished?
The process differs so much on each series.
What series or project are you working on next?
I just finished 10 painted sculptures called Totem Bathers https://harrychandler.com/totem-bathers.  Next up will be a large piece with a LED laser-cut Hollywoodland sign.
What is the best advice given to you as an artist?
Be fearless. Trust your own instincts.
Shop artwork by Harry and other trailblazing artists at The Other Art Fair's Online Studios.
Introducing The Other Art Fair Online Studios, a new online platform offering art lovers around the world access to over 800 Fair artists. The Online Studios will keep our community feeling inspired, engaged, and continue to spread joy through art.