Meet the Others: Gregory Malphurs
The Game Changers. The Rule Breakers. The Innovators. Discover some of the fantastic emerging talent showcasing their work at The Other Art Fair.
Haunting and emotional, Gregory Malphurs' work explores our spirituality striving to understand the subconscious. Seeking to expose the inner self by revealing all the things we try to hide away, he creates inside-out portraiture. Less concerned with depicting physical likeness, his work shines a spotlight on psyche seen through a lens of distortion and fragmentation.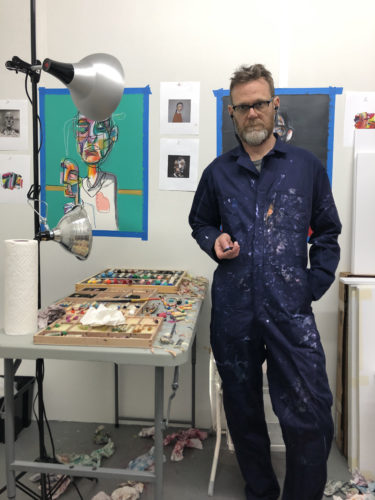 Heavy impasto, saturated colors & expert mark making – he lets his hand make decisions by drawing and drawing til the right thing happens. He is particularly interested in how the medium of oil pastels react to the paper through heavy layering, smearing and mark making. Then how these react and cooperate with each other, both through colors blending and play of lines.
---
Q&A with the Artist
Tell us about who you are and what you do. What is your background?
I work and live in NYC – my studio is in Long Island City. I work primarily in oil pastel on paper in large and smaller formats. My grandfather was a professional fine artist in Miami – he supported a family of six in the 50s through the 80s as a painter. So I was brought up around art and the idea of fine art as a profession. As a kid I spent a lot of time with him at his studio in Miami Beach – he would give me art books to explore and art materials to create with. I always knew what I would do and that I'd end up in NYC.
What are the major themes you pursue in your work?
I've defined what I'm creating as inside-out portraiture. My work explores our spirituality striving to understand the subconscious, seeking to expose the inner self by revealing all the things we try to hide away. Less concerned with depicting physical likeness, I'm attempting to shine a spotlight on psyche seen through a lens of distortion and fragmentation. My subjects are mirrors in which we see reflected all that is inside us.
How did you first get interested in your medium and what draws you to it specifically?
By instinct and genetics I am geared toward drawing. Early on I saw an interview with George Condo where he discussed "legitimizing" drawing (as related to the respect painting receives) by practicing drawing and using it for his work. That idea really spoke to me. During the interview it showed him doing large format drawings with oil pastels, so I bought a set to try and I was immediately hooked.
How has your style and practice changed over the years?
In school and after, for years and years, I was obsessed with drawing in ebony or colored pencil – creating large-format photorealistic still lifes (these can be seen in early in my IG feed). Once I discovered oil pastels my work turned a corner. I experienced a sort of freedom by rejecting the strict discipline and arduous, time-consuming process of recreating reality. My early work with oil pastels was very energetic and loose, with lots of vibrant color and line work. Very recently I've developed a technique of heavy layering and smearing which brings the drawings toward looking more like painting. Oil pastels never dry so the medium lends itself to blending and smearing. I am particularly interested in how the medium of oil pastels react to the paper through heavy layering, smearing and mark making. Then how these react and cooperate with each other, both through colors blending and play of lines.
My practice has really changed recently with the strange circumstance of our world right now. I left NYC in March to come to the Midwest. So I haven't been to my studio since then. I've had to create a "studio" in my apartment in Iowa, buying all new materials and equipment. I have managed to stay productive and the light is better than in my NY studio! But I miss my studio.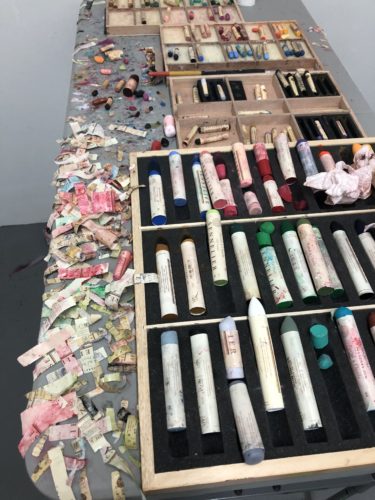 Can you walk us through your process? How long do you spend on one work? How do you know when it's finished?
The very first step is in my mind. I get inspired by something I see or hear and get an idea, then I gather source material to work from. Recently I've been working with photographer Maxine Helfman (www.maxinehelfman.com) on designing a book of her work. It's a highly collaborative project where we are immersed in her incredible images. In her work she is trying to make her photographs look like painting. And it gave me the idea to make drawings of her photographs. Photographs that look like paintings interpreted in drawings that look like paintings. With her permission, I've been using some of her images as a starting point.
All of my current work is done on Arches 300gsm Oil Paper. I start by choosing a size, either 12x14in or 22x30in. The size largely dictates how long a piece will take. Working from several visual sources I start draw on the blank paper with a very light grey, creating an under drawing and working to get the subject framed the way I want on the paper. At this stage I'm particularly concerned with positive and negative space and getting that right.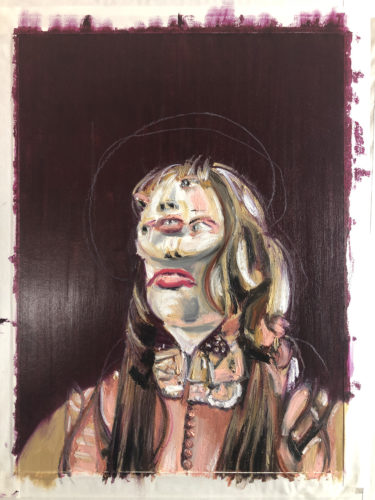 Oddly I always have an intuitive sense for a color palette that I want to use for each piece – it's like somehow the subject and idea tell me what colors to use. Once I'm satisfied with the underdrawing as a road map for where I'm headed, I begin to block in tonality starting with the colors I've picked as medium tones. I'll leave the darkest and lightest areas, plus the background, untouched workin only on the main figure. This is about building a hierarchy of tones and a base of oil pastels on the paper. Layer by layer I build in these medium tones and then add darker tones working my way to the darkest. All of this is done in what I consider my base tones. They are typically greys, and variations on one color. For example blue can be a base color for the work – so I'd be working at the is point in shades of blue and grey. Once the base colors from medium to dark are in, the figure starts to take form, but it's always very uninteresting at this point in the process. Kind of bland. At this point I will stop. I'll think it looks like shit. That is session one – usually several hours. I'll "live with" the base work as is for the rest of the day and evening, looking the work frequently (keep in mind my studio is in my tiny apt right now) and forming opinions on what it needs.
In session two, I will have an idea of what's need and will start "fixing" things. I also begin adding in and layering in brighter colors to bring things to life. Up to this point everything that has been done are marks made with the oil pastels, layer upon layer, with no smearing or blending. I'll typically get a lot happier with the work in this stage. Layer, layer, layer – add color after color. Now I'll start to add pure white and very light grey and begin smearing and blending colors – "pulling" the colors around with my fingers working primarily within the figure, leaving the edges loose and unfinished.  Meaning the edges of the figure where they meet the background.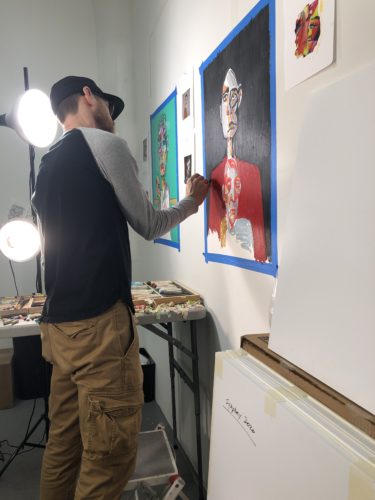 In session three – I'll lay in the background by starting with base tones, the colors that will be underneath the finished background that give it depth. This process requires a lot of hand work and a lot of pigment – layer after layer. At some point the paper will become saturated with oil pastel pigments that have been applied with marking – but no blending or smearing. As I mentioned, oil pastels do not dry, so this everything remains fluid. At this point I make decisions about how the background will interact with the figure and how they will blend. This lets me know whether to start smearing and blending the background or to wait for more work on the figure. I'll live with it overnight and make more decisions about what needs to be finished/fixed.
Session four is about finishing up – resolving any issues I've identified, making the background and figure interact properly. I'll add highlight marks on the figure with white and with some choice bright colors to add texture over the smears and blends. I like the look of raw mark making over smooth blended areas for depth and texture. I'll also add line work over the entire composition, with the intention of leading the viewer eye. I'm particularly interested in drawn lines as a counterpoint to more finished, formal areas in the work. It makes the work feel more alive.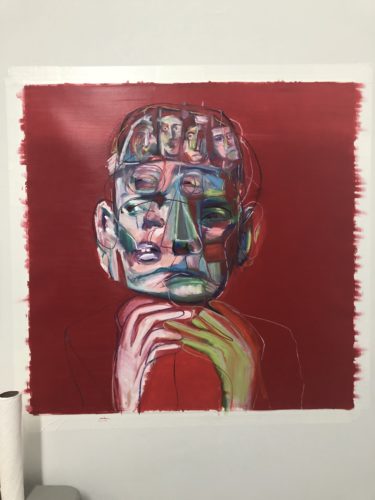 I'll live with the work for a few days. I also photograph the work with my phone so I can look at how the work translates digitally. This enables me to stare at the work anywhere I might be. Occasionally I will make modifications. Add – take away. A line here and there. At some point I will look at the work, either in the apt/studio or on my phone and decide that it's finished. It cannot be improved and I'm in love with it. At this point I'll apply four layers of spray fixative to essentially seal it.
What series or project are you working on next?
I have purchased materials and tools to begin oil painting. My aim is to see how my vision translates to this very different medium.
What is the best advice given to you as an artist?
View your work and your career as life-long. It's a long journey.
Shop artwork by Gregory and other trailblazing artists at The Other Art Fair's Online Studios.
Introducing The Other Art Fair Online Studios, a new online platform offering art lovers around the world access to over 800 Fair artists. The Online Studios will keep our community feeling inspired, engaged, and continue to spread joy through art.