Meet the Others: Frances Sousa
The Game Changers. The Rule Breakers. The Innovators. Discover some of the fantastic emerging talent showcasing their work at The Other Art Fair.
Frances Sousa's work focuses on the relationship between medium and form. Her practice explores combinations of paint, photography, collage and textiles. Her designs are colourful and avant-garde, disorderly and ethereal.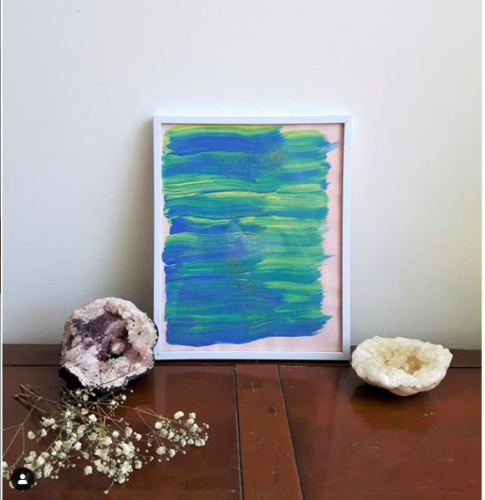 ---
Q&A with the Artist
Tell us about who you are and what you do. What is your background?
I am a Toronto-based self-taught artist working primarily with abstract painting on vintage and used textiles, as well as other recycled materials. I think a lot about how I can reuse discarded materials to make something beautiful. Often the only new materials I'm using are paint, staples, or analog photos.I have been committed to my practice for nearly seven years. That time has been filled with so much experimentation, growing, learning, and a lot of trial and error. I grew up in a very strict environment where doing anything outside of  corporate or medical careers was looked down on and heavily disapproved of. I would say for that reason I am self-taught. However, the path of being self-taught has resulted in work that is infinitely more meaningful to me than if I had gone to art or fashion school because it is so individualistic, without academic influence, and thrilling to me.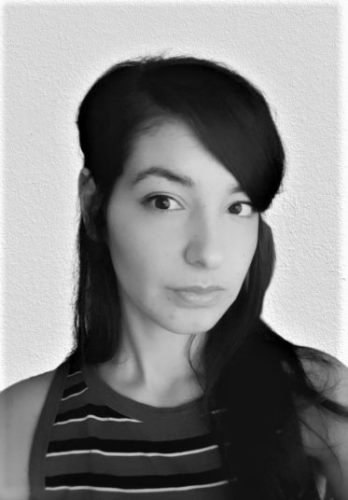 What are the major themes you pursue in your work?
The major themes I pursue in my work include the contrast of softness with harshness, florals and bright colours. I am  specifically interested in the results of pairing these themes with each other and being happily surprised by the outcome.
How did you first get interested in your medium and what draws you to it specifically?
I first became interested in my medium by constantly altering and embellishing my clothing as a young teen. Because of that, my interest in textiles and materials from thrift stores came to the forefront. Later on, I became more interested in how that can be applied to contemporary art and decor for daily living.
How has your style and practice changed over the years?
Funnily enough, my style has not changed that much. I look back at the stuff I did as a beginner and feel the same thrill about it now as I did then. I would say my practice has definitely evolved, both in consciousness and expansion. My way of doing things has become more sophisticated as a result of much trial and error. Over the years and specifically more recently, my practice has evolved  in terms of planning and organization. Furthermore, my practice has been extended to reach more people in terms of how I can apply my work to decor in daily living and wearable art.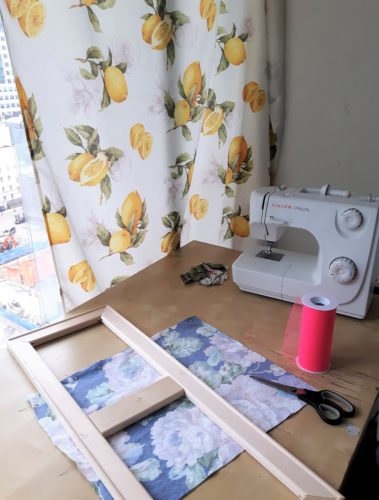 Can you walk us through your process? How long do you spend on one work? How do you know when it's finished?
My process generally happens in either one of two ways. The first one being that I have an idea that I want to execute (the idea is intuitive and pops into my head). Next I will learn how to achieve what I'm going for, practice, and then follow through with executing it. It may result in how I originally wanted it to be, or it may result in a completely different but better way that I have not previously even considered. The second way my process happens is that I don't have an idea but am wanting to work with materials I have on my supply shelf. This is exciting to me because of the endless combinations that can be made with found materials. In which case, I will pair materials together until I find what feels right. In that way, there is a certain magic that takes place between the meeting of my efforts and what happens to be the end result.
How long it takes for one piece to be finished really fluctuates, especially if I am working on multiple pieces in a given time period. I would say in general, that one work can take anywhere from one day to two weeks. I know that the piece is finished on an instinctual level, it feels right and I'm happy about it.
What series or project are you working on next? 
I'm currently considering how I can upcycle used plastic into collage and other art forms, decor and wearable art. I'm also wanting to make some hand painted catch all dishes and incense burners.
What is the best advice given to you as an artist?
The best advice was given to me by a favourite tarot reader that I love. She said something basically along the lines that the way for me to find success with my work was about finding meeting points while I continue to push my avant-garde desires. That doesn't mean compromise, it means to also pursue ways that people can relate and have a relationship with my work that encompasses but also extends beyond strictly contemporary wall art.
Shop artwork by Frances and other trailblazing artists at The Other Art Fair's Online Studios.
Introducing The Other Art Fair Online Studios, a new online platform offering art lovers around the world access to over 800 Fair artists. The Online Studios will keep our community feeling inspired, engaged, and continue to spread joy through art.