Meet the Others: Emily Shopp
The Game Changers. The Rule Breakers. The Innovators. Discover some of the fantastic emerging talent showcasing their work at The Other Art Fair.
Using print and collage with organic imagery, Emily Shopp constructs thoughtful visual spaces. Drawing from her experience with anxiety, she is interested in our psychological relationship with the natural environment. She experiences calm through immersion in nature and the collection of organic materials.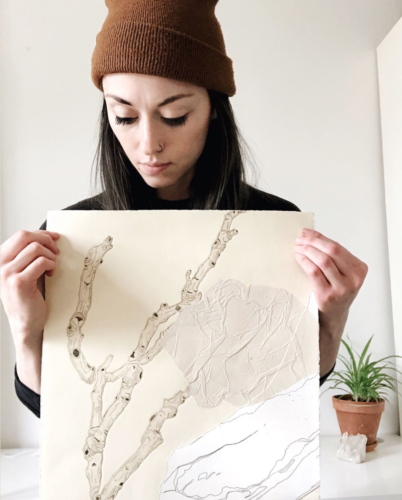 Variation, repetition, and layering of delicate natural linework with semi-transparent paper creates converging lines and shapes that culminate in endless pathways for the eye and mind to follow. The nature of these compositions requires close, quiet consideration. By harnessing the calming effect of natural objects and environments, she invites the viewer into an intimate meditative space.

Emily is based in Chicago, IL and has exhibited at The Other Art Fair in Brooklyn and Chicago, and will exhibit in Los Angeles later this year.
---
Q&A with the Artist
Nature is a big influence in your work, can you talk a bit about your relationship with nature?
My relationship with nature is largely related to my own mental health. I have some anxiety issues (as I'm sure most artists do), and natural environments provide space to breathe. Since I live in Chicago, I'm challenged to creatively find ways to interact with natural elements. I live with several houseplants, collect organic objects (sticks, rocks, pinecones), and spend a lot of time at the lakeshore. I'm in the process of transitioning the traditionally toxic printmaking materials I use to non-toxic and environmentally friendly ones. I'm trying to make this relationship less one-sided.
Can you tell us about your process?
I usually start with drawing a collected or photographed object, and transferring the drawing to a copper plate for etching or a wood block for relief printing. I like to focus on creating an ambiguously organic visual space as opposed to clearly representing the object, and I've found variation, repetition, and layering to be effective. I basically print the image multiple times on top of itself between multiple layers of semi-transparent paper.
What are you inspired by at the moment?
Well, I just got back from a trip to the Columbia River Gorge in Washington, and that was amazing. I was super inspired by this floppy, wrinkly lichen floof I found on a rock. I'm sure that will be one of my future prints. I've also recently been a bit obsessed with irregular fracture lines on rocks.
Shop artwork by Emily and other trailblazing artists at The Other Art Fair's Online Studios.
Introducing The Other Art Fair Online Studios, a new online platform offering art lovers around the world access to over 800 Fair artists. The Online Studios will keep our community feeling inspired, engaged, and continue to spread joy through art.