Meet the Others: Colin Branham
The Game Changers. The Rule Breakers. The Innovators. Discover some of the fantastic emerging talent showcasing their work at The Other Art Fair.
Colin Branham is an acrylic artist based in Malibu, California. He is known for producing edgy, abstract works with plenty of texture and depth. Before starting new pieces, he considers what has worked well in past paintings and thinks about new ways to capture those aspects, all while pushing himself to explore new ideas.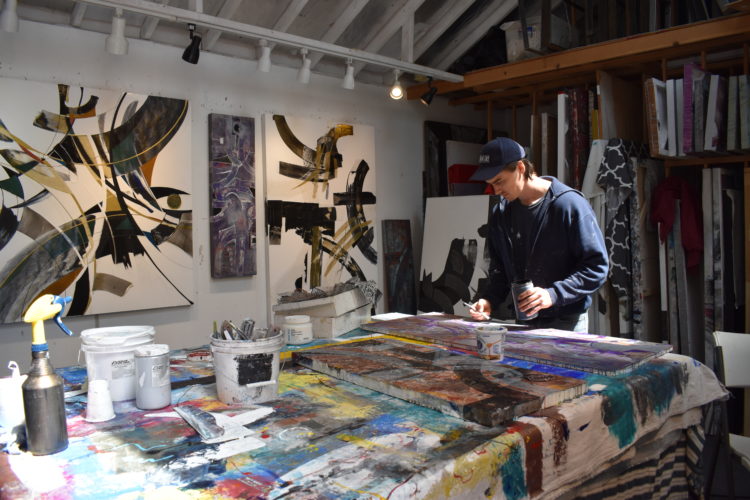 He has exhibited at the Beverly Hills Art Show and the Sausalito Art Festival, and plans to exhibit at The Other Art Fair Los Angeles later this year. Colin is currently featured as one of 140 artists in The Other Art Fair Los Angeles Online Studios, a new initiative by The Other Art Fair.
---
Q&A with the Artist
Tell us about who you are and what you do.  What is your background?
I am a third generation artist – both my mother and maternal grandfather were artists. The two of them spent a large number of years working together on developing their technique and style of painting. I was fortunate enough to grow up in and out of the studio watching the two of them work. I grew up in close proximity to my grandfather's home and spent a large amount of time around him. Some of my earliest memories are of spending time in his studio, watching him work, and rifling through his discarded pieces.
I spent a lot of time as a child going to art shows with my mother.  As an artist I got my start though working off and on in my mother's studio as a teenager. I really became interested in making art after university, having spent time as a production assistant and not really enjoying what I was doing. So I started to spend more and more of my off hours painting, transitioning to a full-time painter soon after.
You mentioned that your mother and maternal grandfather are artists. Have you ever collaborated with them?
I frequently work alongside and bounce ideas off of my mother and teacher, Robin Branham, who is also a featured artist in The Other Art Fair Los Angeles Online Studios. We have collaborated on paintings, either simultaneous or passing the painting off at various stages of completion. Some of the earliest work I did in the studio was working with her on her paintings.
Automaticity by Colin Branham | Acrylic on Canvas | 50″ x 60″ | $4,000
What are the major themes you pursue in your work?
My work is largely about creating a painting that has a design and surface that I find interesting and appealing. Having a lot of texture has always been important to the style of work that I do. Creating a balance between negative and positive as well as colors that work together. I also try to imagine what someone else might find appealing to place in their home. A lot of my work feels exploratory to me, trying to find new ways of doing things – experimenting.
How did you first get interested in your medium and what draws you to it specifically?
My attraction to acrylic and abstract painting stems from my having been surrounded by it for my entire life. Growing up, I was surrounded by abstract art and so to a large extent it is what I know and am familiar with, and has had a large impact on my life because of it.
How has your style and practice changed over the years?
I have developed much stronger pieces that make bold statements. I've also started working on larger paintings. At first I painted more on gut instinct and over the years I have become more methodical and logical, really thinking about what effect my next move will have on the overall composition of the painting.
Can you walk us through your process? How long do you spend on one work? How do you know when it's finished?
My process involves looking at past work that I thought was particularly interesting or successful and thinking about ways that I could tweak the painting to make it different yet still interesting. The process also involves a lot of experimentation and play so that the work does not become stale.
The other critical aspect of my process is getting out of the studio and exploring different countries. Making it into art museums when possible. And seeing the countryside and how people live in other places.
In terms of length of time, it really runs the gamut. Some of my work is very clean and simple, and correspondingly it is less labor intensive and therefore takes less time. Other of my work is very complex, and takes longer because of the amount of detail. Some work just takes longer because it is more difficult to solve, there's something about it that just doesn't quite work and it can take me a while to figure out what it is.
Due to the nature of abstract work it is often hard to know when the paintings are done, and I usually end up tinkering with paintings between shows, even after they are "finished."
What series or project are you working on next?
Well unfortunately a large number of my upcoming shows have been canceled, for obvious reasons. So my plan is to hunker down and spend some quality time in the studio. Now that I don't have anywhere to be, no deadlines, no pressure, no one to impress, it's the perfect time to experiment and play. This is the perfect time to come up with a new body of work to please myself.
What is the best advice given to you as an artist?
My grandfather preached about the importance of the use of a chair. Sitting in it and staring at one's work while trying to think critically about where the piece is and what should be done next. He also encouraged a willingness to play and try new things.
Shop artwork by Colin and other trailblazing artists at The Other Art Fair's Online Studios.
Introducing The Other Art Fair Online Studios, a new online platform offering art lovers around the world access to over 800 Fair artists. The Online Studios will keep our community feeling inspired, engaged, and continue to spread joy through art.