Meet the Others: Charles Hebert
The Game Changers. The Rule Breakers. The Innovators. Discover some of the fantastic emerging talent showcasing their work at The Other Art Fair.
Charles Hebert has been painting for over 20 years and is a self-taught artist. He moved from Canada to Sydney in 2004 and around that time, he began having solo and group shows and also appeared as a finalist in some art prizes. His medium of choice has always been oil on canvas. His artworks are heavily layered in order to achieve a higher level of depth, richness and energy. Charles has a strong passion for visual arts. Art is how he communicates without words his deepest thoughts and strongest emotions. The works that he creates are derived from personal experiences and interests. He is inspired by architecture and the Australian landscape.
---
Q&A with the Artist
Tell us about who you are and what you do. What's your background?
I've been a visual artist for over 25 years. I'm self-taught and love challenging myself by pushing the boundaries. My background is Canadian and when I first moved to Sydney 16 years ago, I had my first solo exhibition. I use to paint impressionism and loved doing landscapes. When I first started painting, I was inspired by Vincent Van Gogh. I loved his works so much that I duplicated one of his famous paintings called 'Starry Night'. Surprisingly, I did a good duplicate of this painting and so I decided to experiment with oil paint. I dabbled with abstraction throughout the last 25 years but it was only about 5 years ago I decided to devote my entire art practice to abstract art. Abstract art is something that I love creating to this very day.
Where do you draw inspiration from and what does your work aim to say?
I'm usually inspired by architecture and landscapes. My aim is to turn something representational like architecture and turn it into something that is ambiguous. I want the audience to discover for themselves what they see in my paintings and how it makes them feel.
Can you walk us through your process for creating a work?
I usually have a handful of paintings on the go. My works are multi-layered, usually with a bit of texture to give the works depth. I truly enjoy working with large canvases as I find I can express myself better and my artworks translate more effectively on a larger scale.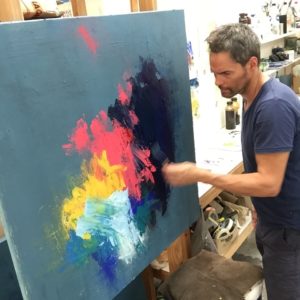 Do you have any exciting projects/opportunities coming up?
Looking forward to showing my artworks somewhere in North America.
Can you tell us something about yourself people might be surprised to hear?
Most of my artworks are done by doing a lot of looking at the canvas and not so much painting it — thinking about my next strokes, anticipating what will work.
Shop artwork by Charles and other trailblazing artists at The Other Art Fair's Online Studios.
Introducing The Other Art Fair Online Studios, a new online platform offering art lovers around the world access to over 800 Fair artists. The Online Studios will keep our community feeling inspired, engaged, and continue to spread joy through art.