Meet The Others: Brenda Mangalore
The Game Changers. The Rule Breakers. The Innovators. Discover some of the fantastic emerging talent showcasing their work at The Other Art Fair.
Brenda Mangalore began her creative life as a graphic designer for one of the biggest greeting card companies in the world, where she nurtured her love of colour and composition. However, 4 years into her dream design career her inner calling to paint could not be silenced. Leaving her career behind, she had her first solo exhibition in 2011 and boldly launched her new life as a visual artist in full colour.  Brenda's work is a dance of colour, soul & imagination.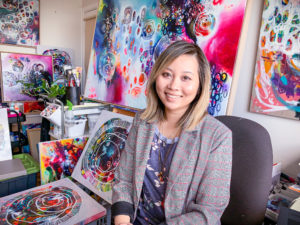 ---
Q&A with the Artist
Tell us about who you are and what you do.
 

What is your background?

I am an abstract artist – painting with acrylics is my creative love. My 'past life' as I like to say, is being a visual artist & designer in house at a global greeting cards company. It taught me how to work commercially but also about the power of emotional connection with words, colour & pattern. All of which informs my work now even in it's abstract form
Currently my main body of work is about connecting our inner landscape with my full expression in life. The juxtaposition of chaos & structure holds a huge anchor in my work. I love the conversation around spirituality & creativity, soul & personal growth and development. Finding beauty in the mess!
Where do you draw inspiration from and what does your work aim to say?
My art is an expression of my living embodiment of my life while also feels like an external calling from my spirituality.
My intentions for my paintings is to serve as a mirror for my collectors of their internal landscape, their values & desires & spiritual, creative expression. It also serves as portals for them through memories & resonates on deeper, soul & energetic levels.
The exploration of chaos & structure, with mess & beauty is a reflection of my expression of life & faith. My hope is that my paintings brings hope, beauty & inspiration as well as connection and expression — even in the mess, even in the darkness & sorrow. To inspire & help you recognise the internal pull for expression & divine connection to ourselves, our world & the divine.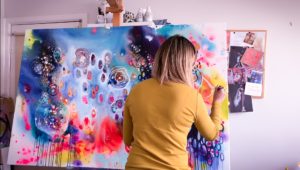 Who are your biggest influences and why?
I prefer to live my life as an open vessel to be inspired by anything & everything. My favourite living & dead artists don't usually create work like mine, though some do. It's more the story & process I draw inspiration from. Or the contrast between their practice & aesthetic to mine.
I collect little nudges & moments of inspiration like seeing a colour combination in nature or the curve of numbers on high-rise building — they add to my internal library of inspiration. It's like planting seeds & fertilising soil. I never know where or how the dots will connect and I trust that it all feeds into the garden.
This is my process & I like it because this comes naturally to me and it also allows me to be influenced by many & inspired by anything. I find the most interesting innovations and ideas come from this curious & open way of exploring. It stops my work from getting mundane and boring.
What was the best advice given to you as an artist?
There will always be a gap between my tastes & my abilities. That it isn't a sign I should stop, rather that my increasing tastes is from seeing more and more art. It feeds my skills and to allow myself some patience & grace as I develop my skillset. This led to me creating more work which naturally improved my skills as well as my confidence in what & how I want my paintings to express.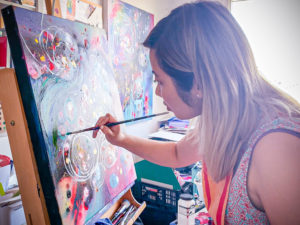 If you could own any artwork from any Museum or Gallery from around the world, which would you choose?
Several circles by Kandinsky or any of the ornate figures by Klimt.
Can you tell us something about yourself people might be surprised to hear?
I am currently obsessed with sourdough baking — following a structured & timed process, recipe & systematically testing and experimenting. It's a stark contrast to how I like to create and I'm finding it both invigorating & frustrating to challenge my comfort zone like this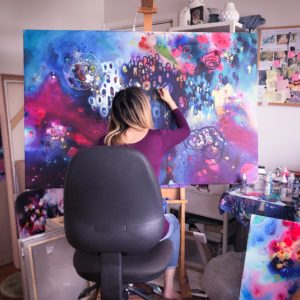 Shop artwork by Brenda and other trailblazing artists at The Other Art Fair's Online Studios.
Introducing The Other Art Fair Online Studios, a new online platform offering art lovers around the world access to over 800 Fair artists. The Online Studios will keep our community feeling inspired, engaged, and continue to spread joy through art.