Meet the Others: Angus Martin
The Game Changers. The Rule Breakers. The Innovators. Discover some of the fantastic emerging talent showcasing their work at The Other Art Fair.
Meet Sydney based Artist Angus Martin uses his craft to capture the feelings that arise from love and relationships. The deep emotional resonance of his works belies a simple approach to figurative art, with Angus relying on fragmented shapes to piece together cohesive forms. With a focus on the psychology behind colours, Angus balances dark and bright shades to strengthen the impact of his work and evoke emotions from his audience. 
---
Q&A with the Artist
Tell us about who you are and what you do. What's your background?
Many years ago, I used to be a hairdresser in Adelaide. I soon realized not everyone wanted a fun, creative hairstyle and I became bored with the everyday trims and touch-ups. That's when I made the decision to study graphic design. I completed an Advanced Diploma of Advertising and Graphic Design in Adelaide and really enjoyed the first year of studies which was heavily centered around the basic fundamentals of graphic design – colour theory, life drawing, sketching and painting. It became normal for me to carry a sketchbook around and look for inspiration in everyday activities and see things in a different way. At the end of the studies I was awarded the South Australian Arts Excellence Award – which was unexpected! I then went on to work in the advertising industry in account management before switching to the creative side as a designer.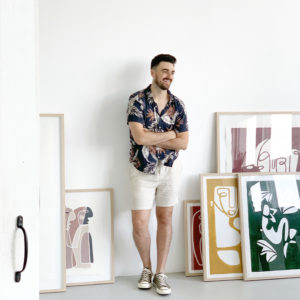 Where do you draw inspiration from and what does your work aim to say?
I have two major inspirations.
The first is music – especially lyrics that I can relate to. Most of my works are titled after lyrics of songs that had a profound influence on me. Music can resurface a lot of memories, and if I am drawn to a specific lyric or tune, I'm transported to a particular time or place. I'll listen to a song on repeat whilst painting a piece to focus on that specific memory – be it good or bad. I then try to express those emotions through drawing and painting.
My second inspiration I owe to my seventh-grade school teacher who told me that it seemed as though I was daydreaming all day in my own world. I always remembered this and was embarrassed that I came across that way and was programmed to believe it was a bad thing. From that time, I became aware of being more involved and present. Introverts look inwardly to recharge, and this can be conceived as anti-social and shy, when really most people don't realize is there is a depth of ideas, thoughts and feelings circulating within. It's only in the past few years that I actually started to realize that my 'daydream' state is where my creativity is fuelled, and it's a place where ideas come to life and it's not a bad place at all.
I'd describe my style as emotional – most of my pieces carry deep meaning and is the result of my experiences. My works centre around capturing the feelings and emotions that arise from love and relationships. My goal is to initiate an emotional response which people can relate to their own experiences. I struggle with letting people know the true insight into the meanings behind pieces, as I find being an artist is like having a diary for the world to view, and letting strangers take little pieces of your story home with them. But I find when I do open up and tell people the meanings behind pieces, the reactions have been so positive. People genuinely love the pieces more knowing the meanings and inspiration behind the artwork. They can relate to them and see them in a different light.
Can you walk us through your process for creating a work?
It varies! And depends on creative energy… But always begins with music. All my paintings are inspired by music, lyrics, and my interpretation of the song the piece was inspired by. I always create at home in my own space, with my little French bulldog Dolly, even though she's not much help and sleeps on the job, she's still great company. I like creating at home as I like the solitude – Clear space, clear mind. I regularly burn Palo Santo to cleanse the space, uplift the energy and also draw in creative energy. I like being surrounded by plants, lots of natural light, and music, always!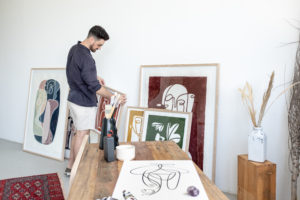 Who are your biggest influences and why?
I'm inspired by all creative people in general! Artists, Musicians, Poets, etc. I seem to gravitate back to my favourite Musicians for inspiration, Björk, Placebo, Cocorosie, Anohni, and Lyves. All these Artists are super creative, and the songs have deeper meaning which I like to delve into and translate into artworks.
What can people expect from you next? Do you have any exciting projects/opportunities coming up?
Looking forward to exhibiting at The Other Art Fair in Sydney later in the year, along with Affordable Art Fair NYC, and currently have a virtual solo show with Van Rensburg Galleries 'Evolve, Grow, Flourish' in Milton.
Shop artwork by Angus and other trailblazing artists at The Other Art Fair's Online Studios.
Introducing The Other Art Fair Online Studios, a new online platform offering art lovers around the world access to over 800 Fair artists. The Online Studios will keep our community feeling inspired, engaged, and continue to spread joy through art.