Meet the Others: Allison Bagg
The Game Changers. The Rule Breakers. The Innovators. Discover some of the fantastic emerging talent showcasing their work at The Other Art Fair.
Allison Bagg is a photographer and digital media manipulator, opening portals and doorways to alternate realities. After graduating from UC Berkeley with a degree in Film Studies, she found her voice in visual storytelling through advertising and media jobs. On the side, she cultivated and developed her style through photography and digital collage, using the virtual space of social media as a testing ground.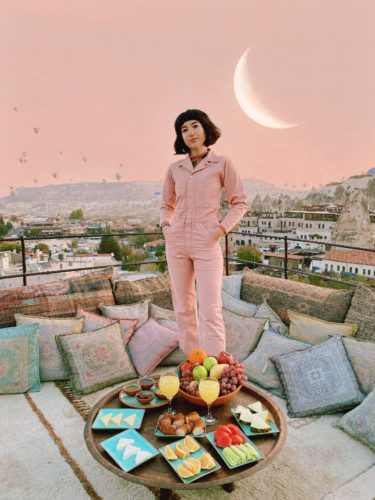 Traveling has been her biggest inspiration – the sights, the sounds, the colors, and the food all weaving a thread to create the tapestry of her work. In the last year alone, she has traveled to Egypt, India, Mexico, Iceland, Indonesia and the Czech Republic. Through her work, Allison aims to create portals for people to enter and traverse, showing the beauty and magic that is all around us.
---
Q&A with the Artist
Tell us about who you are and what you do. What is your background?
Hello, I'm Allison Bagg, an artist and sound healer born and raised in Los Angeles, California. I primarily create photographic collage based on my travels and experiences. I suppose my work touches on magical realism and surrealism. I have always been interested in visual storytelling, and majored in film studies and rhetoric in college. 
What are the major themes you pursue in your work?
The main themes woven throughout my work are portals, outer space, the void, the hidden spaces beneath and between, psychedelics, rainbows, ritual and earth magic.
How did you first get interested in your medium and what draws you to it specifically?
I have always been a photographer, and even used to go to photography camp as a child. As cameras became more pervasive in society, attached to our phones and computers, I swapped traditional, analog photography for digital. I started creating collages on my phone as a creative outlet. I had so many photos on my phone (currently I have 63,000 photos in there!), that I thought why not do something with them instead of letting them remain in the ether, as unseen, distant memories. I used my Instagram as a testing ground for these early trials, and was encouraged by my friends and kind strangers along the way to continue to pursue this work. It has grown from there, and I have continued to learn and make many mistakes and happy accidents along the way.
How has your style and practice changed over the years?
I cringe looking back at some of my earlier work, as the saturation and color palette is a bit too jarring for me now. I suppose my style has softened a bit, and I hope I have gotten more precise and detailed in my pursuits. I am self-taught, so there has definitely been a learning curve. In fact, I am still learning and experimenting every day. I think the main thing that has changed is that now I think about the work existing in a physical space and not just online. I try to make sure when I'm creating something that it will still work and translate as a print or lightbox.
Can you walk us through your process? How long do you spend on one work? How do you know when it's finished?
Typically my process is very quick. I have an idea and must work on it right then and there. Depending on the loftiness of the idea, it can come together very fast. Sometimes I'll take a photograph and know exactly how I want to flip it. Other times, I sit on a photograph for years and years, experimenting with different ideas along the way. I usually know when something is finished because it feels right – it feels balanced. More and more, I've come to feel that less is more. The main thing I tell people is to start with a photograph that you love, that's already beautiful. You won't have to do much to it. And it's better that way. Sometimes, you just shouldn't force it. Thinking about it like that leads me to believe that my process is based on ease. I like when it all comes together, when I'm in the flow and it just feels natural. That being said, though, I have revisited pieces over the years and turned them into a series instead of a standalone because there are just so many ways to go with one image and the indecisive libra in me just can't choose a favorite! This has happened multiple times. So, in that sense, a piece is never finished. It's always left open for a sequel.
What series or project are you working on next?
I have an ongoing project that is taking far too long: a tarot deck. I envision the major arcana cards being presented as lightboxes in an interactive gallery space. This is a longterm project, but in the short term, I am always working on whatever presents itself to me. I try not to be too rigid about it. If the inspiration is there or if I take the right photograph, I go with it. If I see something that inspires me, I go with it. I keep it pretty loose. But, the tarot project is the larger goal, with sprinkles of other things along the way.
What is the best advice given to you as an artist?
I think the best advice I've received is to own calling myself an artist. I had a block around using this word to describe myself, and have worked hard to dive deeper beneath that wound and really embody it. Some additional, personal advice I have given myself and learned along the way is: Don't be too precious about the art. I think a lot of us are worried about what others will think and are afraid to share our work. It's incredibly vulnerable to put something out there that you've created, and it feels extremely intimate and delicate. For this reason, we might hold on a little too tightly, and take it all too personal. I have found myself second guessing my instincts and intuition, asking others what they think of my work instead of trusting my gut and my own inner knowing. So I have to remind myself over and over to go inward, tune out the noise, and really feel into what I'm getting from the piece rather than wonder how others will take it. I have to remind myself that there is something for everyone. And even if it only resonates with one other person, that is enough.
Shop artwork by Allison and other trailblazing artists at The Other Art Fair's Online Studios.
Introducing The Other Art Fair Online Studios, a new online platform offering art lovers around the world access to over 800 Fair artists. The Online Studios will keep our community feeling inspired, engaged, and continue to spread joy through art.