Los Angeles: FEMMEBIT's Multimedia Virtual Reality
On March 28-31, 2019  at The Other Art Fair Los Angeles, the women's arts organization, FEMMEBIT, showcased immersive virtual worlds championing the female voice across the art and tech continuum; exhibiting artworks that question perception through the vivid mediums of virtual reality, metallic paintings, and vibrant digital prints.  Featuring artworks of Tara Dilloughery, Amanda Stojanov, Kate Parsons, Janna Avner and Richelle Gribble.
Upon entering booth 116, one experienced  the virtual worlds of painterly landscapes and intimidating industrial thoroughfares, invoking altered states and sensations. Through immersive computer software, oil paintings, and limited edition digital prints, visitors were able to capture the sacred qualities of digital ephemera in various different mediums.
Featured artists:
STEEL SCENE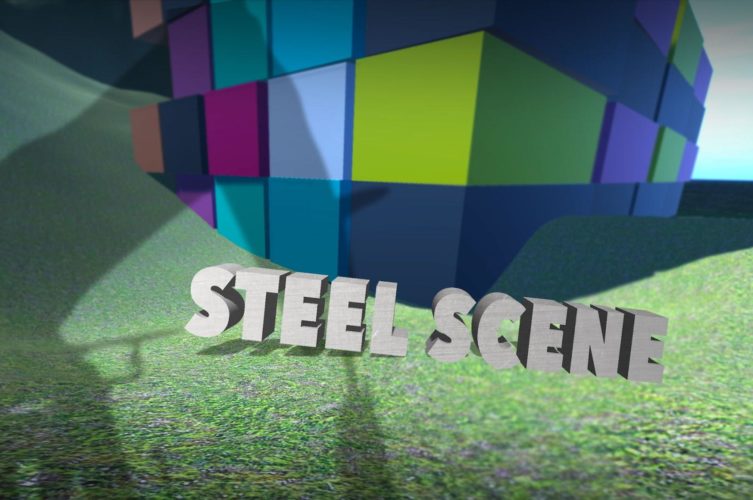 The virtual reality work, Steel Scene, created by artists Amanda Stojanov and Tara Dilloughery, guides the viewer through the Port of Los Angeles's singular pathways of incorrigible industry. To exist within Steel Scene is to invoke feelings of mortality and complete obsolescence beneath fantastical behemoths of steel and enlarged floating objects. Like the Port's physical reality, this virtual environment acknowledges the individual as eerily alone. While humans, animals, and other life forms weave in and out of the Port of Los Angeles, Steel Scene is here to stay, perpetually churning as the life-blood of Los Angeles.
Amanda Stojanov and Tara Dilloughery are recent MFA graduates from UCLA's digital media program. Stojanov's works include the Stop Motion Animation campaign for Desert Aids Project in the Coachella Valley, empowering and inspiring a new era of awareness, acceptance, and safe sex. Dilloughery regularly exhibits experimental works throughout Los Angeles, including the music festival, Echo Park Rising. Her digital works span media campaigns and introspective art pieces, reflecting psychically violent and bucolic figurations.
VIBRANT MATTER: THE REPLEVY SERIES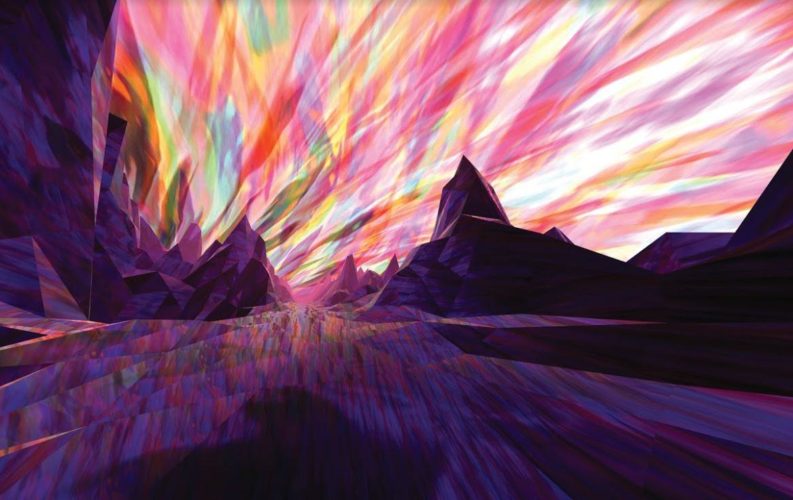 Vibrant Matter is a collaborative effort of FEMMEBIT cofounder Kate Parsons and Ben Vance. Parsons and Vance co-created the pioneering boutique studio FLOATLAND, which exhibits bespoke virtual and augmented reality for commercial galleries and museums, such as SFMoMA, Art Basel, and SXSW.
Vibrant Matter consists of painterly interactions within a kaleidoscopic dreamland of layered video textures. Femmebit cofounder and curator Sharsten Plenge describes their works as "a meditation on organic and inorganic structures; flickering forms dissolve into lush amorphous glitches and textural, fluid landscapes. Through a site-specific VR journey, these hybridizations become a portal for new cognitive experiences to take place to uncover a surreal hyperreal— a realm just beyond the 'natural' state."
For the Other Art Fair, Parsons created the Replevy Series, which seeks to capture the unique and sacred moments of virtual reality experiences, creating a tangible artifact of an otherwise ephemeral medium. As an illusion, printable images of VR harken to René Magritte's the Treachery of Images, by which a smoking pipe in his seminal painting, realistically and faithfully depicted, doesn't actually exist. Where does reality lie? Acknowledging the nature of illusion through the VR looking-glass, the Replevy Series invites viewers to challenge the materiality of perception, the nature of seeing, and the objective handling of digital ephemera.
VIRTUAL LANDSCAPE (I)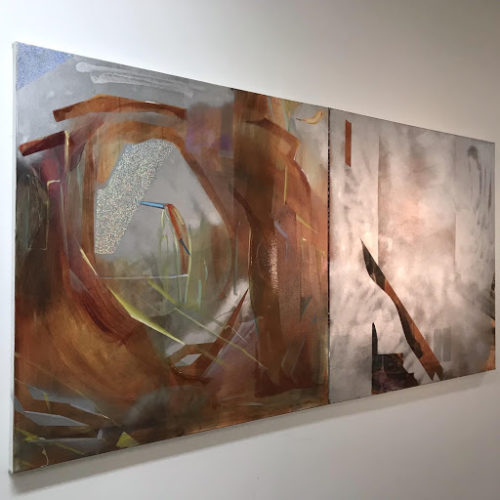 The immersive oil painting by Janna Avner, Virtual Landscape (I), depicts atmospheric, deep space and shaky pixilation quality to probe the imagination and elicit psychological responses. Since graduating from Yale in 2012, Avner cofounded FEMMEBIT and has exhibited paintings throughout Los Angeles, San Diego, New York, and internationally in Korea and Iran. Her writings on artificial intelligence and contemporary art are quoted in the Los Angeles Times, the New York Times, the Paris Review, and were selected for "What Future: The Year's Best Ideas to Reclaim, Reanimate, and Reinvent Our Future" by Unnamed Press (2017).
Creating multi-reflective surfaces, Virtual Landscape (I) acknowledges futurism in primitive technologies. This piece explores three-dimensional illusions for realistic depictions of non-traditional content such as glitch art and software renderings. The illusion of deep virtual space is created through Avner's incorporation of refraction gradients (holograms), geometric pigment, metallic spray paint and resin. Probing the imagination, Virtual Landscape (I) exhibits a technical methodology: it attempts to glow like computer screens so computer screens could be understood and appreciated like paintings.
SELF-ORGANIZATION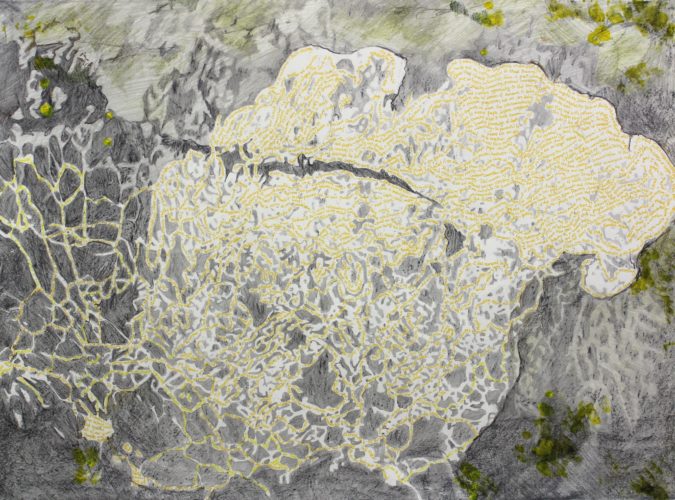 Self-Organization by Richelle Gribble is a text-based drawing interlacing words from dozens of participants. The writings reflect personal experiences of connection and isolation within human relationships and virtual spaces. Words scatter and congregate, forming emergent fractal patterns that mimic the branches of a growing slime mold. This intricate drawing reflects on how individual and collective remarks form networks surprisingly similar to formations found in organic life. For Self-Organization, the artist asked a large audience questions about connectivity. Much like multiple single-celled organisms, this drawing aggregates these responses to form one connected slime-body and written message.
Mixed media artist Richelle Gribble examines networks and systems-based investigations to reflect the ways human impact, technology, and environment interact and evolve. She is represented by Jonathan Ferrara Gallery, exhibiting worldwide. She has had solo shows in Los Angeles, New York, Japan, and international orbit around Earth etched on satellites and aboard rockets. Gribble has exhibited at renowned art fairs including Art Market San Francisco, Texas Contemporary, and Miami Project and had her artwork illuminated on an LED screen at Times Square (New York, NY).
FEMMEBIT was featured at the third edition of The Other Art Fair Los Angeles on March 28 – 31, 2019. To apply for the upcoming Los Angeles edition this Fall please complete our free online application at la.theotherartfair.com/applications. Deadline to apply is May 31st.