Inspired by Wonder: How to Create a Cabinet of Curiosities
What inspires you most? If you love to collect more than just art, it's a good time to create a cabinet of curiosities.
Gaining popularity in 16th century Europe, wunderkammer and wonder-rooms provided a way for curious collectors to display and share their favorite art, relics and treasures from the natural world. Creating your own cabinet of wonder means all those little gems you've scooped up in your travels will have a home, and it's easier than it looks.

(Image: Photo by Nikki To Photography, Courtesy of Houzz)
To start your own mini-museum, you need to choose a display cabinet or a bookcase. If you don't have a cabinet or shelf in mind already, flea markets, 1stdibs, or your favorite import furniture store are great places to look for one. Check out antique medical cabinets if you prefer the look of metal to wood.

(Image: Photo by Schwartz and Architecture, Courtesy of Houzz)
Creating your cabinet is also a great chance to repurpose a piece of furniture you already have. Try repainting it or putting some wallpaper on the back of the shelves to breathe some new life into things.
If your floor space is limited, think about creating a small wall-mounted cabinet. Small display cases, shelves and vintage typesetter trays can all work wonders for displaying your tiniest treasures. Choosing a mantle for your museum can work, too.

(Image: Photo by Luci D. Interiors, Courtesy of Houzz)
When you are arranging your collections, it's all about what works for you. There's no single way to display. It's helpful to think in layers. Place smaller items in front of larger ones, and have fun playing with contrasting textures. If you are arranging smaller items in a type case, have fun with color and shape.
Use glass cloche or bell jars to protect the most delicate objects in your collection or to add more intrigue…putting almost anything under a bell jar gives it an air of interest and importance…instant sculpture!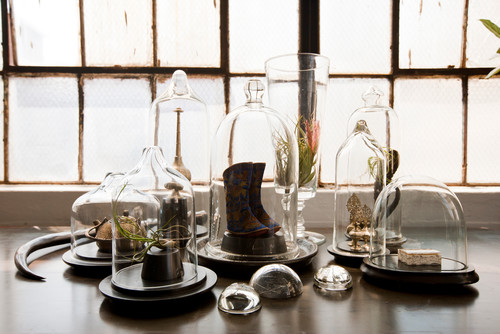 (Image: Photo by Chris Dorsey, Design by Alina Preciado & Dar Gitane, Courtesy of Houzz)
Depending on what's in your cabinet, and how well lit your room is, you may want to add lighting to highlight your collections, too.
If your cabinet is mostly glass, and you love botanicals, try mixing in some live green plants and transport yourself back to nature. Based on the cabinet and the plants you want to use, you can also display plants up on top or put them in the drawers themselves.

(Image: Photo by Nikki To Photography, Courtesy of Houzz)
Traditionally, wunderkammer were treasuries of the natural world, but modern cabinets can contain all kinds of collections. Try mixing in your favorite small works of art, found photos, tin robots, keys, collectable toys, or anything that speaks to you.
Looking for something truly one of a kind to showcase? Keep an eye out for works that are a mix of art and nature, like these beautifully surreal sculptures by Saatchi Art artist Karley Feaver.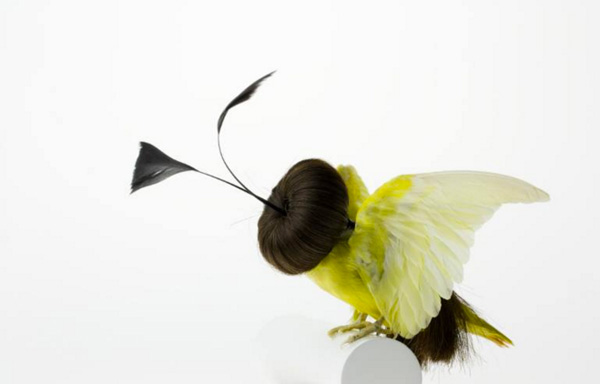 (Image: Serinus Flaviventris Buntis by Saatchi Art artist Karley Feaver)
If you like the look of natural wonders, but don't want to collect them, you can borrow from wonder-cabinet style in other ways… Look at this wooden cabinet and these animal and plant chinaware!

(Image: Photo by Tess Fine, Courtesy of Houzz)
Here are a few resources to help you get started…
Love reading about all things art? You can have articles from Canvas, curated collections and stories about emerging artists delivered straight to your inbox. Sign up for the Saatchi Art Newsletter.