Get the Look: Shades of Jade & Succulents
Spring is undeniably in the air! Hoping for harmony, rejuvenation, or an inspired new beginning? Invite in some fresh contemporary artwork in relaxing, plentiful greens and peaceful pinks, and infuse your surroundings with uplifting energy and the potential for positive growth. Feast your eyes on our latest curated salon wall collection and get set to find your new favorite.
Introducing our Curated Salon Wall No. 14: Jade Green & Shades of Succulents, featuring contemporary abstract paintings and modern figurative artworks in rich greens and the softer shades of spring…

(Image: Whitney Young / Saatchi Art) See sidebar for artwork details…
Jumpstart a Fresh Start
Art in shades of promising green can help inspire a fresh outlook or more fruitful endeavors. Dress up blank walls with a lighthearted modern painting or a lush botanical artwork on a juicy pink background and get ready to reap the results!  In case you missed it, read more about how to capture the positive power of color with art…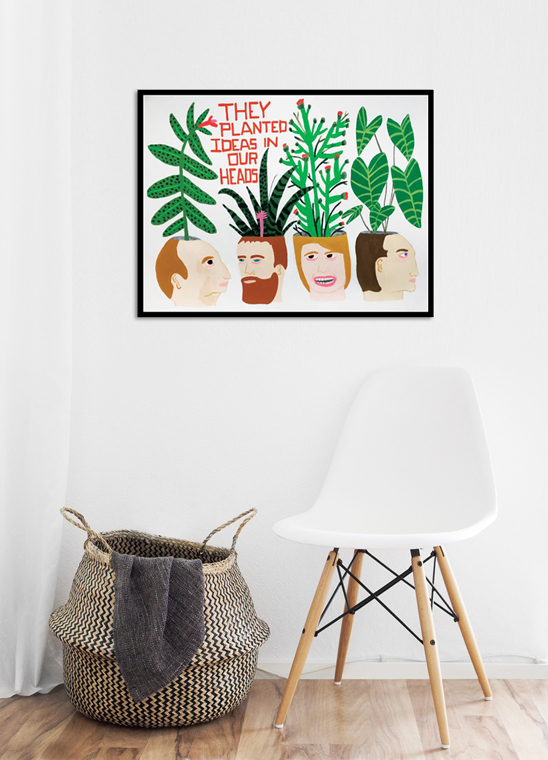 (Image: They Planted Ideas in Our Heads, original contemporary art by Saatchi Art One to Watch artist Kelly Puissegur)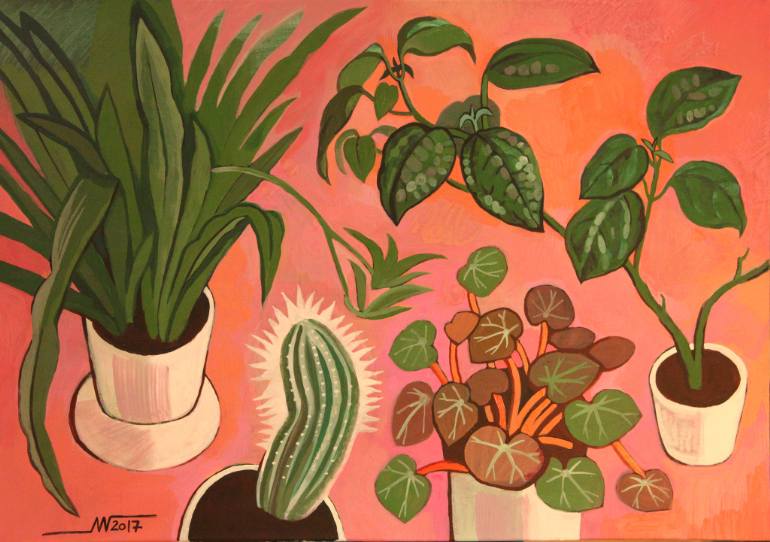 (Image: Windowsill, an original botanical painting by Saatchi Art artist Marina Gorkaeva)
Greet Them with Greens…
…and sunny, rosy tones. Springtime is a fine time for updating your entryway, and our new collection includes a selection of affordable original artworks that will work whether you're refreshing a lofty open foyer in a minimal modern space or a sprucing up a side table vignette in a cozy, eclectic bohemian hideaway.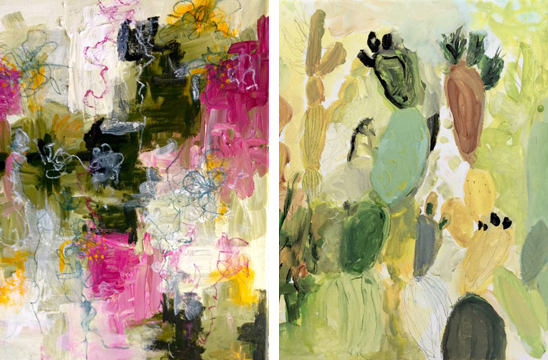 (Image: Details from L: New Farm Park #2, a layered abstract landscape painting by Saatchi Art artist Moira Dama Smythe and R: Succulent Skipper, a modern mixed media painting by Saatchi Art artist Autumn Rose)
Sow The Seeds of Romance
Figurative portraits in beautiful blush and airy blues and greens can't help but make your rooms more ready for romance.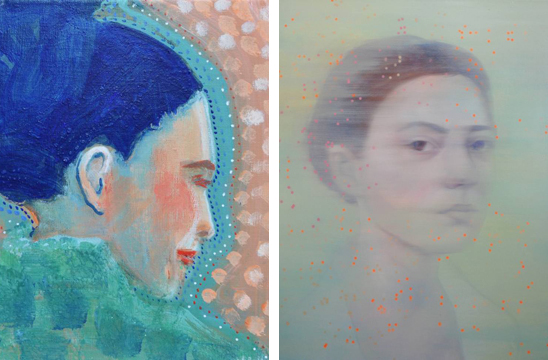 (Image: Details from L: Visage V, an original acrylic portrait on canvas by Saatchi Art artist Stéphanie de Malherbe and R: Monrepos IV, a dreamy painted portrait by Saatchi Art artist Johanna Lüffe)
Or, you can mix things up with a minimal abstract bouquet reminiscent of spring and get ready for gorgeous…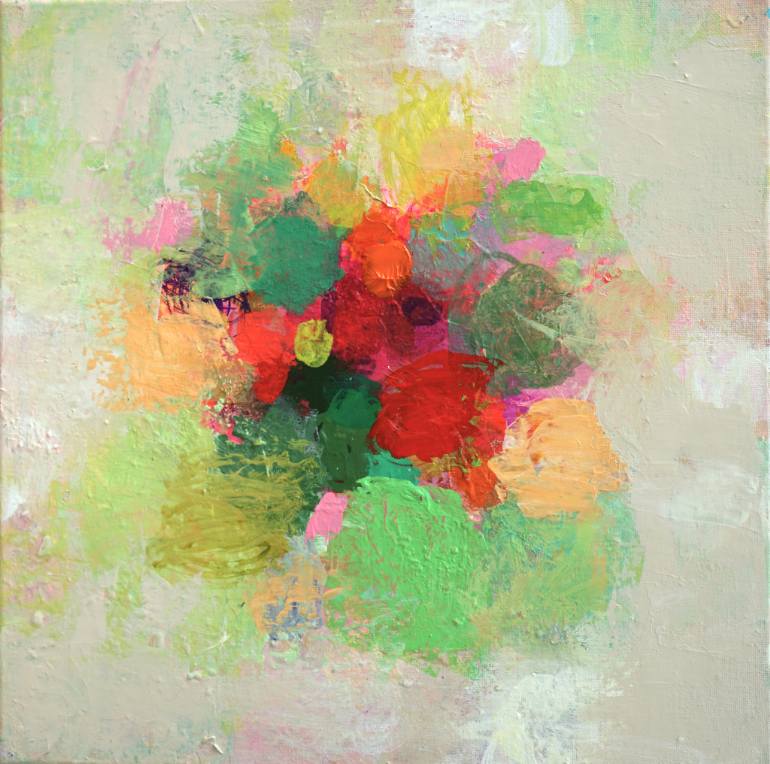 (Image: Roses And Leaves, an abstract floral painting by Saatchi Art artist Sandy Dooley.  Take a peek at Sandy's creative process on CANVAS…)
Summon Spring With Geometrics
Love the look of clean lines? Bring the fresh appeal of jade and succulent shades home to a mostly modern or mainly minimal space with geometric art in a range of springtime blues, greens, and yellows. Layer geometric paintings and prints with sculpture, small framed art, or plants in organic forms to create eye-catching contrast in your interiors.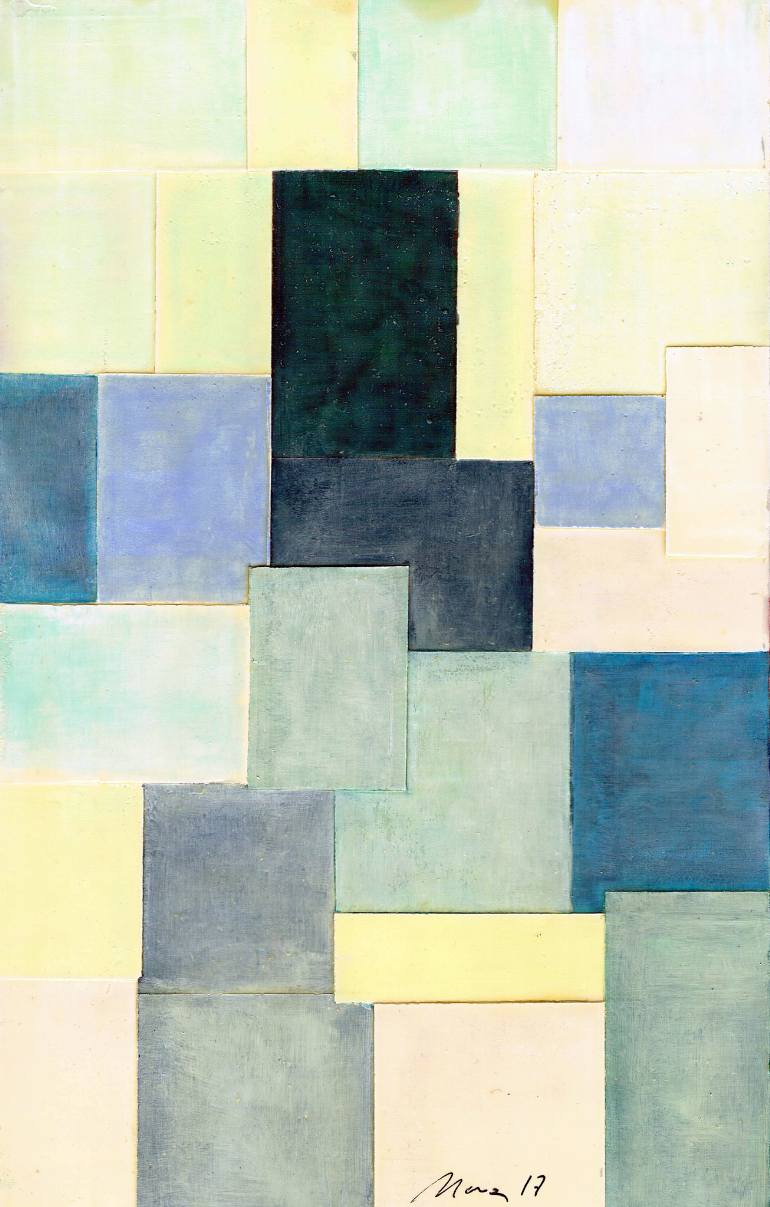 (Image: # 025, modern geometric artwork by Saatchi Art artist Juan Carlos Munz)
Wander through our new Jade Green & Shades of Succulents collection or explore Saatchi Art's Spring Catalog to uncover contemporary art you love today…