Get to Know Featured Artist Kelly Puissegur
If you appreciate edgy humor and imaginative offbeat imagery, you are sure to love the paintings of Saatchi Art's featured artist Kelly Puissegur.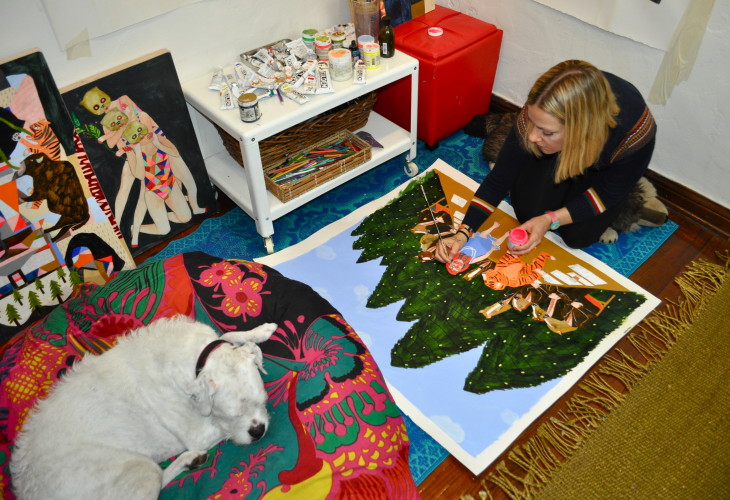 Saatchi Art artist Kelly Puissegur, pronounced "Persegue," at work on a painting, while her dog naps nearby. Animals are an important source of inspiration for her artwork. (Image: Kelly Puissegur/ Saatchi Art)
Drawing inspiration from the familiar… music, movies, popular culture and her pets… Kelly Puissegur's paintings possess a unique power to make people think in addition to making them laugh. She creates her colorful, clever narratives using a mix of materials and mediums to keep things interesting. Spontaneity plays a role in the playful quality of her paintings. Vintage images are another source of inspiration, and she often creates collages before she paints.

Puissegur's "goal is to make affordable art that people can appreciate or relate to in some way." Saatchi Art enjoys her work so much that we have it hanging in our office!
(Image: Kelly Puissegur/ Saatchi Art)
Kelly Puissegur's artwork has been shown in exhibitions throughout the US and the UK, including the Affordable Art Fair, UK in 2011, and multiple shows at the Cornwall Contemporary Gallery. Her paintings were also featured in the Jealous Curator's "California Girls" Show with Saatchi Art in the fall of 2015, and our "From the Street," exhibition in 2016.
She studied art in her native Louisiana, and earned her BS in Art at Southeastern Louisiana University in 2003. Puissegur currently lives and works in Los Angeles. You can tune in to this "Art for Your Ear" podcast with the Jealous Curator to learn more about her, her evolution as an artist, and how she works.
For the best in new figurative painting, be sure to explore Kelly Puissegur's latest artwork on Saatchi Art and in our new Spring 2016 Catalog… Her affordable gems are quite popular. Don't hesitate to take one of her original paintings home for yourself before they disappear.