5 Ideas for Warming Up Wintery White Rooms
Do you love the crisp feel of white walls and white on white decor, but also crave coziness and comfort? Explore these ideas for 5 stylish ways to infuse your white rooms with a feeling of warmth while maintaining a clean modern vibe at home.
1… Make Friends With Metallics
Shiny gold accents, metallic sculpture, or reflective metallic furnishings can go a long way to amp up the glow in a spare white space. Try displaying a statement painting with gold leaf accents to lend a sense of spring to an expanse of snowy wall in style.
To discover more contemporary art with metallic accents, visit our latest curated collection now…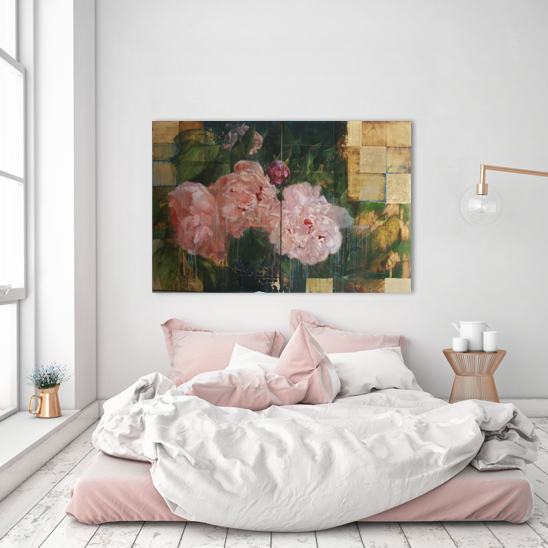 If you love contemporary florals, be sure to check out our recent post on what's coming in 2017… (Image: Spring, an original floral diptych statement painting featuring gold leaf accents by Saatchi Art artist Mara Light)
2… Try Some New Textures
A mix of snowy wovens and chunky knits can make mainly white rooms feel cozier without introducing an avalanche of color. Natural wood furnishings, shiny wood floors, and decorative sculptural wood accents pair effortlessly with your white decor and contemporary art while adding a welcoming warmth.
(Image: Interior Design by Lori Steeves of Simply Home Decorating. Photos by Tracey Ayton Photography, courtesy of Houzz)
3… Let in the Light and Plenty of Plants!
If you're lucky and your space has loads of natural light, make the most of it. Showing off fresh plants and greenery is an easy and affordable way to breathe new life into a winter white space while introducing interesting organic shapes and natural textures into your home design.
(Image: Built by The Works, Designed by Jessica Helgerson Interior Design, Photos by Lincoln Barbour, courtesy of Houzz)
4… Pop Some Color: Brights or Blush
Featuring a new original painting, a pair of framed prints, or art photography in bold brights or rosy hues can cast the chill off a white room while adding more depth and dimension. Layer artwork with pops of color over subtly patterned walls to create a fun focal point.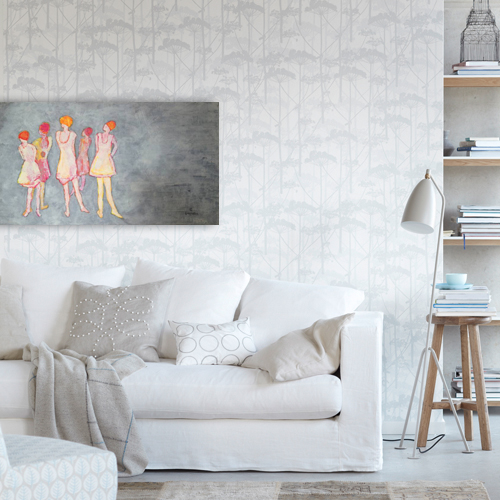 (Image: The Show, an original painting with embroidered accents by Saatchi Art artist Hester van Dapperen, was recently featured in our Chief Curator's picks for New This Week.)
5… Choose a Softer Approach
Warm up a wintery modern bedroom with fuzzy white fur accents and rugs, or try a white upholstered headboard, bench, or ottoman to add texture and comfort while keeping color minimal.
(Image: Interior Design by Beach Interiors (Ali Gibson Design). Photo by Leslie Goodwin Photography, courtesy of Houzz)
Come on in and see what's new… Visit Saatchi Art's New This Week Collections and get ready to find art you'll love today.