Guest Curator Marjorie Gubelmann Selects Her Favorite Works of Art on Saatchi Online
We're thrilled to have entrepreneur and DJ Marjorie Gubelmann guest curating an exclusive collection of art as part of our ongoing Guest Curator series. Read on to discover where she finds inspiration, the first piece of art she bought, the artist she'd most like to meet, and her favorite museum and gallery.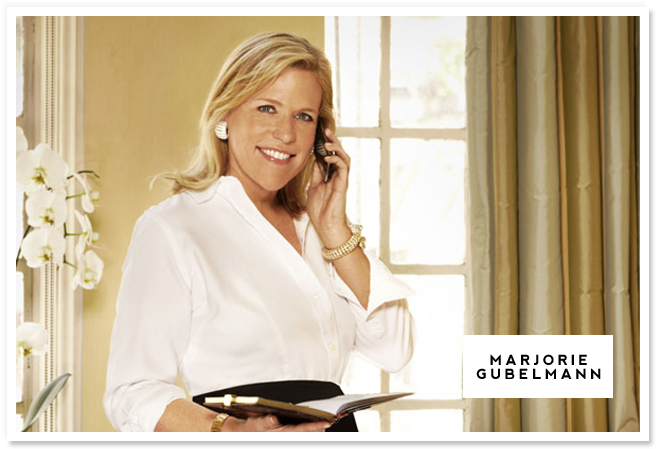 (Image: Majorie Gubelmann)
Society hostess and Founder of Vie Luxe collection of home fragrances and candles, Marjorie Gubelmann is a force of nature. The entrepreneur and mother is adding a new title to her roster, DJ Mad Marj or as W Magazine calls her, "the DJ with the diamond touch."  The seemingly indefatigable and perfectly coiffed Gubelmann—a Vanity Fair best dressed regular that is usually in Oscar de la Renta or Zac Posen and always in jewels—has taken the party circuit by storm these past two years spinning for the likes of Chris Benz, Paper, Clinique, and even a fundraiser for Obama. For Saatchi Online, she applies her exquisite taste and fu- loving attitude to guest curating a collection of art exclusively for our global audience.

Majorie with Interior Designer Nate Berkus (Image: Majorie Gubelmann)
How would you describe your taste in art? 
Child-like.
What role does art play in your life?
I have to love it and it has to make me happy when I look at it.
What do you collect?
Paula Hayes, Uta Barth, Gary Hume, Jennifer Bartlett.

(Image: Majorie Gubelmann)
If you could only have one piece of art in your life, which would it be? 
An Orville Bulman painting I got from my grandmother when I was in college.
Which artist would you most like to meet?
Basquiat.
What was the name of the first piece of art you purchased?
A painting of a bowl of Cheerios on a glass window (see below).

The first piece of art Marjorie bought. (Image: Majorie Gubelmann)
What was the last museum or gallery you visited?
Edwardian Opulence exhibit at Yale.
Favorite city to experience/explore art?
Paris.
Which museum or gallery did you visit there?
Galerie Perrotin to see Paola Pivi's installation.
Abstract or Figurative? Abstract.
Color or Black + White? Color.
Digital or Analog? Digital.
Bacon or Basquiat? Basquiat.
Murakami or Mondrian? Murakami.
Rothko or Ruscha? Rothko.
The Beatles or Rolling Stones? Rolling Stones.
 Love reading about all things art? You can have articles from Canvas, curated collections and stories about emerging artists delivered straight to your inbox. Sign up for the Saatchi Art Newsletter.