Kate Banazi, Artist & Printmaker based in Sydney, Australia
We're thrilled to introduce you to Kate Banazi, artist and printmaker based in Sydney, Australia, as part of our ongoing Guest Curator Series. Take a look at Kate's selection of favorite artworks on Saatchi Art and learn more about the importance art plays in her life.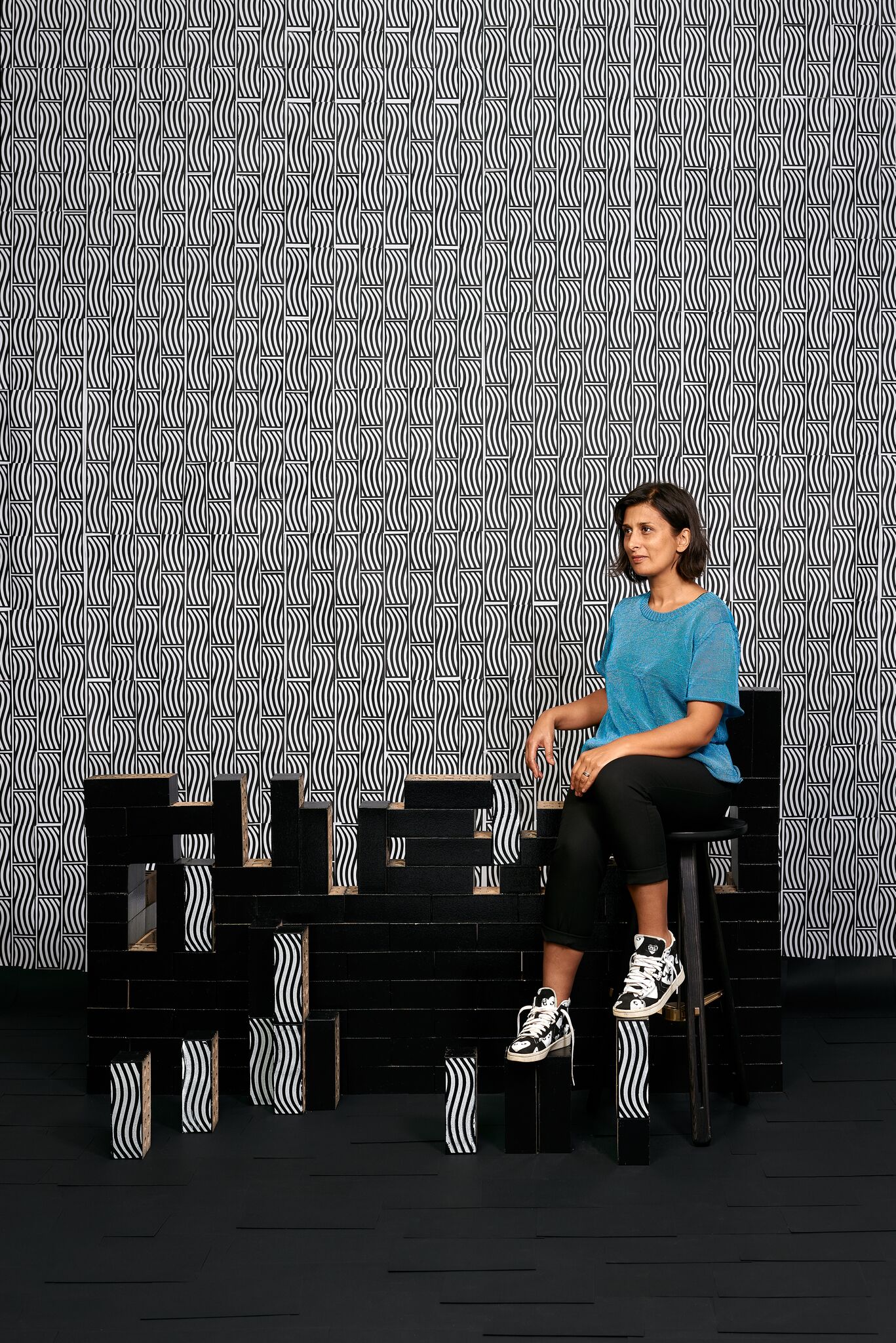 Concentrating on the art of silk screen printing, Kate has worked in art based practices from fashion to music to illustration and advertising. Her work is experimental, intuitive and often playful, with bold colour and graphic elements as a key reference. Science, space travel and color theory also hold great interest and are often referenced in her work. (Image: Kate Banazi)
Kate Banazi was born in London, studied at Central St Martins and now lives in Sydney, Australia. She celebrates the subtle variations of serigraph printing, exploring the layering of colour and graphic elements alongside linear grid structures and hand drawn forms.
"I'm drawn to abstraction instinctively so I can create my own narrative."
Her current work celebrates relationships, identity, movement, shadows and colour, interlocking shapes held together lightly but ready to fall apart. Negative space and line work map chaos, voids and then beauty –  a reflection of every day life in all its unpredictable glory.  By exploring the ideas of embracing the flaws in the screen – the silkscreens are un-retouched, pinholes and marks which normally would be repaired, are accepted and celebrated, contrary to the idea of silkscreen printing as a facsimile process.

A part of Kate Banazi's Perspex Series (Image: Kate Banazi)
What was the first piece of art you bought?
I think it was probably a record bought for its cover rather than for its contents. A habit I've maintained.  
How would you describe your taste in art? What are you most drawn to?
Its eclectic from classical painting to graphic collage and sculpture. I'm drawn to abstraction instinctively so I can create my own narrative.
What role does art play in your life?
It's a huge mental health boost to both challenge and sooth.
What do you collect?
Pre loved Dinky toy cars, second hand books and plants.
How would you describe your personal style?
I have things that I love and put them together so in that respect I imagine the word would be eclectic. I am always drawn to a good print and some intense colour.
If you could only have one piece of art in your life, which would it be and why?
A hard choice between two, someone in a Nick Cave sound suit everyday would be pretty special to bring in some passion and joy or EL Anatsui – ADINKRA SASA 2003 which was one of his many pieces shown in Sydney recently which took my breath away.

A part of Kate Banazi's Perspex Series (Image: Kate Banazi)
Which artists would you most like to meet?
El Anatsui , Frank Stella and if she were still alive, Amrita Sher-Gil.
Which books are on your bedside table?
Sapiens by Yuval Noah Harari and the local hardware catalogue.
What music are you currently listening to?
This week, Darando, Wham, Sade and Childish Gambino.
What was the last great exhibition you went to?
Manifesto, a video installation by Julian Rosefeldt at the Art Gallery NSW with Cate Blanchett
"Work hard and keep putting your work out there. Rejection is constant."
Do you have a favorite museum or gallery?
The Tate, London is my favourite special place.
If you could give one piece of advice to young artists, what would it be?
Work hard and keep putting your work out there. Rejection is constant.
What would you like to do if you weren't pursuing your current line of work?
Grow plants 
What projects are you currently working on? Where can we next see your work?
I'm currently working on a new series of silkscreen prints for the Affordable Art Fair in London and NY and a couple of collaborations, one of which will be going to Milan Design Week.
Love reading about all things art? You can have articles from Canvas, curated collections, and stories about emerging artists delivered straight to your inbox. Sign up for the Saatchi Art Newsletter.