Zainab Sumu
We're thrilled to have designer Zainab Sumu, founder of Primitive Modern and recent collaborator of photographer Malick Sidibé, handpick an exclusive collection of art as part of our ongoing Guest Curator series. Discover her selections on Saatchi Art and learn more about the role art plays in her life.

Zainab Sumu, Founder Primitive Modern (Image: Zainab Sumu)
Saatchi Art is thrilled to have Zainab Sumu lend her sensitive eye to Saatchi Art on her new guest curated collection. She recently teamed up with famed photographer Malick Sidibé on his first-ever collaboration at eighty years of age. The collaboration with Sumu's fashion label Primitive Modern features four iconic images from Sidibé's archive spanning 1963 to 1974, which appear on a limited edition collection of men's and women's t-shirts. Each photograph is presented on a background of textile design inspired by the indigenous printing techniques from local artisans in Mali.
Having launched in October 2015 with a capsule collection of scarves inspired by artisanal dyeing techniques in select regions of Northern and Western Africa, Primitive Modern by Zainab Sumu aims to strengthen economic developments and partnerships with local communities in Mali, where Malick Sidibé's portrait studio has been based for over fifty years.
Read on for Zainab Sumu's take on art and her keen eye for color.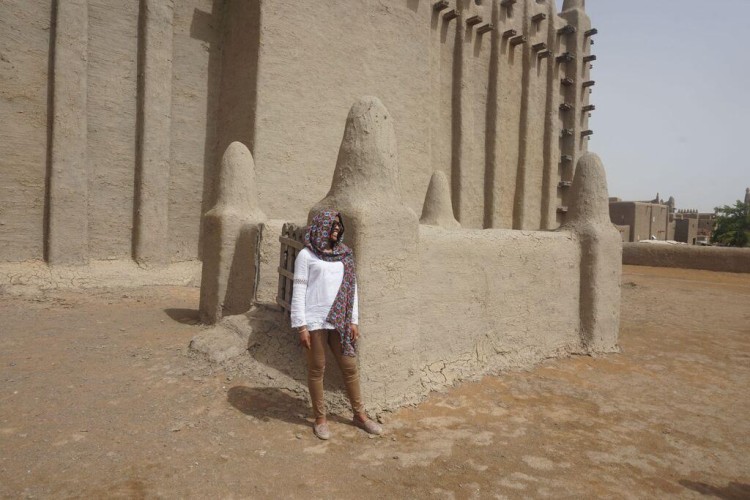 Zainab Sumu wearing a Primitive Modern scarf while in Mali. (Image: Zainab Sumu)
What was the first piece of art you bought?
An abstract mixed media painting by South African artist Samson Mnisi.
How would you describe your taste in art? What are you most drawn to?
My taste is ultimately eclectic. It's always connected to an emotional reaction for me; I have to feel connected to the piece.
What role does art play in your life?
Art is honestly everything to me. It's in everything I do, from the books I read and collect to the food I eat, the clothes I wear, the wine I drink, etc.
What do you collect?
I'm very attached to and inspired by African sculptures and also photographs, music, paintings, books, fashion.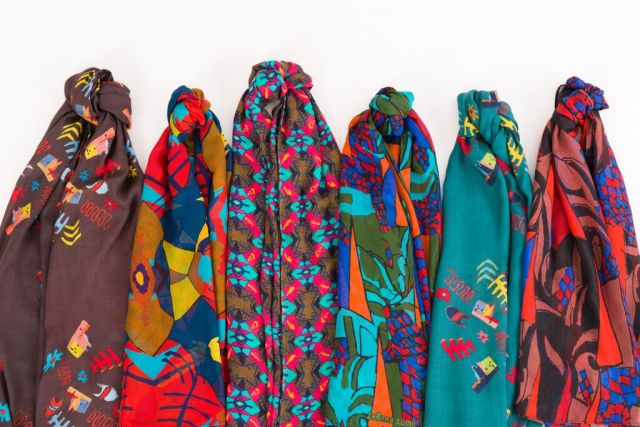 Scarves by Zainab Sumu for Primitive Modern. (Image: Zainab Sumu)
How would you describe your personal style?
Simple, eclectic and chic. Then again, it really depends on how I feel each day.
If you could only have one piece of art in your life, which would it be and why?
Les Demoiselles d'Avignon by Picasso. This piece of work really reflects the spirit of Primitive Modern and everything we're trying to accomplish. It evokes sensuality, poise and ultimately questions the viewers interpretation of beauty, life and love.
Which artists would you most like to meet?
Ai Weiwei, El Anatsui, Ibrahim El-Salahi, David Hockney, Yinka Shonibare and of course it would have been magical to have encountered Arshile Gorky, Pablo Picasso and Jean-Michel Basquiat.
Which books are on your bedside table?
The Prophet by Khalil Gibran, How To Be Rich by John Paul Getty, Shit Happens So Get Over It by Price Cobb and The Holy Bible.
What music are you currently listening to?
I have varied taste in music ranging from Jazz and Soul to World Music and Classical. Right now I'm really into Tabu Ley Rochereau and Habib Koite.
What was the last great exhibition you went to?
"Visiting Masterpieces: Pairing Picasso" and "Kenneth Paul Block Illustrations" at The Museum of Fine Arts in Boston.
Do you have a favorite museum or gallery?
The Tate Modern in London is one of my favorites. I've never left the Tate not feeling exhilarated. They curate some of the best exhibits in the world and also have an awe inspiring permanent collection.
If you could give one piece of advice to young artists, what would it be?
Be yourself and whatever you choose to do, be sure your voice comes from the heart.
What projects are you currently working on? Where can we next see your work?
We're currently revising details for our production facilities in Mali, Sierra Leone and Morocco for our lifestyle brand and are excited about the launch of our much-anticipated collaboration with the famed legendary photographer and dear friend, Malick Sidibé.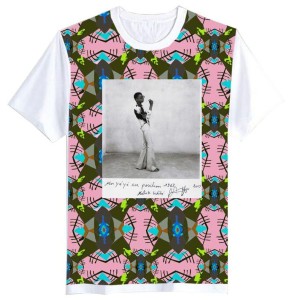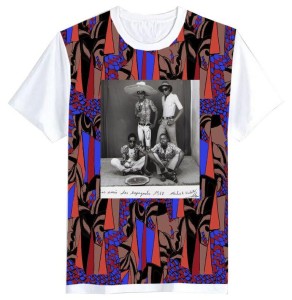 T-shirts from Primitive Modern's forthcoming collaboration with Malick Sidibé. (Image: Primitive Modern)
Love reading about all things art? You can have articles from Canvas, curated collections and stories about emerging artists delivered straight to your inbox. Sign up for the Saatchi Art Newsletter.