Dominique Porter on Art, Style and Languid, Bohemian Indulgence
We're thrilled to introduce you to Dominique Porter, founder of THE GLAD HOURS, a new Los Angeles-based line of lounge apparel inspired by artists, bon vivants and icons of the Bohemian sensibility. Take a look as she nods to the masters in her exclusive collection!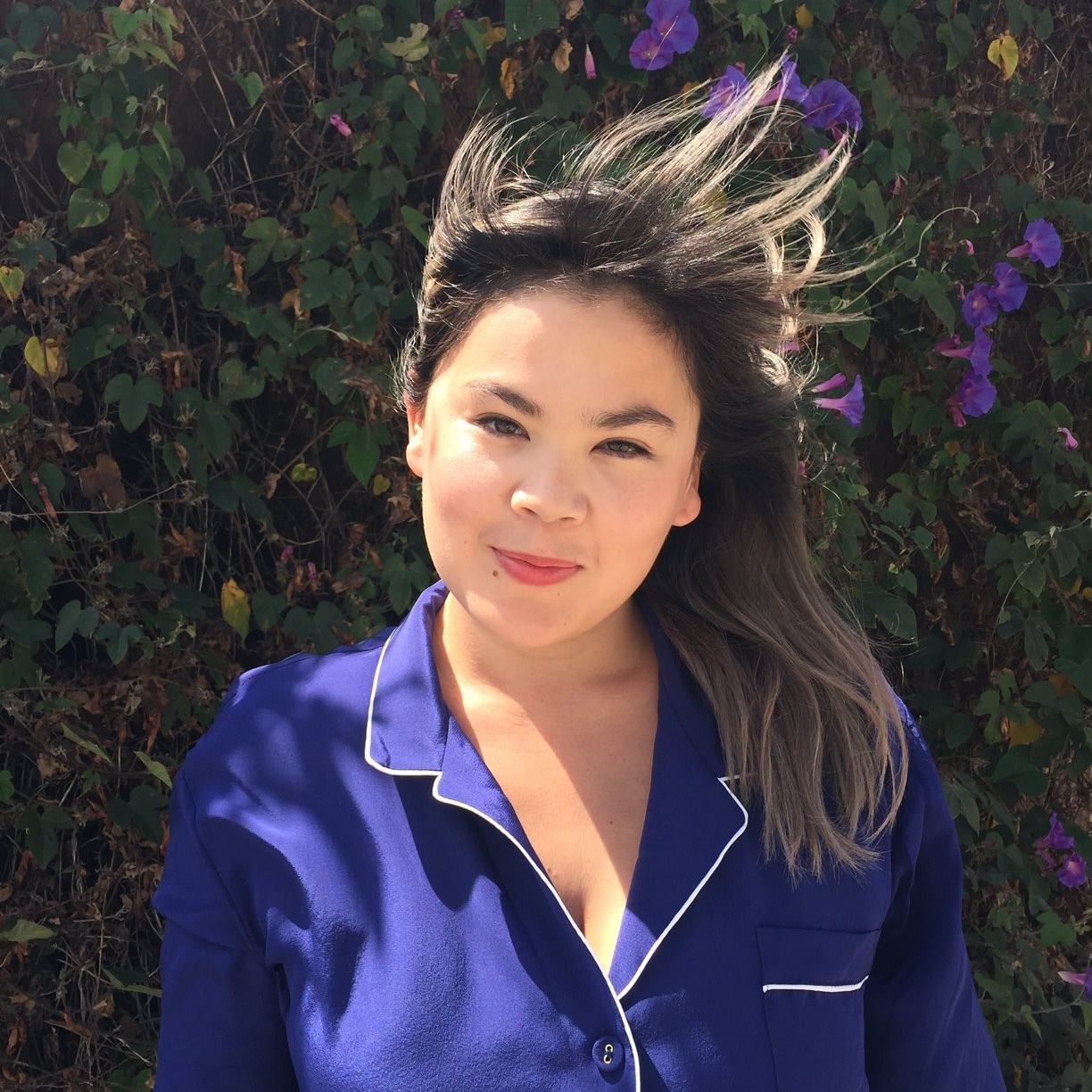 Dominique Porter sporting one of her leisurewear sets in Matisse Estate Blue. (Image: Dominique Porter)
Enthralled by leisurewear looks of the 1930s and drawing inspiration from what she calls "The Glad Hours" ("It's YSL in Morocco…it's a David Hockney pool…it's a Matisse Odalisque"), Dominique Porter dreamed of bringing back sleepwear into contemporary fashion. In founding The Glad Hours, she collaborated with a tailor to develop a basic design and has been testing the boundaries of loungewear from her headquarters in Venice Beach ever since.
Saatchi Art is excited to have Dominique lend her creative eye to our global selection of emerging art. Peruse Dominique's Guest Curator collection and you'll find artworks that are colorful and enticing, reflections of The Glad Hours' contemporary-bohemian vibe.
Read on for Dominique Porter's take on art, style and her upcoming projects.
What was the first piece of art you bought?
A Hopi Kachina doll from Taos, New Mexico when I was 5 years old.
How would you describe your taste in art? What are you most drawn to? 
My taste in art is playful, simple and eclectic. I am often drawn to esoteric themes and symbols but like most things that involve taste, it's ever changing and evolving.
What role does art play in your life?
Art plays a huge role in my life. I'd say it's the lens through which I view the world. Art History is how I came to understand and learn about History. It's the cultural mirror of the factual historical timeline.
What do you collect?
I have an accidental collection of vintage garments, accessories and textiles from my travels.
How would you describe your personal style?
Someone once told me that my style was Iggy Pop-meets-Georgia O'Keeffe. Though I don't quite see it, it's one of the best compliments I've ever received. The way I see it, I am mostly very classic and simple with a penchant for dashes of big accessories and bright color. Chartreuse is a particular favorite.
If you could only have one piece of art in your life, which would it be and why? 
Probably a Matisse. If you've ever had the pleasure of planting yourself in front of The Snail at the Tate Modern, you'll know why.
Which artists would you most like to meet?
From the past: Leonora Carrington, Leonor Finni, Sophie Tauber-Arp and Maya Deren. Present: Camille Henrot.
Which books are on your bedside table?

Right now I am working on The Sleep Revolution by Arianna Huffington and The Secret History of The Mongol Queens.
What music are you currently listening to?
Anything and everything from Stax Records.
What was the last great exhibition you went to?
Leap Before You Look: Black Mountain College 1933-1957 at the Hammer Museum.
Do you have a favorite museum or gallery?
I have a special place in my heart for the museums and galleries in the UK from my studies there. The Tate Modern, Raven Row, Kate MacGarry and The New Art Centre at Roche Court are my favorites across the pond. In Los Angeles, I have to say MOCA because Philippe Vergne is aiming to make it an artists' museum again.
If you could give one piece of advice to young artists, what would it be?
I wouldn't dare presume I have any real wisdom to impart on any artist! From my own experience in art school, I found that creative community and discourse were important. So I would say participate in the community of your peers and to seek out that discourse.
What would you like to do if you weren't pursuing your current line of work?
I'd be doing something like making honey and olive oil and raising horses on a coastal ranch in California (with my Border Terrier Maestro, of course!).
What projects are you currently working on? Where can we next see your work?
I am hard at work on the next collection for The Glad Hours and in the beginning stages of developing an eponymous scent.
Keep up with Dominique's latest news by following THE GLAD HOURS on Twitter, Instagram and Facebook.
Love reading about all things art? You can have articles from Canvas, curated collections and stories about emerging artists delivered straight to your inbox. Sign up for the Saatchi Art Newsletter.