Guest Curator, Sara Barnes of Brown Paper Bag
We're thrilled to have designer, Sara Barnes, guest curating an exclusive collection of art as part of our ongoing Guest Curator series. Read on to discover the role art plays in her life, first piece of art she bought, the artist she'd most like to meet, and the last great exhibition she attended.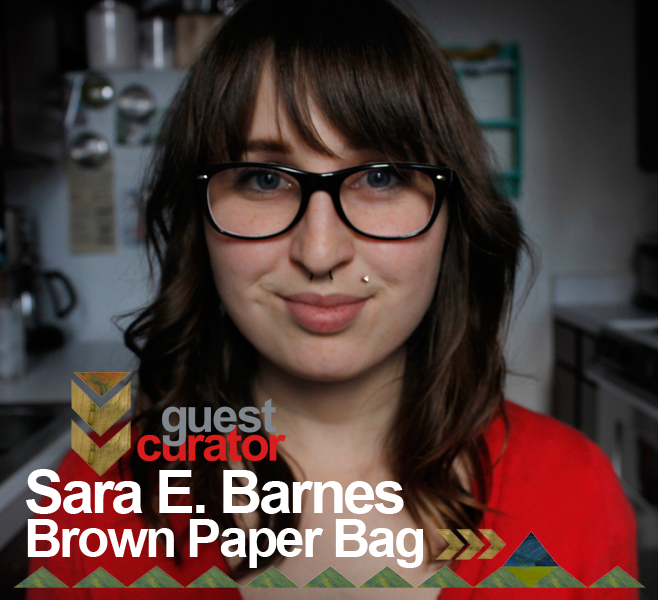 (Image: Sara Barnes)
Do you collect art?
I do! I've been very slowly acquiring things that I like, but it is hard since I am a graduate student and on a limited budget.
What is the favorite piece of art that you own?
Steven Riddle and I traded art last fall.  He traded me picture of a still life with flowers, using his handcrafted colors and textures. It is hung in my entryway, and greets me when I come home.
Which artist, living or dead would you most like to meet?
That's a tough question! It changes all of the time. I would actually love to meet Neko Case, who is known for her music.
What was the last museum / gallery you visited?  What's next on your list?
The last gallery I visited was the Maryland Art Place in Baltimore, Maryland to see Mina Cheon's new exhibition, Polipop. I'm traveling to my hometown of Kansas City, Missouri soon so I'm going to try and make it to the Nelson Atkins or Kemper Contemporary Art Museum. I haven't been to either institutions in 5+ years!
Do you produce art? If so, what sorts of things do you create?
I do, and having an artistic practice is important to me, as I think it gives me better insight to others' work. I work a lot in collage, mostly paper. I also have rediscovered my love for embroidery and have started sewing again.
Did you grow up in an artistic family?
My mother and brother were/are both English majors in college. My brother is still continuing his education (in English) and will begin his PhD this coming fall. My mother also had a sketchbook when she was younger, which I think inspired me to draw as a child!


What is the driving force behind your blog?
I really enjoy looking at art, reading about artists and artworks, and connecting with others through the web and social media. Through Brown Paper Bag, I want to inspire others and shed light on what I think through this blog and support creativity.
When / how did you come up with the idea for the site?
I had a personal blog for about a year (that no one read) and I shared an artist I liked a few times a week. I wanted to create a blog that wasn't so overtly personal, and the name just sort of came to me!
Where do you look for cool new work?
Flickr is one of my favorite places to find new work. Tumblr is a close second. I also am really happy when talented artists have a "Links" page on their website so I can see what their equally-talented friends are up to.
How do you decide what makes the cut?
First and foremost, I post work that I respond to (however that may be). I look at the way in which the media is handled (stylistically or otherwise) and the context in which it is created/what it is created for. If I think that is worth sharing, then I post it on my blog and/or Tumblr.
Abstract or Realism? Abstract
Painting or Photography? Painting

Museums or Art Galleries? Art Galleries

Contemporary or Classic? Contemporary

Color or Black+White? Color

Hirst or Hockney? Hockney

Picasso or Pollock? Picasso

Bacon or Basquiat? Basquiat

Murakami or Mondrian? Murakami

Moma or Met? Moma

Centre Pompidou or Musee D'Orsay? Centre Pompidou

LA or New York? New York (although I find it exhausting)

Video or Film? Film

Like Animation? Yes

Like Performance Art? Yes

Like Installations? Yes
Love reading about all things art? You can have articles from Canvas, curated collections and stories about emerging artists delivered straight to your inbox. Sign up for the Saatchi Art Newsletter.
SaveSave
SaveSave
SaveSave
SaveSaveSaveSaveSaveSaveSaveSaveSaveSave